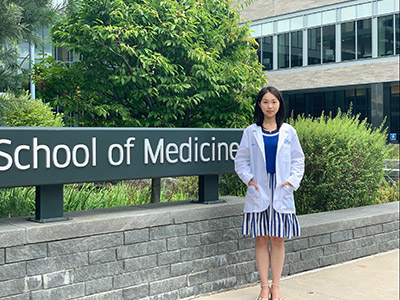 Major: Biochemistry
Destination: Geisinger Commonwealth School of Medicine, M.D. Candidate '24
Why do you want to be a physician? 
There are two main people in my life that sparked and shaped my desire to study medicine. The first person is my grandfather, who passed away from late-stage pancreatic cancer when I was 10 years old. I thus became motivated to either pursue cancer research or become a cancer doctor in the future. When I was in high school, I had an opportunity to shadow a cardiologist in my hometown of Shanghai, China. This physician inspired me to pursue medicine because I saw the impact he was able to make for his patients and their families on a daily basis. Due to the limited educational opportunity that I had, I made the decision to come to the U.S. to pursue my long-time dream in medicine.
What did you do during your gap year?
I joined the National Health Corps, at which I did one year of service in a community health clinic located in an underserved neighborhood in Philadelphia. I screened patients for their insurance eligibility for Medicaid and Obama Care and applied health insurance on their behalf. During my gap years, I also took the MCAT exam and completed my AMCAS application. While waiting for my interviews, I worked under the Health Federation of Philadelphia as a Patient Navigator to help patients navigate the healthcare system and connect them to the medical services that they needed.
How did you get there from Oxy?
Coming to Oxy as an international student, I found it to be crucial to hone my communication skills, deepen my understanding about the US healthcare system, and gain experience outside the classroom. I think the one-year service experience that I had not only helped me gain acceptance to medical school, but also helped me become more informed about current healthcare challenges, especially within underserved communities.