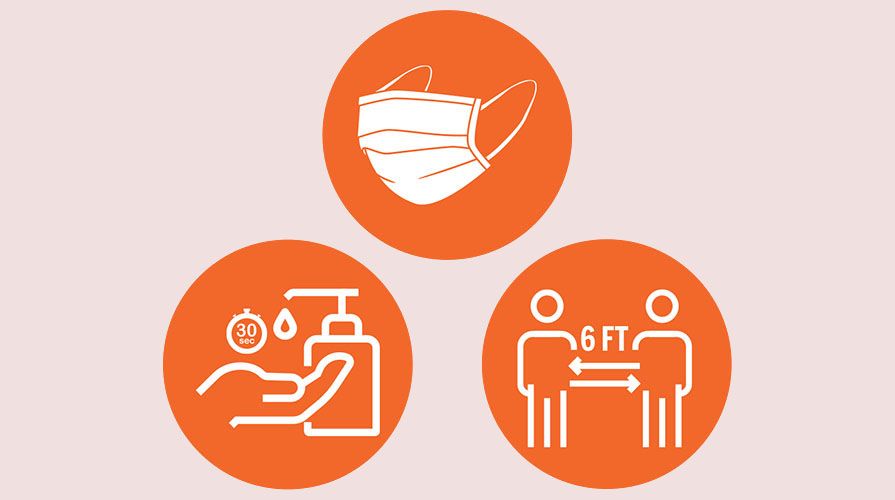 In order to minimize the spread of the virus and protect our Oxy community, we have implemented health and safety requirements for everyone: those who are living or working on campus in addition to any remote-working Oxy employee needing to visit campus.
COVID-19 Vaccine
Read updates on the availability and administration of the COVID-19 vaccine to Occidental community members.
Daily Health Check
Using the College-sponsored monitoring app, community members will be required to complete daily symptom and temperature screenings before arriving on campus. If you have any symptoms, you MUST contact Emmons Wellness Center (323-259-2657), the Oxy Nurse Helpline (323-341-4141), or your primary care physician for assessment of symptoms and/or COVID-19 testing. Individuals with symptoms suggesting mild, non-COVID illness should stay home to reduce the spread of germs and protect from exposure to other illnesses or worsening of symptoms.
You can also view our FAQs about the health monitoring app.
Face Coverings
Reusable or disposable face coverings are required to be worn at all times in public spaces, indoors or outdoors. Reusable face coverings are best for everyday use and should be washed between uses. Disposable face coverings are best for activities that require frequent changing or may become soiled in the course of work. Face coverings are not required to be worn when alone in your private, single occupancy office with the door closed unless visitors are present.
Social and Physical Distancing
Maintaining space between yourself and others is one of the best tools we have to avoid exposure to COVID-19 and slow its spread. Since people can spread the virus before they know they are sick, it is important to stay away from others when possible, even if you have no symptoms. Social distancing is important for everyone, especially to help protect people who are at higher risk of getting very sick.
Testing
COVID-19 testing is mandatory for students living on campus and employees performing essential functions who are regularly on campus and have regular close contact with other Oxy community members. Read more about our testing protocols for Oxy community members.
Hand Washing
Wash your hands often with soap and water for at least 20 seconds, especially after any time spent in a public place or blowing your nose, coughing, sneezing, or touching your face. If soap and water are not readily available, use a hand sanitizer with greater than 60% ethanol or 70% isopropanol. Cover all surfaces of your hands and rub them together until they feel dry. Avoid touching your eyes, nose, and mouth, and wash your hands after touching your face.
Gloves
Workers and others in high-risk areas should use gloves as part of PPE (Personal Protective Equipment), but according to the CDC, gloves are not necessary for general use and do not replace good hand hygiene. Washing your hands often is considered the best practice for common everyday tasks.
Goggles/Face Shields
Employees do not need to wear goggles or face shields as part of general activity on campus. Good hand hygiene and avoiding touching your face are generally sufficient for our environment.
Cleaning and Disinfecting
As a general rule, highly utilized spaces should be cleaned every 3-4 hours. Therefore, common area office suites should be cleaned in the morning and midday. Morning cleaning is a thorough cleaning provided by Facilities Management and midday cleaning can be accomplished by office residents with disinfecting sprays and wipes on high-touch areas.
Coughing and Sneezing Hygiene
If you are in a private setting and do not have on your cloth face covering, remember to always cover your mouth and nose with a tissue when you cough or sneeze or use the inside of your elbow. Then throw used tissues in the trash. Immediately wash your hands with soap and water for at least 20 seconds. If soap and water are not readily available, clean your hands with a hand sanitizer that contains at least 60% ethanol or 70% isopropanol.
Isolation and Quarantine
If an individual tests positive for COVID-19 or if they have been exposed to someone who has tested positive, they will be expected to isolate at home or in a College-designated isolation room.
Dining
The Marketplace is open for take-out service only. Physical entry to the Marketplace is limited to the designated employees and students working or living on campus and getting regularly tested for COVID-19. Pre-order curbside pickup is available for all employees and students living off-campus via the Tiger Takeout service. We encourage all community members, including those living and working on campus, to make use of the pre-order service whenever possible, and to eat outdoors or in a private space.
Case Reporting
Any individual who tests positive or has been exposed to an individual who has tested positive for COVID-19 must self-isolate and report details of their status or exposure to Emmons Wellness Center. Emmons staff will provide guidance on next steps and coordinate communication to faculty and supervisors while maintaining individual's confidential health information.
Incident Reporting
If a community member believes that a required COVID-19 safety policy or practice is not being followed, they should report the incident to Human Resources or the Dean of Students Office. You can also anonymously report any unhealthful behavior not in line with COVID-19 policies you see within the Oxy community via the LiveSafe app.
High-Risk Conditions
The College may implement reasonable accommodations for high-risk individuals (or those that reside with high-risk individuals). This process will be guided, in part, by recommendations provided by a licensed medical or mental health provider. Such medical documentation should be submitted directly to Human Resources. According to the CDC, these conditions may include:
Older adults (aged 65 years and older)
HIV
Asthma (moderate-to-severe)
Chronic lung disease
Diabetes
Serious heart conditions, including recent heart failure, coronary artery disease, congenital heart disease, cardiomyopathies, and pulmonary hypertension.
Chronic kidney disease being treated with dialysis
Severe obesity, defined as a body mass index (BMI) of 30 or above
Being otherwise immunocompromised
Faculty and staff who return to work on campus and have a condition that places them in a higher risk group or who are pregnant may wish to review their condition with their medical provider so that the College can determine whether the essential functions of the incumbent's position can be performed "with or without accommodation." Please contact Karen Salce in HR at 232-259-2613 or ksalce@oxy.edu with any questions. Records involving accommodations will be kept in the strictest of confidence.
Faculty and staff who have been instructed to return to work on-site and have a non-medical issue related to the COVID-19 virus that precludes their ability to return to campus should contact Jacie Feigelman in HR at 323-259-2614 or jacalynf@oxy.edu.
Travel
The Centers for Disease Control and U.S. State Department advise avoiding all nonessential international travel due to widespread ongoing transmission. Oxy is continuing the suspension of College-sponsored international travel until further notice. Travelers returning from international travel should not come to campus for 14 days from the date of return.
Updated 2/16/2021