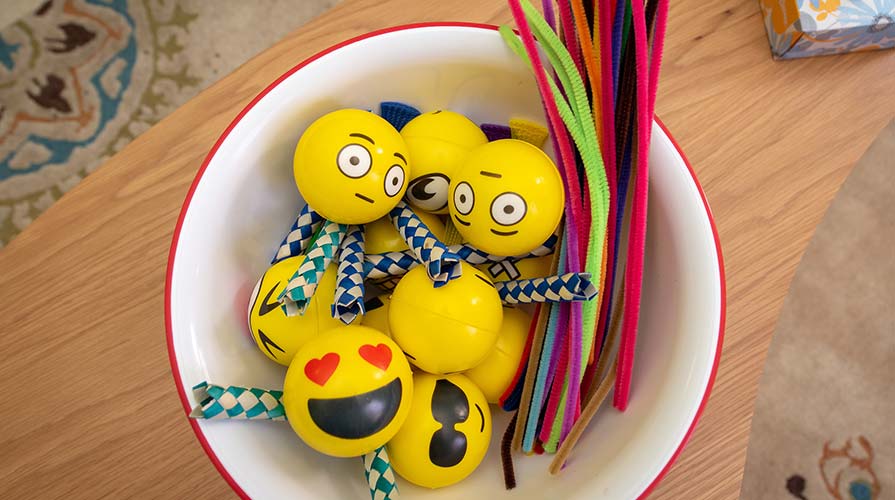 Counseling and Psychological Services 
Emmons' counseling staff is committed to supporting the mental health needs of Oxy students. All of  Emmons' therapists have training in trauma informed care and bring a variety of professional expertise. All of our services are free of charge, regardless of insurance provider (except for psychiatry, as listed below). Our services are provided both in-person and virtual, based on student preference and provider availability.
Emmons provides short-term individual therapy, walk-ins, group therapy, drop-in chats, crisis support, and consultations, including for off-campus referrals. Please check below for more information on drop-in chats and group therapy options. To get connected to any of the confidential services at Emmons, you can call (323) 259-2657 or email us at emmons@oxy.edu.
Walk-ins are accepted Monday through Friday from 2 p.m.-4 p.m.
Nutrition Counseling and Education Services
Melissa Ireland, RD is available for virtual appointment on Wednesdays from 9am - 12:30pm. If you have questions or concerns about any nutrition issue, please contact emmons@oxy.edu to set up an appointment. Topics may include balancing a vegetarian diet, disordered eating patterns, food intolerance or allergies, or health issues, such as diabetes, high cholesterol, or anemia.
Psychiatry Services
Our psychiatric nurse practitioner Heidi Aguilar provides virtual services to students, and is supervised by psychiatrist Dr. Paul Kurkjian. Students with the student health insurance plan have no additional costs; the fee for all other students is $75 for the initial appointment and $35 for follow ups. Established patients may schedule directly with the psychiatric nurse practitioner; all other students must first meet with an Emmons medical provider or counselor.
The Oxy 24/7 Helpline
The 24/7 confidential helpline is new and improved for the 2022-23 academic year, providing more robust support for students experiencing mental health crises, emotional distress, trauma, or substance use issues. This 24/7 line is available to all Oxy students: (323) 341-4141.
Drop-In Services
Drop-in chats are informal and confidential 1:1 consultations with an Emmons counselor. If you desire or require care beyond a consultation, the Emmons counselor will refer you to on or off campus resources as appropriate. Please note that if someone else is already being served, the therapist will be with you shortly. 
Between the Lines
A free and confidential drop-in space for Oxy varsity student-athletes. Whatever you may be experiencing on or off the field, this is a safe space to take a time out and meet with a counselor to talk about it. Drop-ins are held weekly on Tuesdays from 10-11:30a in the rear office located in the dance studio. For more information, please contact Rich Estrada, LMFT via email at restrada@oxy.edu. 
Substance Use Support Space
A safe, welcoming, and open space for anyone who has questions about various substances, substance use, or their own relationship to substances in a confidential and non-judgmental space. This space is also welcoming to any individuals not having challenges with substances but who may know friends, family, or loved ones who are dealing with substance use challenges and are needing support for themselves. This is not abstinence-based or 12-step affiliated. Drop-ins are held weekly on Mondays from 11a-12p at Emmons Wellness with Rich Estrada LMFT (restrada@oxy.edu).
Black Voices: Drop-In Chat
A dedicated space for Black students to Drop In for one on one conversations. A welcoming space that centers around Black Wellness, a space to be heard, validated and supported. Black Voices is on Wednesdays from 3:15-5p in the Mindfulness Room at the ICC, facilitated by Larissa Lucas, LMFT (Questions contact Director Jenny Heetderks at heetderks@oxy.edu).
What's the Word, Hummingbird?
A supportive and confidential space for students with marginalized identities to meet with a counselor without the need for an appointment. POC, LGBTQ+, 1st Gen, and International Students are welcome to drop in for an informal 1:1 conversation about any topic or concern. Students may reflect on relationships, identity, family, housing, academics, or any other life issue. Tuesdays from 1:30-3pm in the Mindfulness Room at the ICC, with Anna Rivera, Ph.D (annarivera@oxy.edu). 
Group Counseling
Disordered Eating Support Group
The disordered eating support group is designed for students who have experienced disordered eating and are committed and motivated for recovery. The focus is on developing coping skills, implementing strategies to continue forward in recovery, giving and receiving authentic and compassionate support, and expanding skills needed for recovery. The group meets on Thursdays from 3-4 pm at Emmons. If interested or if you have any questions, please contact Rich Estrada, LMFT via email at restrada@oxy.edu.
Mindfulness Group
A 4-week psycho-educational group that provides opportunities to learn about and engage in various mindfulness practices. Each week focuses on different information and practices, including mindful breathing, mindful eating, body scan, managing difficult emotions, and loving kindness. Practicing these skills help with anxiety, sadness, critical thoughts, improving focus, and feeling more present in everyday life; it is a way to practice being less reactionary and more thoughtful in our decisions. The group meets on Tuesdays from noon-1:00pm. The dates for the next session start in October. Participation in all 4 weeks is encouraged. Questions? Email Anna Rivera, Ph.D at annarivera@oxy.edu.
Survivors Circle
Survivors Circle is a safe, confidential environment that can provide support and understanding for any Oxy student who has experienced sexual assault (either while at Oxy or previously). Survivors Circle offers a space to heal and recover from trauma, to reestablish safety, to connect with others, and to share experiences. The group focuses on processing how the assault has impacted their lives. The group meets weekly at Emmons.  If interested, please contact Jenny at heetderks@oxy.edu.