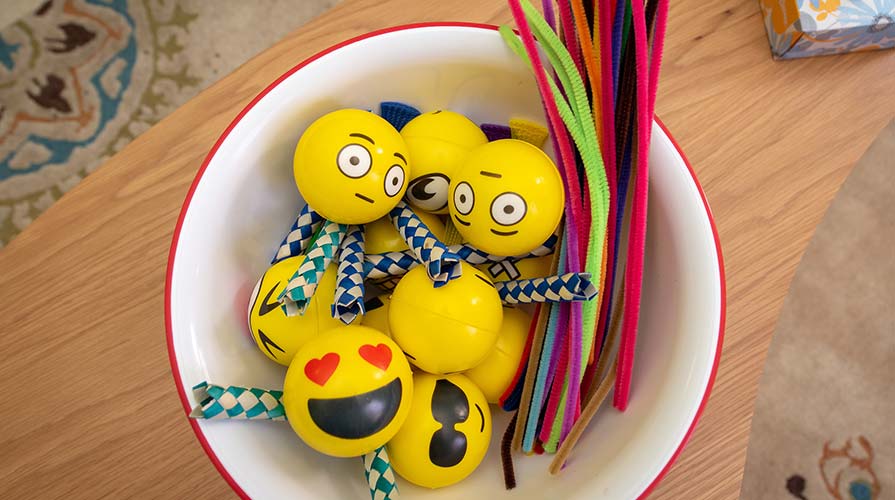 Counseling and Psychological Services 
Emmons counseling services is committed to supporting the mental health needs of all of our students, regardless of where they're located. Emmons counselors will provide ongoing individual and group telecounseling to students residing in California, and all other students will have access to ongoing telecounseling through a national telecounseling company.  We will also assist students in finding local therapy referrals for any student who desires it. 
Emmons counselors will provide virtual walk ins, crisis support, and consultation to all students via phone, regardless of location, with specific times for black and other minoritized students, and athletes. All students continue to have access to the 24/7 confidential hotline at 323.341.4141. 
Our dietitian will be available to meet virtually with all students at no cost, and our psychiatrist will provide telemedical services to students residing locally (on or off campus) based on their insurance coverage, and to pre-existing patients regardless of location, if medically appropriate. For all other students Emmons counselors will assist in finding a local psychiatry referral. 
Emmons counselors will provide virtual workshops available to all students on a variety of topics, such as mindfulness, managing covid-related stress, and support for race-based trauma. We are also partnering with other offices such as ICC and SLICE to provide virtual outreach and programming events specifically for minoritized students, and will be co-facilitating a grief circle for Jaden and Ilah. 
Helpline - 24/7 telephonic medical and counseling triage remains available for all students and community members anywhere in the United States - (323) 341-4141.
DROP IN SERVICES:
Drop-in chats are informal and confidential consultations with an Emmons counselor. If you desire or require care beyond a consultation, the Emmons counselor will refer you to on or off campus resources as appropriate. Please follow the links associated with the appropriate day/time, and meet with the Emmons counselor listed. Please note that if someone else is already being served, you will be placed in a virtual waiting room, and we will be with you shortly. 
Between the Lines- A free and confidential and virtual drop-in space for Oxy varsity student-athletes. Whatever you may be experiencing on or off the field, this is a safe space to take a time out and meet with a counselor to talk about it. Fridays from 12-2 pm (PST) with Rich Estrada
https://occidental.zoom.us/j/82157516276
Meeting ID: 821 5751 6276
Passcode: 785243
888 475 4499 US Toll-free
Black Voices: Drop-In Chat - A dedicated space for Black students to virtually "Drop-In" for one on one confidential conversations. A space to be heard, validated and supported. A space to detangle  the complexities of life. A space where Black Wellness is the agenda. Thursdays from 1-3 pm (PST) with Irma Breakfield
https://occidental.zoom.us/j/88288020302
Meeting ID: 882 8802 0302
Passcode: 027542
833 548 0282 US Toll-free
What's the Word, Hummingbird? - A supportive and confidential space for students with marginalized identities to meet with a counselor without the need for an appointment.  POC, LGBTQ+, 1st Gen, and International Students are welcome to drop in for informal 1:1 conversations about any topic or concern.  Students may reflect on relationships, identity, family, housing, academics, or any other life issue.  Tuesdays from 1-3 pm (PST) with Anna Rivera https://occidental.zoom.us/j/95693322299
Meeting ID: 956 9332 2299
Passcode: h3LL0
888 475 4499 US Toll-free
SPRING GROUPS
Survivors Circle: Survivors Circle is a safe, confidential environment that can provide support and understanding for any Oxy student who has experienced sexual assault (either while at Oxy or previously). Survivors Circle offers a space to heal and recover from trauma, to reestablish safety, to connect with others, and to share experiences. The group focuses on processing how the assault has impacted their lives. The group meets virtually and will meet bi-weekly at a day/time TBD. For more information, contact group facilitator Jenny Heetderks at heetderks@oxy.edu
Disordered eating support group: The disordered eating support group is designed for students who have experienced disordered eating and are committed and motivated for recovery. The focus is on developing coping skills, implementing strategies to continue forward in recovery, giving and receiving authentic and compassionate support, and expanding skills needed for recovery. The group will occur bi-weekly at a day/time TBD. This is a drop-in group, and students may attend one or all groups. For more information, contact group facilitator Jenny Heetderks at heetderks@oxy.edu
White accountability space: In order to work to dismantle oppression in our own lives and institutions, we would like to offer white identifying students the opportunity to engage in deep, meaningful conversations and exercises on anti-racism. This will be a brave space to reflect, discuss, learn, grow, and most importantly, keep ourselves and our campus accountable as we continue to work towards dismantling white supremacy in all the spaces that it lives, even (and especially) when that space is inside of us. The group will meet several times during the semester at days/times TBD. This is a drop-in group, and students may attend 1 or all groups. For more information, contact group facilitators Jenny Heetderks at heetderks@oxy.edu or Susan Young at young@oxy.edu
Substance Use support space: A safe, welcoming, and open space for anyone who has questions about various substances, substance use, or their own relationship to substances in a confidential and non-judgmental space. This space is also welcoming to any individuals not having challenges with substances but who may know friends, family, or loved ones who are dealing with substance use challenges and are needing support for themselves. Mondays from 12-1 pm (PST) with Rich Estrada. 
https://occidental.zoom.us/j/82708121713
Meeting ID: 827 0812 1713
Passcode: 264633
888 475 4499 US Toll-free
Men of Color Support Circle: A safe and confidential virtual drop-in group open weekly to self identified men of diverse cultural backgrounds that provides healing and support, encourages self exploration and fosters community. This group discusses issues surrounding masculinity, and gender, racial and ethnic identity, leadership, love and intimacy, compassionate accountability, patriarchy, men's mental health and anything else relevant to men of color. This group will meet regularly at a day/time TBD. There is no need to RSVP ahead of time and you can attend how often you would like to. Contact Rich Estrada, group facilitator for questions: restrada@oxy.edu.
1st Gen Connection: An open, supportive space for 1st Gen students to share and connect about their experiences.  The group will touch on topics specific to the first gen experience, including adjustment to college, self-care, resiliency, belonging, impostor syndrome, and intersecting identities.  A space in which students can be themselves and share about issues that are often invisible or dismissed, and they may not be able to share elsewhere.  The group is drop in and will meet regularly at a day/time TBD.  Questions?  Email group facilitator Anna Rivera at annarivera@oxy.edu
Mindfulness Group: A 4-week psycho-educational group that provides opportunities to learn about and engage in various mindfulness practices.  Each week focuses on different information and practices, including mindful breathing, mindful eating, body scan, managing difficult emotions, and loving kindness.  Practicing these skills help with anxiety, sadness, critical thoughts, improving focus, and feeling more present in everyday life; it is a way to practice being less reactionary and more thoughtful in our decisions.  Participation in all 4 weeks is encouraged.  Meets from 12-1 pm PST on February 9, 16, 23, and March 2. Questions?  Email group facilitator Anna Rivera at annarivera@oxy.edu
https://occidental.zoom.us/j/89954790510
Meeting ID: 899 5479 0510
Passcode: 779776
By phone 888 475 4499 US Toll-free
First Year Support Group: A peer led group where first years can connect, share their experiences, laugh, and support each other as they navigate their first year of college.  Come build community! The group will meet at a day/time TBD. For more information contact group facilitator Irma Breakfield at ibreakfield@oxy.edu