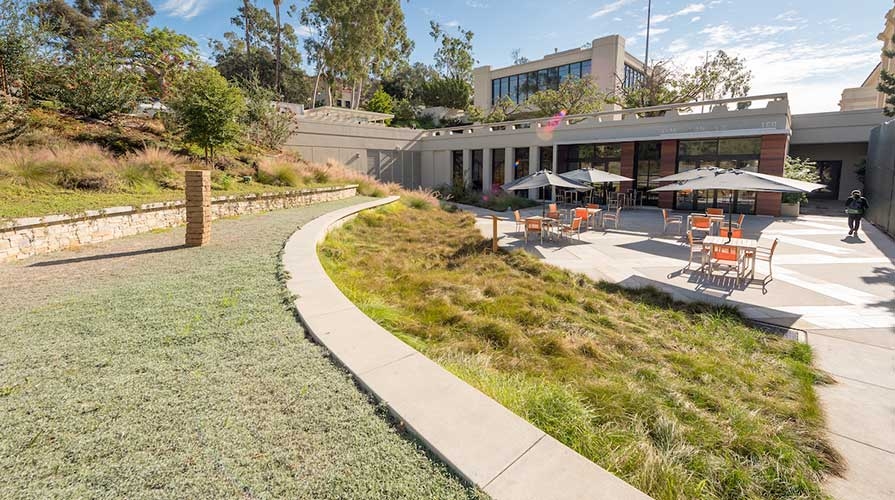 Residing on 120 acres of land, Occidental College is home to more than 2,000 trees and a citrus orchard in the center of campus.
Amid construction and re-landscaping, the College endeavors to transform areas around campus into more resilient habitats, aiming for no net loss of trees and no net loss of carbon sequestration.
Multiple gardens dot the campus, with FEAST leading the charge to help our land benefit native fauna and the local community. It oversees the main Bruce Steele Garden (where the chickens roam), the Butterfly Garden (Stewie Hall), the Native and Succulent Gardens (Stewie Hall), and the Pollinator Garden (Norris Hall). Restoring the 40 acres of Fiji Hill to its native habitat is another part of FEAST's mission.
Additionally, students have the opportunity to cultivate parcels of landscape surrounding their residence halls. In April 2018, Bell Young Hall launched its herb and aromatherapy garden, which houses plants such as jasmine, thyme and daylilies.
In 2016, Oxy officially adopted a landscape master plan that emphasizes water stewardship and native plant species. The re-landscaping of the Hameetman Career Center patio that year showcases the guiding principles of the plan: an oak woodland frames terraces that slow the flow of water and allow it to percolate back into our groundwater system.
abound across campus, from typical fruit trees to the unsuspecting weed. Check out  Edible plantsOxy's foraging list along with this short illustrated guide to spot these edibles.