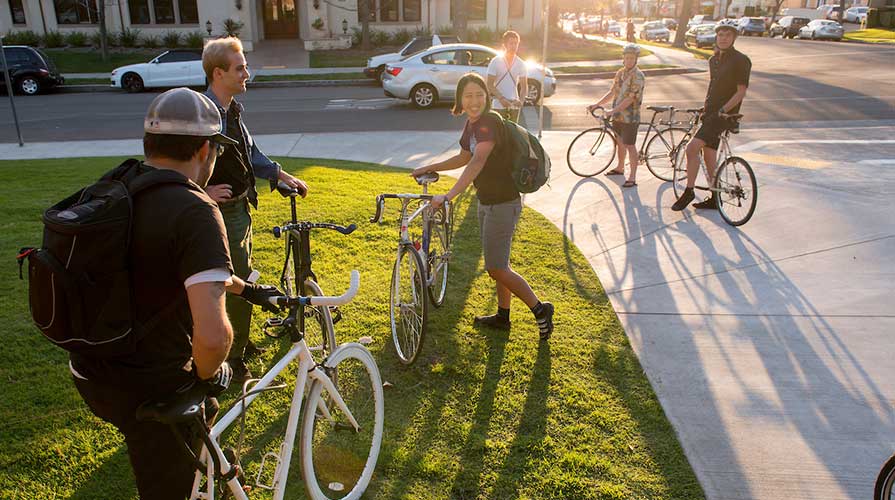 Connecting you with a variety of transportation options, Oxy helps break the stereotype that you need to own a car to get around L.A.
There are lots of ways to get where you're going without making a big impact on air quality and climate. What's more, you'll experience L.A. in a dramatically different way if you explore its neighborhoods on two feet or two wheels. Borrow a bike from Bike Share to check out the surrounding neighborhoods or ride along the L.A. River. Catch a ride on the Bengal Bus or make use of the extensive Metro buses and rail lines to reach Pasadena, Little Tokyo and Santa Monica. Book a Zipcar to run local errands or take weekend trips.
If you do bring a car to Oxy, parking on campus is free with a permit, and you can charge your electric vehicle at our campus stations.
For more than 40 years, the student-run Bengal Bus program has provided students with free and low-cost transportation to the surrounding neighborhood, L.A. airports, and other locations around town. Destinations include the cultural (museums), the practical (Trader Joe's and Target), and the purely fun (SoCal beaches and Old Pasadena).
Launched on Earth Day in 2010 as part of a sustainability class project, Bike Share has been the campus hub for promoting cycling, providing students free bike access and assistance with maintaining and fixing personal bikes.
Campus Fleet
A total of 34 electric vehicles (EVs) and six hybrid vehicles make up Oxy's fleet. Electric golf carts are commonly seen traveling around campus as Facilities staff do repairs, Campus Dining caters events, and Postal Operations delivers mail. Campus Safety make their patrols in hybrid sedan vehicles. A Toyota Prius is available for rental.
As old vehicles are replaced in the campus fleet, the fuel efficiency and lower emissions of electric and hybrid vehicles make them an attractive choice. In 2018, four EVs replaced diesel vehicles for Grounds staff and Campus Safety decided to go all-electric when they purchased their golf cart.
Electric Vehicle (EV) Charging Stations
Cleaner air, making a positive impact on climate change and lower maintenance needs are several benefits of driving EVs. Oxy proudly provides charging stations to support EV ownership. Stations can be found at the solar array parking lot and in the main parking structure on the northwest side of campus. Campus guidelines on EV charging best practices are forthcoming. Meanwhile, please practice common-sense etiquette.
Metro & TAP card
TAP cards are useful to have on hand for riding L.A. public transit. Riders cannot board the Metro Rail without one, and they make it easier to take Metro buses since you won't have to fumble for exact change. The card also works for taking L.A.'s DASH and other non-Metro buses. Conveniently, TAP cards can be purchased and reloaded at the Student Activities Center in the Johnson Student Center.
Starting fall 2019 through the hardwork of ASOC Senate, students can ride Metro for free! There is no limit to the number of rides a student can take. First, register to get a U-pass, then stop by the Student Activities Center.
One-way Metro trips cost $1.75, and this covers all transfers to other Metro Rail lines/buses for two hours (note: there is an additional cost for riding the Metro Silver Line and Metro Express Buses). Read this simple how-to guide for using the TAP card to ride the Metro.
Several handy apps for planning public transit trips are Google Maps, Moovit and Transit.
Zipcar
Not all destinations in L.A. are easily accessible by biking or public transit, so having a car is sometimes practical. But the costs of owning a car can be a hardship. Zipcar is a car sharing program that launched at Oxy in 2010, arising from a sustainability class on alternative modes of transportation. Head over to Zipcar's website to sign up for an account to take out the two Zipcars parked on the perimeter of the Booth Hall parking lot in front of Newcomb Hall.
Check out this study on the positive effects of using Zipcar (40% of college members are less likely to buy a car because of their membership). Below is a chart comparing costs of car ownership and Zipcar membership: