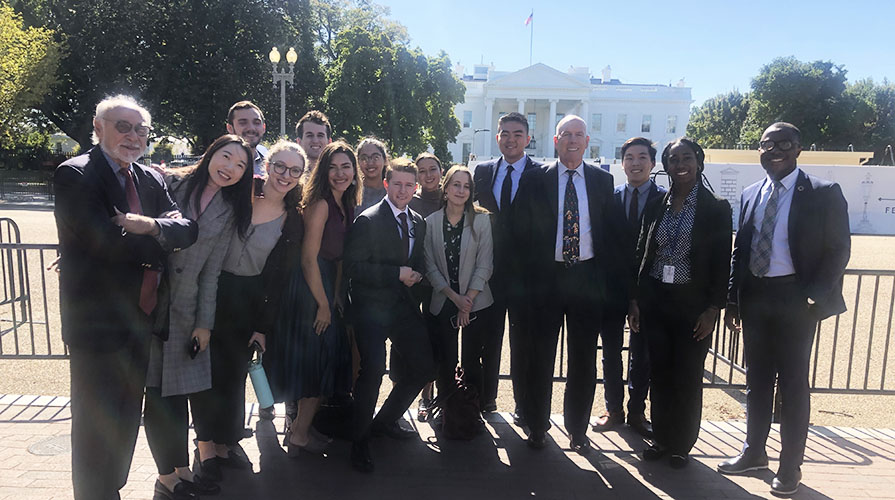 Recuperating from the brunt of the United Nations (UN) General Assembly Week, the G-15 have been very busy within the past two weeks providing support to our missions and agencies as they prepare for and take on the weeks ahead in the committee season.
From attending committee plenary meetings to sitting-in on informal negotiations on UN resolutions, we are beginning to see in full force how member states and agencies within the UN work together through diplomatic means to build a consensus of several global topics and issues.
Moreover, we had the opportunity to take a break from all the busyness at our missions and agencies for a two-day trip to Washington, D.C. On our trip, we explored how the United States' capital interacts and works with the United Nations through our visits to the US State Department and the Capitol Hill. At the State Department, we met with Oxy alumni and career government officials who shared with us their career paths and insights on their jobs at the State Department. We had thorough and insightful discussions with Zach Abels (Iraq Desk), Mike Gonzales (former Deputy Chief of Mission in Nepal, now Intelligence and Research focused on Africa), Kat Fotovat (Director of Global Programs Division, Office of Global Women's Issues), Jessie Evans (Africa Program Lead for the Institute of Security Governance at the U.S. Department of Defense), and Kyle Ballard (Senior Coordinator for Reports and Political Affairs in the U.S. Department of State's Office to Monitor and Combat Trafficking in Persons) – all Oxy alumni. We also had the opportunity to interact with Kirsten Fontenrose – Director of the Scowcroft Middle East Security Initiative at the Atlantic Council.
At the Capitol Hill, we met with Jessie Durett, Oxy alum and staff member on Foreign Policy for Democratic Congresswoman Abigail Spanberger (D-Virginia); and Tim Bergreen, Oxy Parent, Staff Director at House Permanent Select Committee on Intelligence, and former Chief of Staff for Representative Adam Schiff. We also had the chance to visit various private institutions and thinktanks in Washington where we had the opportunity to speak to Oxy alumni and officials working there. Some of the people we interacted with included; Juha I. Uitto (Director of Global Environment Facility (GEF) Independent Evaluation Office), Greg Gershuny (Executive Director of the Aspen Energy and Environment Program), Robert Newman (Director of AMP Health at the Aspen Institute), Leah Bitounis (Special Projects Officer for the Aspen Strategy Group), and Calli Obern (Oxy alumnus and Program Manager for International Partners at the Aspen Strategy Group).
We also had insightful conversations with John McArthur (Senior Fellow at the Brookings Institute) and Selen Özdoğan (Research Analyst for the Global Economy and Development Program at the Brookings Institute) who also shared with us their life and career trajectory and the role of Brookings in influencing and shaping US policies through research and policy recommendations. We also had the chance to meet with Chandrima Das (United Nations Foundation (UNF) Senior Director of Peace and Security Policy at the Better World Campaign) who informed us of the efforts of UNF in advocating for the UN and educating the American public about the UN's accomplishments and its necessity across the globe. These government and non-government officials shared with us the history of their organizations and the work they do in concert with national governments, civil society, and the United Nations to make the world a better place for all.
The G-15 also hosted Kahane UN Program alumni in the Washington D.C area at the Georgetown Suites for a Meet and Greet Reception which was a great opportunity for the G-15 and alums to network and connect with each other.
Below are the reflections of members of the G-15 about the Washington D.C trip:
"Just getting back from our whirlwind trip to Washington D.C – while physically exhausted – the trip itself was both a refreshing and captivating experience. Listening to Oxy's highly accomplished alumni speak about their current work and their career paths has helped our cohort realize the scope of possibilities that lie ahead of us. I personally aspire to join the Foreign Service; hence, after hearing alumni Mike Gonzalez, former Deputy Chief of Mission in Nepal, I now have a better understanding of how I can achieve a career in the Foreign Service. However, after hearing from other alumni like Jessie Evans about her work in the Department of Defense that involved coordinating specialist teams to advise foreign governments, I now see a wider range of opportunities ahead compared to my previous narrow focus on the Foreign Service.
In addition, our trip to DC has demonstrated the generosity of Oxy alumni and their willingness to engage with anyone in our community. It was astonishing to see how every alumnus expended a tremendous amount of effort to either set up our panel discussions and participate in the discussion. One of the most noteworthy examples was Tim Bergreen, father of a recent Oxy grad and Staff Director at House Permanent Select Committee on Intelligence, who stepped out of a formal disposition and literally ignored a few phone calls just to talk to us. Witnessing all of this has made me extremely grateful to be part of such a connected community. Lastly, a personal highlight for me was just gazing at the capitol building on a day with perfect weather just before sunset. This being my first time on the east coast and in DC, I had only seen such landmarks through a screen before but witnessing it up close was truly awesome."
– John Chen '20 (United Nations High Commission for Refugees (UNHCR))
"Our trip to DC was an awesome experience and, for me, might be the highlight of the semester. The stories shared by Oxy alums at the State Department of their time in government work and how they got to where they are currently were super interesting and made me question my decision to go to med school after Oxy.  I was so glad I got to meet different people who interned all over the UN and bond over our experiences at the Kahane UN Program Alumni Meet and Greet Reception. It was one to remember."
– Kate Dinauer '20 (United Kingdom Mission to the United Nations)
"I was very excited about the opportunity to travel to another city with all my friends in this program. The trip turned out to be way more exciting and inspiring than I expected. I never thought I could meet so many awesome people in just two days, most of whom were Oxy alumni! I was delighted to hear them talking about the insights of their jobs as well as their experiences as Oxy students. On the second day, we went to Capitol Hill to meet Tim Bergreen, the staff director at House Permanent Select Committee on Intelligence, and Jessie Durett, a staff member on Foreign Policy for Congresswomen Abigail Spanberger. They offered their thoughts on impeachment, the relationship between Congress and the UN, and their personal experiences. Jessie offered her own experiences in transitioning to the professional world after graduation and advised us on what to look forward to after graduating. Jessie's tips made me reconsider my plan after graduation, and I am glad to have had this conversation with her before I graduate next year. We also had a chance to meet many alumni on Thursday night. It was surprising to realize that there are so many Oxy Alumni working in D.C. I was happy to meet my friend Manjun who always supported me back at Oxy. Time passed by fast and I appreciate the trip overall."
– Huixi Yang (Xixi) '20 (United Nations Development Program (UNDP) BPPS Gender Team)
We also had our second guest speaker, Kanni Wignaraja, Director ad interim of UNDP's Bureau of Management (BoM), in our UN Experience class. Ms. Wignaraja shared with us her journey growing up in Sri Lanka during the civil war to how she got to work in the United Nations. She laid out some of the global challenges the UN will have to address head-on in order to achieve the Sustainable Development Goals (SDGs) by 2030. Climate action was one of the top priorities she stressed, stating that "adaptation and mitigation are not enough" to combat climate change. She also touched on the need for more public and private financing for the SDGs, the need to address the top ten killer diseases, the need for food sustainability, and the need to address what she called the "identity gap."
Finally, she advised the G-15 on the topic of leadership – one of the themes of this semester, stating that in order to work within an institution such as the UN, our personal values must align with that of the institution in order to be able to stand for and defend those values no matter what. She also added that the best leaders are those who are "incomplete", giving them the opportunity to always self-inflect and seek support when necessary. She ended by adding that for continued success in the professional field, we must be able to find the right balance between our professional drives and our personal excitements.