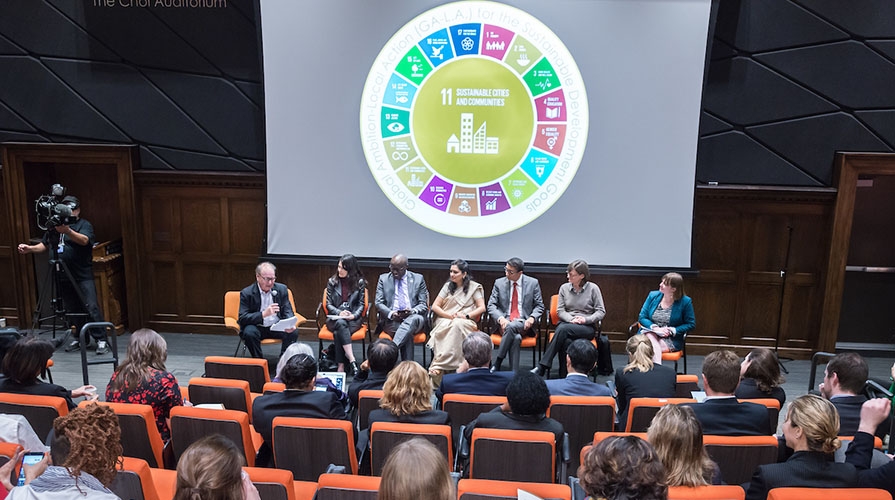 The Kahane Program also hosts and supports UN-related events at Oxy such as United Nations Week each February.
United Nations Week
In February, the Kahane Program hosts a week of events related to the United Nations. This week includes lectures and presentations from prominent United Nations scholars and diplomats, interactive events such as the showing of virtual reality films, and a panel of returning Oxy-at-the-U.N. interns to present their experiences from the previous semester. For U.N. Week 2019, Oxy is proud to present the following program:
UN Week 2019: Gender, Sexuality and Collective Action
Monday, February 4, 2019
All day, Academic Quad
Art Exhibition: Gender, Sexuality and Collective Action (runs through the end of the week)
5:00 - 6:30pm, Johnson Hall Atrium
UN Alumni Panel on "Las Invisibles: A Gender Analysis of Tropical Crop Production in Costa Rica
Tuesday, February 5, 2019
12:00-1:30pm, Choi Auditorium
Panel on "Intersectionality, Inequality, and Collective Action"
5:00 - 6:30pm, Choi Auditorium
Keynote by Ambassador Melanne Verveer on "The UN Sustainable Development Goals: A Gender Perspective and Call to Action"
Wednesday, February 6, 2019
12:00-2:00pm, Academic Quad
Quad Fair
Thursday, February 7, 2019
12:00 pm, Johnson Hall Atrium
Faculty Panel on "Not Just Academic: Oxy Faculty's Work to Promote Gender Equality"
5:00 pm, Johnson Hall Atrium
Student Panel on "Community Leaders Generating Collective Action: Oxy Students Advocating for Gender and Sexuality Awareness"
Friday, February 8, 2019
1:00 - 4:00pm, Varelas Lab Johnson Hall
Data Science Day
View Photos from past U.N. Weeks
Learning about the United Nations Through Culture and Cuisine
The Kahane Program supports initiatives by either students or faculty to delve into a topic or country through its cuisine. This program uses using food, from a specific country, as a point to bring together Diplomacy and World Affairs professors and students to discuss the United Nations past or current presence in that country. The purpose is to explore the intersection between, conflicts, cuisine, and communities. Students are encouraged to initiate these dinners, working to create a short reading list and invite fellow students and professors to join them in a discussion over dinner about their selected topic. Recently, Professor Ear took a group of students to a Thai restaurant to discuss the impact of the Thai king's death on the country and their politics. 
Other Speakers
The Kahane Program hosts speakers on topics related to the United Nations throughout the academic year. Most recently, the Kahane Program welcomed Dennis Altman for his lecture on "Can the United Nations Empower Queer Rights?"