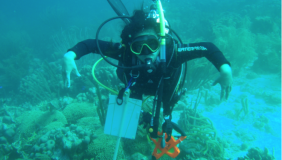 This past winter break (January 2015) I had the privilege to travel to Bonaire in the Dutch Caribbean for the CIEE J-term course in Tropical Marine Ecology Field Research Methods and Scientific Diving. 
This summer, I had the privilege to travel to South Africa for a month and work with the White Shark Africa: Shark Warriors volunteer program. I discovered this program by seeing a flyer on the bulletin board in the Bioscience building. Although I did not know any Occidental students who had done this program in the past, I decided to apply for it because of my passion for shark conservation.
During this past spring semester, I studied abroad at James Cook University, located in a city called Townsville on the tropical northeastern coast of Queensland, Australia. As a marine biology major, I went abroad to JCU to learn about tropical marine ecosystems and get first hand experience studying and diving the Great Barrier Reef.