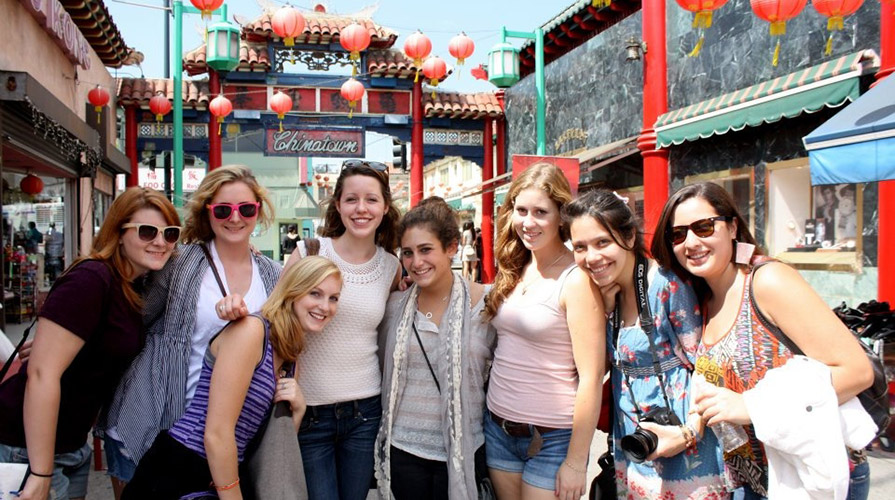 Spend your first semester at Oxy in an integrated set of courses built around studying immigration and immigrant communities in great depth.
The California Immigration Semester (CIS) is a unique opportunity to work closely with three faculty members and visit the immigrant communities of Los Angeles. In the classroom, students examine the literary works and histories of immigrant communities throughout California, and study the experiences of immigrant children and youth in and out of school. Outings provide students with a greater understanding of both the social factors impacting immigrant communities and the many contributions of immigrants to the intellectual, cultural, and economic life of California.
All CIS students take four courses (all taught in English) together--the First Year Seminar (FYS) seminar and a course in each of the following three majors: Critical Theory & Social Justice, Sociology, and Spanish. Upon completion of the CIS, students will have fulfilled three requirements toward graduation (a Core First-Year Writing requirement, the U.S. Diversity Core requirement, and the Global Connections Core requirement).
Interested? 
Students interested in enrolling in the California Immigration Semester should fill out the form below by June 22. Students will be accepted into the class until the enrollment limit is reached, at which time interested students will be added to a wait list and offered seats as they become available. Note: This course is only open to first-year students. 
Sign up for the California Immigration Semester!
Classroom Learning
Learn more about the four CIS courses:
FYS 1: (Im)migrant Communities of California
Richard Mora, Ph.D.; Mary Christianakis, Ph.D.; and Viviana MacManus, Ph.D.
This course offers students the opportunity to analyze the sociohistoric, legal, and cultural tensions surrounding various (im)migrant communities in California. Students will explore the various waves of (im)migration across time to understand the diverse communities of California. Students will also build critical and interpretive capacities through the examination of state policies, statistics, and various historical and empirical studies. Additionally, through the construction and revision of several expository, research-based writings on immigration, students will hone their writing, argumentation, and presentation skills
Sociology 105: Immigrant Youth & Youth Cultures
Richard Mora, Ph.D.
This course examines the role of youth cultures in the identity formation of immigrant adolescent youth residing in the United States. Particular attention is paid to: (1) theories of acculturation and assimilation used to analyze the experiences of immigrant youth; (2) the impact of geographical location, social class, gender, race, sexuality, popular culture, mass media, and technology; and (3) the intersection of youth cultures, home cultures, and mainstream society.
Spanish 105: Rancho Hollywood: Los Angeles Migration Stories
This course offers students the opportunity to analyze narrative stories, films, and other cultural artifacts that document a history of immigration and migration to Los Angeles from Mexico and Central America during the twentieth and twenty-first centuries. Many of the narratives, films, and other cultural works studied treat significant contemporary issues (e.g. the representation of history, questions of identity and alterity, questions of race and ethnicity, globalization, authority, the construction of class and gender in society) that Los Angeles faces as an emblematic socio-cultural space that continuously shifts as consequence of new arrivals to the city. Emphasis will be placed on studying narratives and films within the social, historical and cultural contexts of the material they treat, and current critical theories. Specifically, this course presents a critical view of the representation of migrations to Los Angeles in order to understand how these migration stories function as a socio-cultural medium that document and occupy many geographical spaces that establish Los Angeles as a heterogeneous cultural place and space.
CTSJ 105: Immigration and Education
Mary Christianakis, Ph.D.
This course locates the topic of immigration and education within historical, legislative, and cultural debates on what it means to be an American and who has the right to an Education. Students will explore and debate precedent-setting Supreme Court cases and they will research recent anti-immigrant movements in California, Arizona, and Colorado, which target the use of languages other than English in school settings. Against this historical and legislative backdrop, students will examine ethnographic research detailing the persistent challenges that immigrant and migrate children face in schooling and the ways in which they, their parents, and their communities experience those challenges