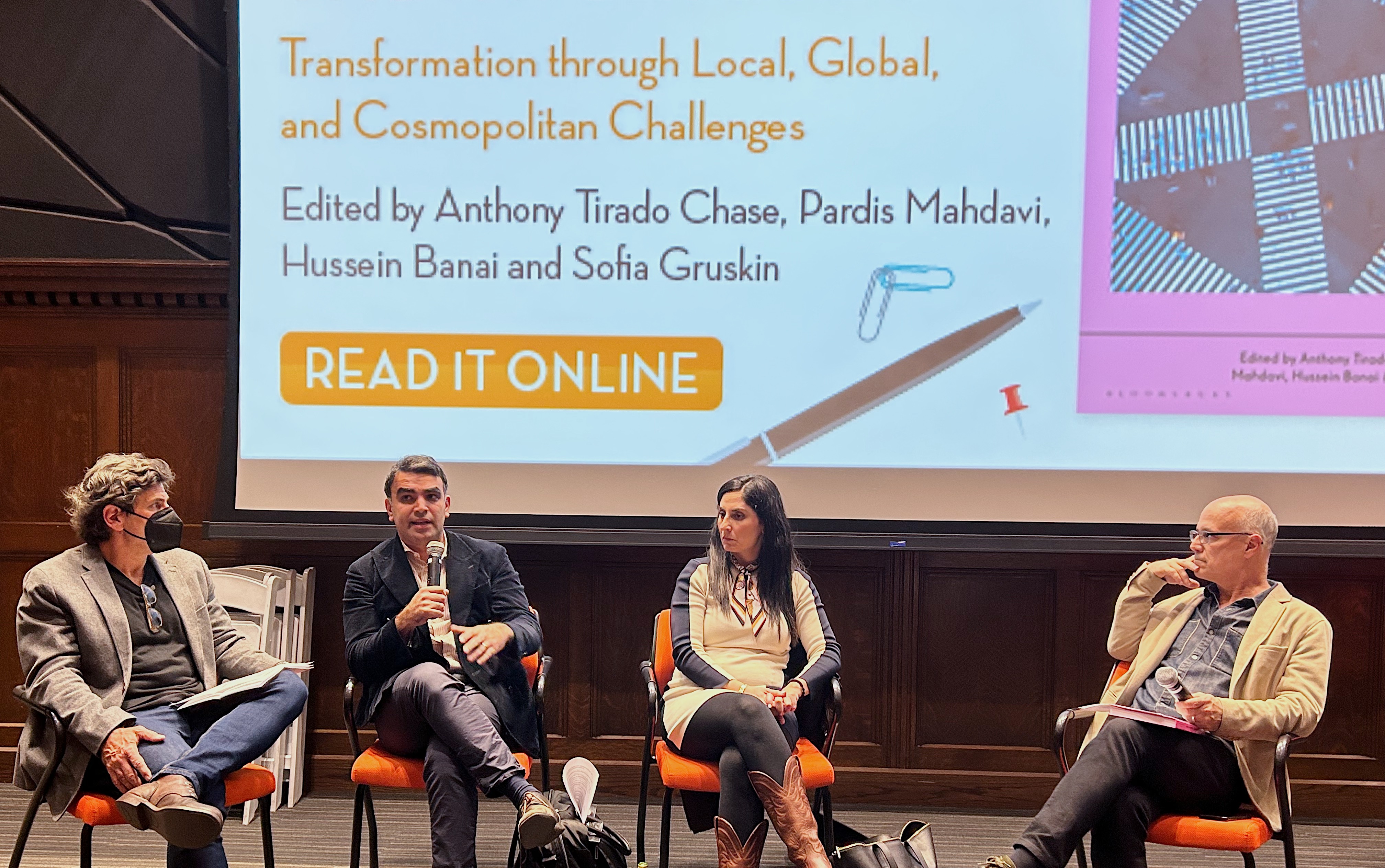 On Wednesday, February 1st, 2023, the Young Initiative hosted Provost and Executive Vice President of the University of Montana Pardis Mahdavi and Associate Professor at Indiana University Hussein Banai in discussion with Anthony Tirado Chase, Sofia Gruskin, and Malek Moazzam-Doulat for Iran: Human Rights at the Intersections.
The talk began with an explanation of Human Rights at the Intersections: Transformation through Local, Global, and Cosmopolitan Challenges, a publication that Chase, Gruskin, Banai, and Mahdavi recently released that discusses the importance of an interdisciplinary approach to human rights. An approach that encompasses multiple fields at all levels from local to international. 
Hussein Banai offered insight into why it is important to emphasize the "everydayness" of human rights, bringing the conversation to everyday life practices, at personal, community, state, and international levels. Banai also discussed the importance of moving past binary thinking when approaching the human rights situation in Iran, stating that it is imperative to have transnational solidarity with the people of Iran. Pardis Mahdavi gave a feminist analysis of the events happening in Iran, noting that the current protests are not taking place in a vacuum. Rather the current protests ensuing in the wake of the murder of Mahsa Jina Amini are a culmination of decades of struggle by Iranian feminist movements. Generations of Iranians have been protesting the Islamic Republic's regime, with many of the older generations being part of the earlier Sexual Revolution. Today's children who are protesting are supported by these older generations. 

The event concluded with a Q&A session with students, where the speakers discussed the importance of managing the exhaustion that comes with protesting, seeking news from people on the ground versus US media, and above all, how to take power back. A political leader's ability to hold legitimacy is constantly in flux. Banai concluded the talk by explaining that in politics, you cannot cleanse, you must persuade.