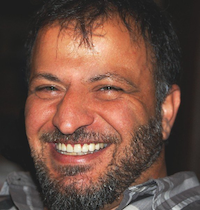 On October 21, 2019, Alfred Madain joined Occidental students and faculty in Choi Auditorium for a discussion of music and politics in the Arab world.
Earlier in the day, he'd hosted a showing of the film Umm Kalthoum: A Voice Like Egypt to set the stage for his joint lecture-discussion. He began his talk with a question: "what is Arab?" Students gave him a handful of responses, ranging from "speaking Arabic" to "being from a certain part of the world." Madain responded with the fact that 22 countries have Arabic as their official language, and that most of these countries are in Africa — not in the "Middle East," with which most people associate the word "Arab." He then explained that Arab culture can be united and defined using art aesthetics and music. Madain began his explanation of this claim by launching into a summary of Arab history and the creation of the Arab identity, from ancient tribes leaving the Arabian Peninsula all the way until the modern-day. He noted that these tribes, originally united under Islam, would eventually find new forms of identity such as nationality and ethnicity due to colonial powers and pressures.
Focusing his discussion on Egypt, Madain explained the shift towards a united arab secular identity under the banner of socialism in the 1800s, during which upper class Egyptians began to identify as Egyptian rather than Arab. In the late 1800s and into the 1900s, there grew a "cafe culture" in which musicians sang in coffee shops about social issues such as sexual freedom, personal freedoms, and women's rights. This musical-political culture expanded to include musical theater, operetas, popular hip-hop, and more, with the huge cultural contributions of musicians and poets such as Sayed Darwish, Mohammed Abdel Wahhab, Fouad Nigm, Ziyad Rahabani, Nass El-Ghiwan, and Mohamed Khaled. Much of the music written in Egypt in this time period served as commentary on Egyptian society and politics, calling for equality of race, gender, and class. Certain songs such as Ahu Da Illi Sar, written by Sayed Darwish in the early 1900s, were sung as recently as in the 2011 Egyptian protests in Tahrir Square. The long-lasting effects and importance of political Arab music are clear, and the audience was engaged as Alfred Madain discussed his research.
Alfred Madain is the founding director of Bedouin X, the desert blues band, and an educator and ethnomusicologist in Los Angeles. He grew up in Jordan listening to an eclectic selection of music from the Arab world, America, and Europe.