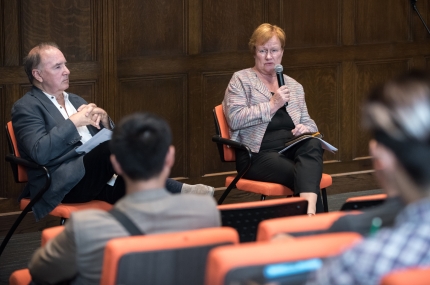 I have found that one of the most important resources that every student can and should take advantage of here at Oxy is the wide assortment of guests that the department will bring in. It never ceases to amaze me the number of famous well-known figures that come. Speakers like Howard Dean and Strobe Talbot. Last Monday, October 19th, I was struck again when Tarja Halonen, Conan O'Brien lookalike and Finlands 11th President visited Choi auditorium. For over an hour, Ms. Halonen explained professional history starting first as one of the first woman lawyers in her home of Helsinki, through her tenure as president till today as a political activist in the UN.
Much was covered over that short hour in Choi but a few specifics stuck out to me. First, it was clear President Halonen's visit was, at least in part, due to a more personal relationship cultivated by the College's own Ambassador Derek Shearer, who oversaw the talk and her visit. Amb. Shearer was an appointed ambassador to Halonen's Finland in the 90s under US President Clinton and during his time there he explained how he and Halonen, then Foreign Minister, built a strong working relationship. That same relationship 15 years later showed no signs of weakness.
Throughout her talk, Halonen also made important distinctions between Finland and other European countries to that of the United States. Halonen joked and sniped at the US's problem of money in its politics and elections as well as the declining power of labor movements in the US. Finland, of course, have shorter and cheaper elections and a labor movement consisting of over 80% of the country's workforce. Having started her career as a labor lawyer in Helsinki, Halonen explained just how significant this difference was and how it played into the effectiveness of the country's economy. 
Focus was also drawn to Halonen's after-presidential ambitions mainly in the UN regarding sustainable development and the role of women in global governance and politics (her calling made especially strong for being the first woman to hold the highest office in Finland). She stressed the importance of private individuals with regard to sustainable social and economic development – how truly sustainable development must be aided by businesses, citizens and NGOs. But perhaps the best part of it all was Halonen's love of humor and wit. Whether it was her response to the everyday sexism she experienced in society or the personality of Vladimir Putin, the former Finnish President cracked more jokes about her experience than anything else. To see someone with such serious responsibilities have a strong sense of humor gave usual stressful topics made the afternoon with Tarja Halonen not only enlightening, but also enjoyable.
Keep an eye open on the McKinnon Center & DWAMA website to see when other interesting speakers come to campus!
Here's the link to the article in the Occidental Weekly:
http://occidentalweekly.com/news/2015/10/27/uns-halonen-speaks-on-sustainability/