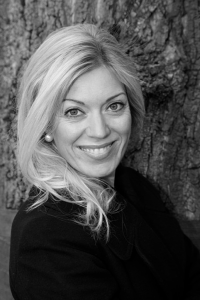 Just before the lunch hour on Wednesday, November 4, 2015, the McKinnon Center for Global Affairs hosted Norwegian author Unni Turrettini in the Johnson Global Atrium. Turrettini is the author of The Mystery of the Lone Wolf Killer and is currently working on an expository book about the Nobel Peace Prize, its history, and the politics and culture behind the  Norwegian Nobel Committee. Few were in attendance, which turned to be beneficial—the intimacy of the event allowed for the audience to interject and have dialogue with Turrettini as she spoke about topics related to her anticipated work, The Price of Peace. The lecture was titled "The Nobel Peace Prize: Who Wins it and Why?"
The Atrium's Global Crossroads wall was the backdrop and Unni Turrettini opened her talk with a small question-and-answer style introduction, gauging the audience's understanding of the prize selection process and highlighting individuals whom she believes should have received the prize for their peaceful efforts, like Ghandi, Figueres, and U Thant, in contrast to ridiculous past nominees like Hitler, Mussolini, Stalin, and today's Putin. She stated that "understanding the Norwegian culture and its people is fundamental to understanding the Committee's choices throughout history." Turrettini grew up in the social-democratic state of Norway, a place where she feels that the individual is suppressed. As a successful scholar and star athlete, running the 400m hurdles, she was never comfortable being herself. It was only until she studied abroad in Kansas City, Kansas, that she began to see herself as a proud individual. Turrettini elaborated about her belief that only groups—not individuals—exist in nations like Norway; this dynamic, she argues, plays into the politics of the Committee.
Five members who are politically appointed decide cases and elect prize winners. Their six-year terms and decisions are supposed to embody Alfred Nobel's mission to acknowledge "champions of peace." But, the people whom the Committee has selected in the past years is example of "profound misjudgement," marking the "price of peace." Instead of recognizing the world's champions, winners like "Obama, Menchú, Gore, and Malala" are celebrities who represent Norway's politics and provide for the "ego trip" created by the gala-like award ceremonies.
Turrettini closed her presentation by informally nominating qualified individuals and groups like Daisaku Ikeda, Hibakusha Stories, and ICAN, whom and which she believes manifest Alfred Nobel's mission and the lasting essence of his will. Finally, the author closed quoting Tony Blair in an effort to further explain the state of the Committee, "If I win the Nobel Peace Prize, you'll know I've failed."
--William Butenschoen