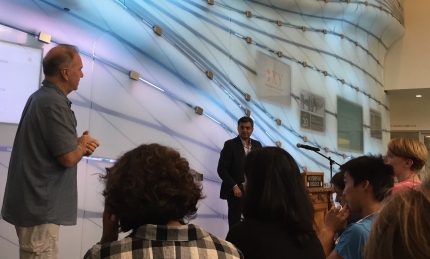 Faisal Devji is a world-renowned scholar on jihadism and serves as a University Reader at St. Antony's College, one of the constituent colleges of the University of Oxford in England. On September 20, Dr. Devji spoke at the McKinnon Center for Global Affairs, for which he is an advisory board member. He delivered a lecture within the context of an ISIS propaganda video that denounces the Sykes-Picot Agreement. His talk, Understanding ISIS: The Essential Guide to Global Terrorism, explained the history of jihadism and dissected a paradox that helps to clarify Islamic State's organization and methods: although Islamic thinkers agree that sovereignty is God's law, ISIS continuously pushes the law's boundaries.
Dr. Devji also delineated the difference between Al Qaeda's politicized "mirror-imaging argument" for justifying the group's terrorism from ISIS's modus operandi: "shattering the mirror" and promising immediate "pleasure and joy" to its sympathizers.
The end of the Cold War brought in a new form of militancy—one that is depoliticized. Dr. Devji argues that ISIS thrives on today's fragmented sovereignty and unclear politics in creating a new jihadism. In the place of Al Qaeda's reciprocal violence that fights the West, ISIS instead focuses "inside," with its near enemies, waging war with "devil worshippers," as explained in the propaganda video.
Dr. Devji provided the Occidental community abstract insight into the evolution and organization of global terrorism. In understanding this transitional phenomenon, as students, we come closer to comprehending today's increasingly complex Middle East.
--William Butenschoen