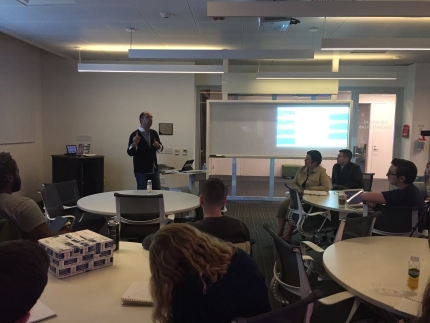 This past week, Philip Schönrock Director of CEPEI (Centro de Pensamiento Estratégico Internacional) in Bogotá Colombia visited Occidental to speak for the SDG Speaker Series. His talk primarily focused on the role of governance in development and specifically the role Colombia played in creating and implementing the 2015 Sustainable Development Goals. As Director of CEPEI, an independent, non-profit, non-governmental think tank, Mr. Schönrock is responsible for coordinating an interdisciplinary group of development stakeholders. All in the effort to provide a regional platform that brings together influential leaders and practitioners from Latin America and the Caribbean to debate and generate inputs for critical issues concerning how to scale up a data revolution for a post-2015 development framework.
            Addressing a group of engaged Oxy students in the Varelas Lab, he championed participation at the subnational level, urging them to consider the role they can play in bringing the Sustainable Development Goals to fruition. In order to tackle the ambitious SDG agenda, he emphasized the need for governments, civilians, and the private sector to work together in a multi-stakeholder approach that reflects the broad scope of the goals. According to his vision, this can be accomplished by transforming for-profit companies into development actors. "Companies must be multidimensional-this means no matter their business they must be conscious members of society. They must advocate for fair wages and be conscious of their effect on the environment."  
           Shedding light on Colombia's and Latin America's troubled political history, he earnestly discussed the current FARC Peace Talks and the Colombian Peace Plebiscite failure. After nearly four years of negotiations between President Juan Manuel Santos and FARC leader Timoleon Jimenez, Colombians rejected a landmark peace deal with the rebels. His first-hand experience gave students insight into the complex thought process of the more than 50% of Colombians who voted against peace. Schönrock did not hesitate to challenge students with the difficult question of what they would do when faced with the option of allowing ex-guerilla fighters into their classrooms. While he entertained all answers, he did make it clear that the opportunity to have open dialogue instead of armed warfare is a better option for maintaining peace. Tying the Colombian situation with the SDGs, he stated the peace process must be based on sustainable development—there is an unequivocal link between justice and development; stronger institutions, a proper justice system based on the transnational justice model, poverty reduction to 0, and an end to corruption are all necessary. But most importantly, Mr. Schönrock stressed that none of this is possible without a human approach based on trust.
—Steven Paul