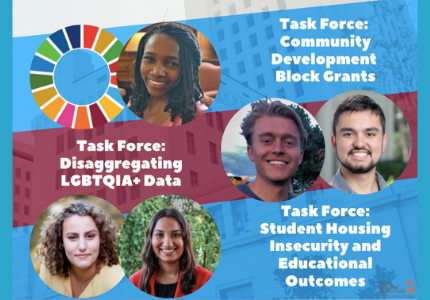 For nearly three years the Young Initiative has partnered with the City of Los Angeles to adopt the United Nations' Sustainable Development Goals on a local level. Multiple cohorts of Oxy students have participitated in SDG task forces, and this past summer was no different. 17 Oxy students were split up across 6 different city projects to advance the SDGs.
Facilitated by Oli Vorster ('22), the "Poverty and Inclusion in the Los Angeles SDGs" panel provided an opportunity for a few of the students to share their internship experience with the community. Panelists were asked about challenges they faced during the internship, the findings of their research projects, and key takeaways from their experiences.
In terms of challenges, many students expressed that it took some time to fully understand the deliverables that their respective city client desired. Johnny Hammer ('21) pointed out the adjustment period that interns faced transitioning from what was supposed to be an in-person work commitment, to being fully virtual. However, he noted that working over Zoom fine-tuned students' online communication skills, which is particularly relevant for students with future careers in international relations. Caroline Diamond ('22) also noted that there was a lot of research that went into contextualizing the need for each project. 
Each team produced a unique set of findings. Stephanie Oyolu ('22) shared how she helped develop a list of recommendations for how the city can optimize Community Development Block Grant allocation. Wafa Abedin's ('21) team, which focused on Housing Security and Education Outcomes, created a racial equity toolkit for stakeholders to adopt. Each of the panelists emphasized their gratitude for the opportunity to work with the city as well as the skills they strengthened or developed newly. Alejo Maggini ('22)  shared that he was struck by the power of student voices and their ability to enact tangible change on the local level.