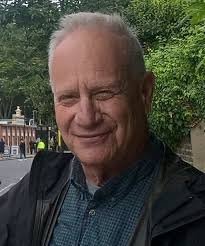 Robert Edelman is a Professor at University of California, San Diego, and has been since 1972 when he received his doctorate from Columbia University. As a former sports-writer and radio announcer, Edelman brings an interesting insider's take to his specialty in Russia and Sports history. As such, he has consulted on documentaries for HBO, PBS, ESPN, and CBS at the 1998 Olympic Winter Games. 
On October 5, 2019, Edelman came to Occidental College to speak on Sports and the Cold War. He discussed in length the processes, methodologies, and stories behind the creation of his colleague and his new book, The Whole World Was Watching: Sport in the Cold War. He explains that, in his research, he wanted to move the conversation away from just the Olympics, towards sports in general during the Cold War, and how they influenced sports and international politics on the whole. He also spoke about the significance of the Cold War on the field of international relations by explaining how the multipolar interpretation of the Cold War challenged the idea that mutually assured destruction assured international safety by virtue of proxy wars in the global south, and racial elements incorporated in the war through the creation of new states largely of color during the war. Here he went on to note the intellectual reasoning for his research; that one cannot understand the cold war without understanding the culture of the period. Furthermore, one can not understand culture without analyzing popular culture, and sequentially one cannot understand popular culture without an analysis of sport. Therein, Edelman explained to Occidental students and faculty, lies the need to study sports in relation to the Cold War. After an analysis of the newly emerging identities of sports, Edelman noted that sport masks realities just as it illustrates them. In his final remarks, Edelman reflected that sports are a slippery tool in the hands of scholars; that there is no easy solution, and that scholars must use caution and sophistication when conducting analyses. 
Robert Edelman continues to research the intersection of sports and diplomacy. His talk fit in perfectly to the Sports and Diplomacy class offered by Ambassador Shearer during the fall semester of 2019.