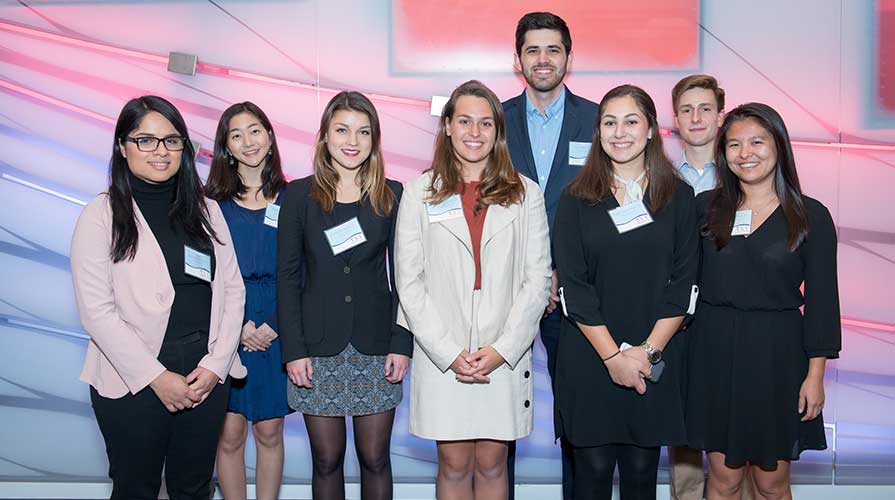 The John Parke Young Initiative on the Global Political Economy proudly invites experts in international relations to Occidental College.
Guest speakers give students and faculty an opportunity to expand their understanding of global issues. The Young Initiative sponsors several speaker series each academic year that highlight particular aspects of global affairs and the international political economy. Please see the current and past annual Young Initiative Brochure for more details on each Speaker Series.
The Young Initiative sponsored the following speaker series during the 2018-2019 academic year:
Distinguished Young Speaker Series
The Distinguished Young Speaker Series is devoted to highlighting the work and success of eminent foreign policy experts, Oxy alumni, and others in the world of global affairs, public service, and academia. This series provides a unique opportunity for students to learn more about possible career paths after Oxy and to hear firsthand from leaders in their fields. 
Heidi Nichols Haddad, October 04, 2018, The Hidden Hands of Justice: NGOs, Human Rights, and International Courts

Kyle Ballard '04, October 05, 2018, Complexities of Human Trafficking

Stephen Walt, Febraury 14, 2019, How did we get here, and where are we headed? Reflections on America and the World

Kelly Sims Gallagher '95, February 21, 2019, Environmental Diplomacy

Dalit Baum, March 04, 2019, The Political Economy of Transnational Boycotts: Economic Activism from the Cases of BDS to Mass Incarceration and Beyond

Jeremy Kagan, March 26, 2019, Climate Realities: Facts and Fixings
Global L.A. Speaker Series
The Global L.A. Speaker Series highlights Los Angeles as a global city with unique cultural complexities and urban challenges. This series complements Occidental's ongoing partnership with the City of Los Angeles on the implementation of the 2030 Agenda and the United Nations Sustainable Development Goals (SDGs).
Leo Braudy, September 25, 2018, A Conversation on Popular Culture
Steve Erie, October 02, 2018, A Conversation on L.A. and the World Economy
Manuel Pastor, October 16, 2018, A Conversation on Progressive Politics
Ambassador Nina Hachigian, October 23, 2018, A Conversation on the City and the World
Sarah Portnoy, October 30, 2018, A Conversation on Food and Culture
Robert Gottlieb, November 06, 2018, A Conversation on Urban Environments
Rick Cole '78, December 04, 2018, A Conversation on the Future of Urbanism
Oxy Global LGBTQ Speaker Series
The Oxy Global LGBTQ Series discusses queer politics and identity in an international context. This series is devoted to highlighting the research and teaching of experts on global, state, and local perspectives concerning LGBTQ rights and questions of sexuality.
Arnand Grover, October 17, 2018, Indian Supreme Court and Decriminalising Sex Sex Relations: Challenges in India and Around the World
Dennis Altman, February 05, 2019, Missing in Action? The U.S. and Global Queer Politics
Chelsea Moore, February 28, 2019, In Pursuit of the Pervert: Sexual Dangerousness and the Expansion of Punitive State Power