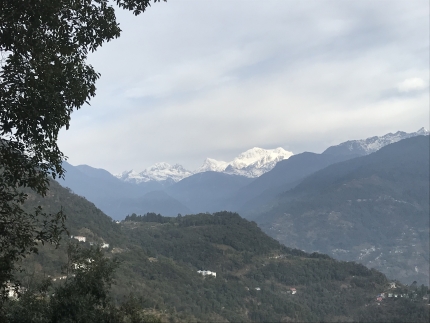 A course centered around the question: How can we be "well" when the world is beset by the existential issue of climate change?
RELS 120: Flourishing in a World on Fire: Cosmologies of Multispecies Health in the Anthropocene
4 units
Students enrolled in this course will meet the Global Connections Core Program requirement
Taught by Prof. Holmes-Tagchungdarpa
This course is centered around the question: How can we be "well" when the world is beset by the existential issue of climate change? Or, in the words of anthropologist Pasang Y. Sherpa, how do we live in the midst of dying? To answer these questions, students will study cosmological systems that conceive of human health as fundamentally connected with ecological health, and consider how these systems are responding to the challenges of climatic variability. Specifically, cosmologies from the Asia-Pacific region, where climate change have already fundamentally altered daily life in the form of receding glaciers and flooding islands, will provide students with an insight into how religions and cultural traditions conceptualize health and multispecies flourishing in the face of impacts from climate change that threaten multiple species across ecosystems.
The course will be organized around case studies related to land, ocean, mountains, and space, with examples from multiple religious and cultural communities from the Pacific Coast of the United States, to Hawai'i, Tuvalu, Aotearoa New Zealand, Thailand, India, China, and Bhutan. These case studies will cover examples from multiple moments of the Anthropocene, from the Little Ice Age that began in the fourteenth century CE to the present, as well as incorporate interdisciplinary research from the environmental Humanities, such as anthropology, environmental ethics, political ecology, and religious studies. This course will allow students to see how different cosmologies - both Indigenous and imported - provide people with holistic notions of health, explanations to understand the enormous changes brought by the Anthropocene, and to explore and develop resources for enacting measures that will bring about justice that can benefit human communities and the environment.  
Students in the course will participate in a social justice project.
Questions? Contact Prof. Holmes-Tagchungdarpa at tagchung@oxy.edu 
Image: Mt. Kanchendzonga, Sikkim, India