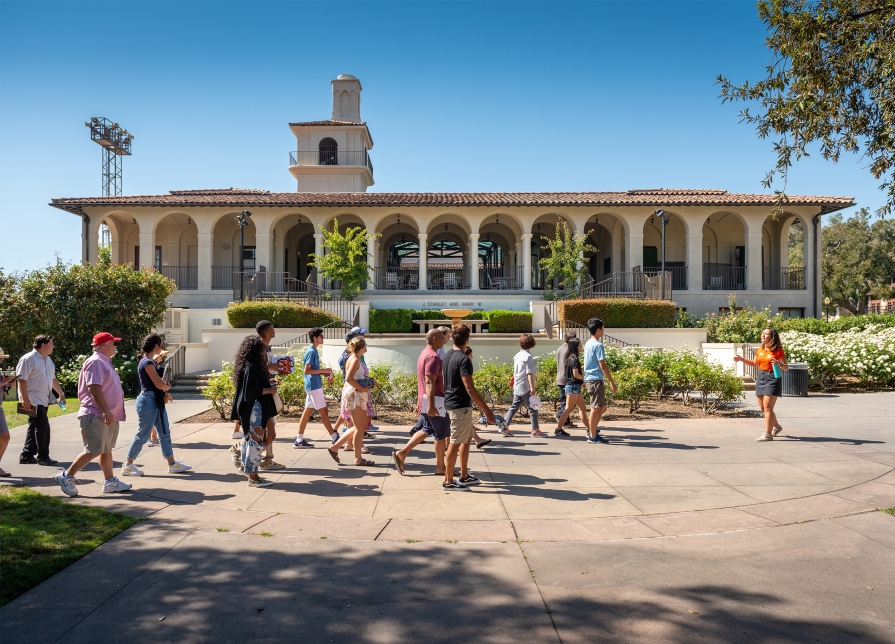 Visiting with a group of 10 or more students?
Beginning Tuesday, September 19, Fall 2023 group visits will be offered on Tuesdays and Thursdays from 12:00-1:00 PM . Please email Katherine Torrey at torreyk@oxy.edu to schedule a visit, and review the following guidelines prior to sending your request :
We invite groups of 10 to 50 students from high schools and community-based organizations to Occidental for a 45-minute student-led campus tour, and 15-minute Admission and Financial Aid session led by an Admission Officer. These visits are reserved only for 10th through 12th grade students . If you would like to schedule a self-guided tour for K-9 students, please email Katherine Torrey at torreyk@oxy.edu for additional information.
Our campus is small and only has the capacity to host 50 visitors or fewer at a time. We cannot accommodate groups larger than 50. 
If you are planning to eat while on campus, our dining hall is available to visitors, but please note that it is cash only. If you plan to eat at the dining hall with a group of 20 students or more, please notify Katherine Torrey at torreyk@oxy.edu after you register for your visit, so that we can alert our dining staff. We ask that groups do not bring their own lunches to enjoy on campus without prior approval. 
You will receive confirmation for your visit with additional details after registering. Please do NOT make travel arrangements to visit Occidental prior to receiving a confirmation from the Office of Admission.
Please note that if you are more than fifteen minutes late to your visit, your tour will be self-guided and you will not receive an information session.