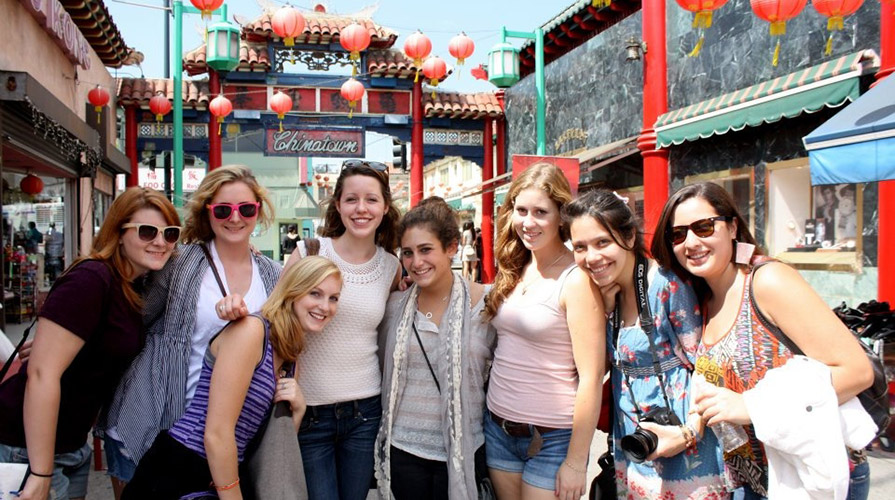 Spend your first semester at Oxy in an integrated set of courses built around studying immigration and immigrant communities in great depth.
Sign up for CSP 1: California Immigration Semester!
Note: The deadline to sign up for CSP 1: California Immigration Semester is July 28. 
This group of first-year students will work with three faculty members to learn about education, literature, sociology, California, and immigration. The many immigrant communities of Los Angeles will serve as intellectual resources that will work in dialogic relation to classroom learning.
This semester is a unique opportunity to fulfill three requirements toward graduation (a Core First-Year Writing requirement, the U.S. Diversity Core requirement, and the Global Connections Core requirement) and elective courses for three majors (Critical Theory & Social Justice, Diplomacy & World Affairs, and Sociology). The prerequisites for this combined set of courses are: a curiosity for learning about California's cultures, a willingness to visit and learn from immigrant communities, and a fondness for films and documentaries. We are committed to accommodating students regardless of prior experience.
Lecture/Discussion: Focused on the literary works and histories of immigrant communities throughout California, the social forces impacting those communities, and writing skills and strategies.
Classroom Learning
All CIS students will take four courses together, including their CSP seminar. 
CSP 1: (Im)migrant Communities of California
Richard Mora, Ph.D.; Mary Christianakis, Ph.D.; and Juve J. Cortés, Ph.D.
This course offers students the opportunity to analyze the sociohistoric, legal, and cultural tensions surrounding various (im)migrant communities in California. Students will explore the various waves of (im)migration across time to understand the diverse communities of California. Students will also build critical and interpretive capacities through the examination of state policies, statistics, and various historical and empirical studies. Additionally, through the construction and revision of several expository, research-based writings on immigration, students will hone their writing, argumentation, and presentation skills
Sociology 105: Immigrant Youth & Youth Cultures
Richard Mora, Ph.D.
This course examines the role of youth cultures in the identity formation of immigrant adolescent youth residing in the United States. Particular attention is paid to: (1) theories of acculturation and assimilation used to analyze the experiences of immigrant youth; (2) the impact of geographical location, social class, gender, race, sexuality, popular culture, mass media, and technology; and (3) the intersection of youth cultures, home cultures, and mainstream society.
DWA 282: Global Los Angeles
Juve J. Cortés, Ph.D.
Global Los Angeles is a critical examination of greater Los Angeles and its economic, political, social, and cultural ties to the world. Our focus will be on all the ways in which Los Angeles is an integral part of the post-Cold War global society. Topics to be discussed include migration, transnationalism, environmental challenges, and economic patterns of development and underdevelopment. More broadly, the course will inquire how globalization affects the life of Angelenos and, reciprocally, how Angelenos contribute to globalization and the world.
CTSJ 105: Immigration and Education
Mary Christianakis, Ph.D.
This course locates the topic of immigration and education within historical, legislative, and cultural debates on what it means to be an American and who has the right to an Education. Students will explore and debate precedent-setting Supreme Court cases and they will research recent anti-immigrant movements in California, Arizona, and Colorado, which target the use of languages other than English in school settings. Against this historical and legislative backdrop, students will examine ethnographic research detailing the persistent challenges that immigrant and migrate children face in schooling and the ways in which they, their parents, and their communities experience those challenges