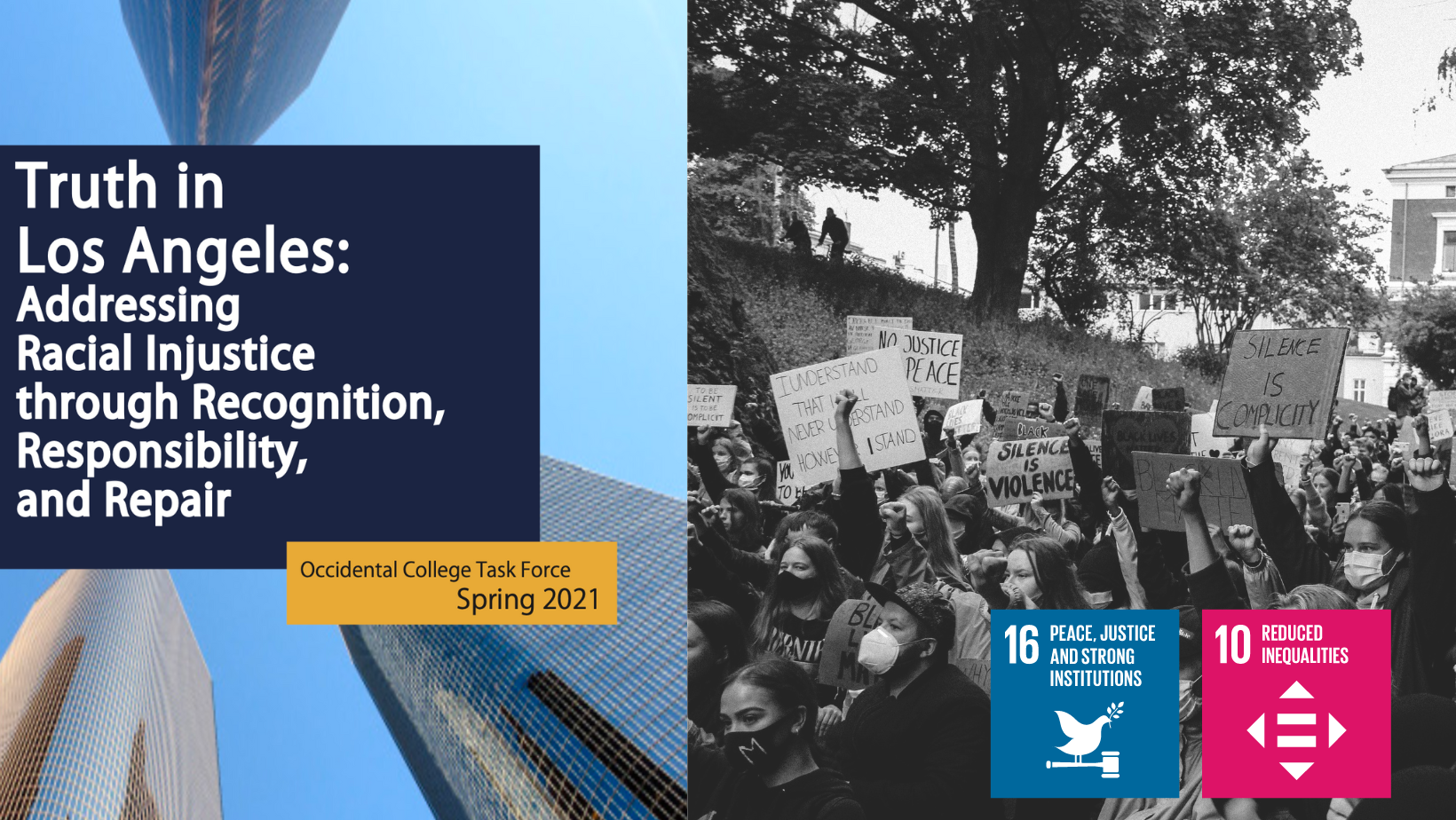 Recommendations on how to initiate a truth and accountability process and confront patterns of racial injustice in Los Angeles 
Los Angeles Deputy Mayor and Chief Equity Officer Brenda Shockley tasked a spring 2021 Occidental/Young Initiative Student Task Force with exploring "Truth, Accountability, and Transformative Justice" as a way for our city to imagine new avenues for community-based practices to reduce, and ultimately, eliminate structural and institutional racism.  In that context, and under the direction of both L.A.'s Chief Equity Office and its Office of International Affairs, the spring Task Force produced a comprehensive report entitled Truth in Los Angeles: Addressing Racial Injustice through Recognition, Responsibility and Repair as well as an Executive Summary of Recommendations. The report came to three fundamental conclusions: 
That a truth-telling process specific to a Los Angeles context––and if forged through a city-communities partnership––may produce relevant solutions to the breakdown in trust between communities and city institutions as a result of past and ongoing histories of racial hierarchies and exclusion.

What sort of truth-telling process is as important a question as if there should be a truth-telling process at all. Key lessons learned from global experiences with truth-telling processes show they must address intersecting elements of Recognition (changing dominant historical narratives); Responsibility (having governing institutions take active responsibility for past action and future reform), and Repair (engaging in both symbolic and substantive reparative actions that both acknowledge and help heal past wrongs).

How a truth-telling process in Los Angeles is convened is essential to its success. City government commitment is essential, but will only matter if it is combined with true partnership with grassroots leadership and city-wide engagement. Restorative justice practices can facilitate the creation of such partnerships and maintain their inclusivity and focus on shared goals among all Los Angeles communities.
As a follow-up, a summer 2021 Occidental/Young Initiative Task Force was charged with research to deepen and expand the spring deliverables by producing a set of recommended "first steps" for truth-telling in Los Angeles in four ways: 
Recommendations on the best processes on which to base a Truth-telling process. 

Recommendations on best policies in which to initiate and ground such a process. 

Initiate a landscape analysis of Los Angeles-based community actors working in ways that either directly or indirectly could connect to a city-wide truth-telling process.

Designing a website to host documents, FAQs/definitions, and mappings that can serve as a common knowledge base for those engaging with an L.A. truth-telling process. This website is currently under construction.
Read the executive summary or full report.  See our Truth-in-L.A. website, a space for knowledge sharing regarding work in L.A. and globally on truth and accountability.