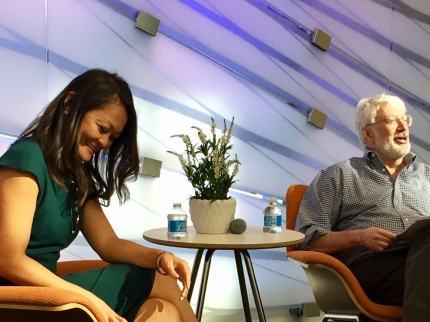 Carmen Chu graduated from Occidental in 2000 and returned to campus Tuesday to share the story of her path to public service. She is the first speaker in a series hosted by the Young Initiative and Politics Department titled, Distinguished Alumni Speaker Series.
Chu spent a long day at Oxy, first meeting with professors from the Politics and UEP departments and students from a variety of disciplines over lunch to discuss that state of the college today. The group exchanged experiences and compared the two eras. Prior to her afternoon lecture moderated by the professor who taught her favorite class, Prof. Peter Dreier, Chu met with a few public office-bound students for an informal question-and-answer session. At three o'clock, Chu fielded questions from Dreier and the audience in the Johnson Atrium before the building's trademark media wall. In this conversation, she shared her journey to where she is today beginning with her Oxy application. Highlights include Chu detailing the importance of government and the capacity it has to do good. As well, she encouraged students to consider careers in public service, but more generally offered advice like embracing the "uncomfortable" and her experience growing as a person in doing so.
Chu embodies the symbol of a distinguished alumni. She serves as the elected Assessor-Recorder of the City and County of San Francisco, where she oversees over 200 employees and manages over $2 billion in property tax revenue each year. Currently, she is the only Chinese-American Assessor elected to serve among the 58 counties in the State of California, and she discussed the challenges for being one of a few women to serve this position. Prior to this post, Chu was a member of the San Francisco Board of Supervisors, where she served two terms as the Chair of the Board's Budget and Finance Committee and was the Board Director of the Golden Gate Bridge, Highway, and Transportation District. Although her resume qualifies her for greater responsibility in public service, when asked by Dreier what her future looks like, she responded with a chuckle with the audience, "I am the Assessor!"
The event, reunion-like and sentimental, kicked off this year's Distinguished Alumni Speaker Series, for which two more guests in the spring will complete. Please stay tuned for dates and times for the subsequent events. In the meantime, feel free to watch Tuesday's conversation here, thanks to the Young Initiative and the school's Agora Project.