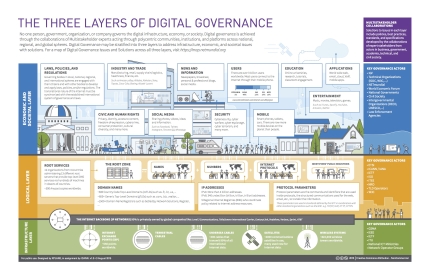 Dr. Abdul Rahim is the founder of Compass Rose Sdn Bhd, which provides strategic advice and solutions towards enhancing performance, learning and impact. CR helps organizations, networks and communities find the key direction to success and value creation through knowledge, technology and innovation. The consultancy collaborates with a worldwide network of experts and field leaders in providing our services. She now serves on the board of ICANN and holds a Master's degree in Public Policy from Harvard as well as a Bachelor's degree in Political Science from Princeton.
Dr. Rinalia Abdul Rahim jumpstarted the McKinnon Center's Spring 2017 Speaker Series, Globalization & Its Discontents with the lecture "Governing the Internet in a Global Age." Dr. Rahim began her presentation with an introduction of her work with Compass Rose Sdn Bhd, a consulting company she founded that "[helps] organizations, networks and communities find the key direction to success and value creation through knowledge, technology and innovation."
Internet governance is an incredibly complex and interdisciplinary field. As a result, it engages a multitude of stakeholders worldwide in various fora, perhaps the most renowned being the Internet Governance Forum (IGF) (est. 2005). The IGF was formed through a resolution adopted by the United Nations General Assembly (UN GA) on the outcomes of the World Summit on the Information Society. The forum serves to unite members of the international community in discussions on public policy and the internet. The most recent IGF was held in Mexico City, Mexico, "Enabling Inclusive and Sustainable Growth." While the forum helps to inspire policy-making power, exchange information and share good practices, it is not mandated to create and implement the policy ideas discussed, a fact Dr. Rahim notes leaves participants feeling dissatisfied yet inspired through the call to concrete action.
This dissatisfaction ties into the complexity of the question of governance in a globalized world, and Dr. Rahim raises several questions for consideration. She challenged the audience to think about the key problems, the participants and stakeholders in problem-solving, the mandates involved, the decision-making process, the legally-binding nature of guidelines and the potential for international cooperation.
To set the context of the discussion, she also provided key statistics to allow the audience to visualize the current state of the internet. She estimates that the internet has around 7.3 billion users, with China in the lead and the U.S. coming in 3rd. South Korea currently leads in internet connection speed at 24.6 Mbps. She argues that we have yet to achieve 100% penetration as a result of limits on infrastructure, affordability, digital literacy, language content (the internet is predominantly English) and trust and confidence in networks.
Dr. Rahim also provided a background on Critical Internet Resources. Critical Internet Resources are elements of the internet's infrastructure that enable its secure and stable functioning. She lists three main elements, namely 1) IANA (Internet Assigned Numbers Authority) & RIRs (Regional Internet Registries) which involves IP addresses (International Protocol), 2) ICANN (Internet Corporation for Assigned Names and Numbers) which includes domain names, and 3) IETF (Internet Engineering Task Force) which defines protocol parameters. In this discussion, she also raises the possibility of the internet as a tool for language archiving and preservation, and a move to diversify internet text to accommodate non-latin characters, hence a greater breadth of dialects and languages.
She concluded her talk by describing the three layers of digital governance (bottom→up), namely Infrastructure, Logical and Economic and Societal Layer, and by highlighting the inherently multidisciplinary, multi-stakeholder nature of internet governance. She returned to her discussion of ICANN as the locus of transparent decision-making on digital affairs, and as a forum for motivated individuals from the technical community, business sectors, governmental agencies, academia and civil society (e.g. internet users) to express their unique viewpoints and engage in these processes. Dr. Rahim invites interested members of the Oxy community, especially students keen on getting involved in transparency mechanisms for international internet governance and policy, to visit the ICANN website and learn more about the NextGen@ICANN initiative.