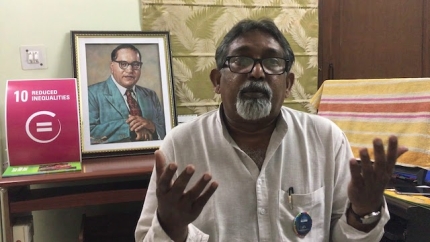 Paul Divakar, General Secretary of the National Campaign for Dalit Human Rights (NCDHR) and a transnational voice for peoples affected by Discrimination based on Work or Descent (DWD) spoke about the struggles faced by these communities and the growing power of international groups that link these communities outside their countries. 
A key misconception is that this is a problem only found in India, and certainly more people are aware of India's caste system and Dalits than of other countries, but as the world has become more interconnected Divakar's organization has been able to forge ties with other groups in a variety of countries across the world.

 

Together, they are advocating for greater recognition in the UN and increased inclusion in the Sustainable Development Goals.

 
The Millennium development goals achieved increases in many fields of human development, but for Dalit communities in India, these outcomes were lessened or even reversed.

 

For example, Members of Scheduled Castes and Scheduled Tribes (Dalits and Adivasi) even as the national poverty rate have declined to 33% it remains around 65% (Dalits) and 83% (Adivasi), a substantial difference.

 

More worryingly, looking at education, as literacy rates increase and the number of children in school rises, the number of Scheduled Caste and Scheduled Tribe children in school has fallen.

 

These groups face considerable discrimination despite legal protection enshrined in India's constitution and laws.

 

Perpetrators carry out sexual violence with near impunity and discrimination and abuse are common, even in educational sector.

 

The increasingly Hindu nationalist agenda embraced to some extent by the ruling Bharatiya Janata Party (BJP) in India has caused concern among these groups, as it has given its tacit approval to intolerance and violence against these communities and has opposed some of the progress made in recent years.

 

The BJP's idea of returning to the Golden era of India is especially worrisome because these days were marked by lynching and untouchability as a daily reality for DWD communities
The SDGs are powerful tools to achieve change, but if they leave such communities behind then they aren't accomplishing their goals.

 

Despite the issues with the MDG goals, the SDGs also didn't include any special measure to direct attention to these traditionally marginalized communities.

 

In order to address this, Divakar and NCDHR have lobbied the UN for recognition of these communities in the goals. Together, DWD communities would represent the 6th largest country (by population) in the world and by unifying a global community of DWD they have sought to achieve recognition and inclusion in the goals and the development of programs to achieve them.

 
Click here to watch the talk.