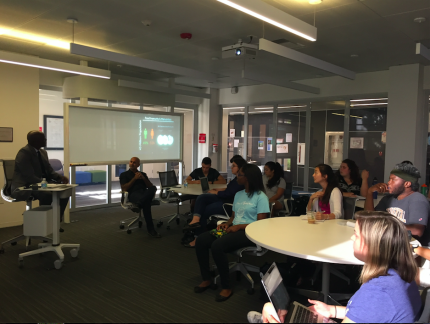 The recent speaker in the 2016 Sustainable Development Speaker Series, Philip Thigo, focused on the role of data in Kenya's implementation of the Sustainable Development Goals. Thigo is a senior advisor for the Deputy President's office in Kenya, as well as the founder of INFONET, and he approached the topic with a sense of optimism. Rather than technological or financial limitations, he said, in terms of achieving the SDGs "the biggest challenge is belief" and as such he focuses on trying to increase community engagement with and participation in the goals. 
To provide context, Thigo explained that Kenya accounts for 40% of Eastern Africa's GDP, while 42% of the population lives below the poverty line. He then showed a video featuring interviews with locals working towards increasing grassroots participation despite continuing challenges posed by high levels of corruption.
Thigo works in the private sector and as a consultant to the government, and therefore stressed the importance of civil society participation. Some recent Kenyan initiatives with this end in mind are the Social Investments Forecast Agenda, which integrates the SDGs into business; the National SDG Roadmap as an interagency framework for achieving the goals; and the Agriculture Roadmap, which integrates statistics supported by Global Open Data on Agricultural Nutrition. Since "Data has become a resource," the implementation of the SDGs depends on successful data collection, so initiatives like the Global Data Partnership are ever more important. For example, Thigo points to an instance where women with no previous Geographic Information Systems (GIS) or mapping experiences were able to use smartphones to map their communities and slums. However, as seen in this example, "tech isn't a magic bullet. People need to participate, and engagement is key."
In closing, Thigo left the audience with five key takeaways. First, he warns that the SGDs are too ambitious to be left to the government alone, so civil society partnerships are critical. Second, The SDG's focus on "leaving no one behind" means that everyone must play their part and participate in achieving the goals. Next, the "data revolution in the hands of youth is a game changer." Fourth, Thigo reminded the audience that the SDGs are meant to equalize development and therefore development trends cannot be dictated by the global north. Finally, Thigo closes with a reminder that the success of the SDGs depends upon the decolonization of the minds of developing countries. Citizens of the developing world, and of all countries must believe in the feasibility of these goals and work to achieve them.