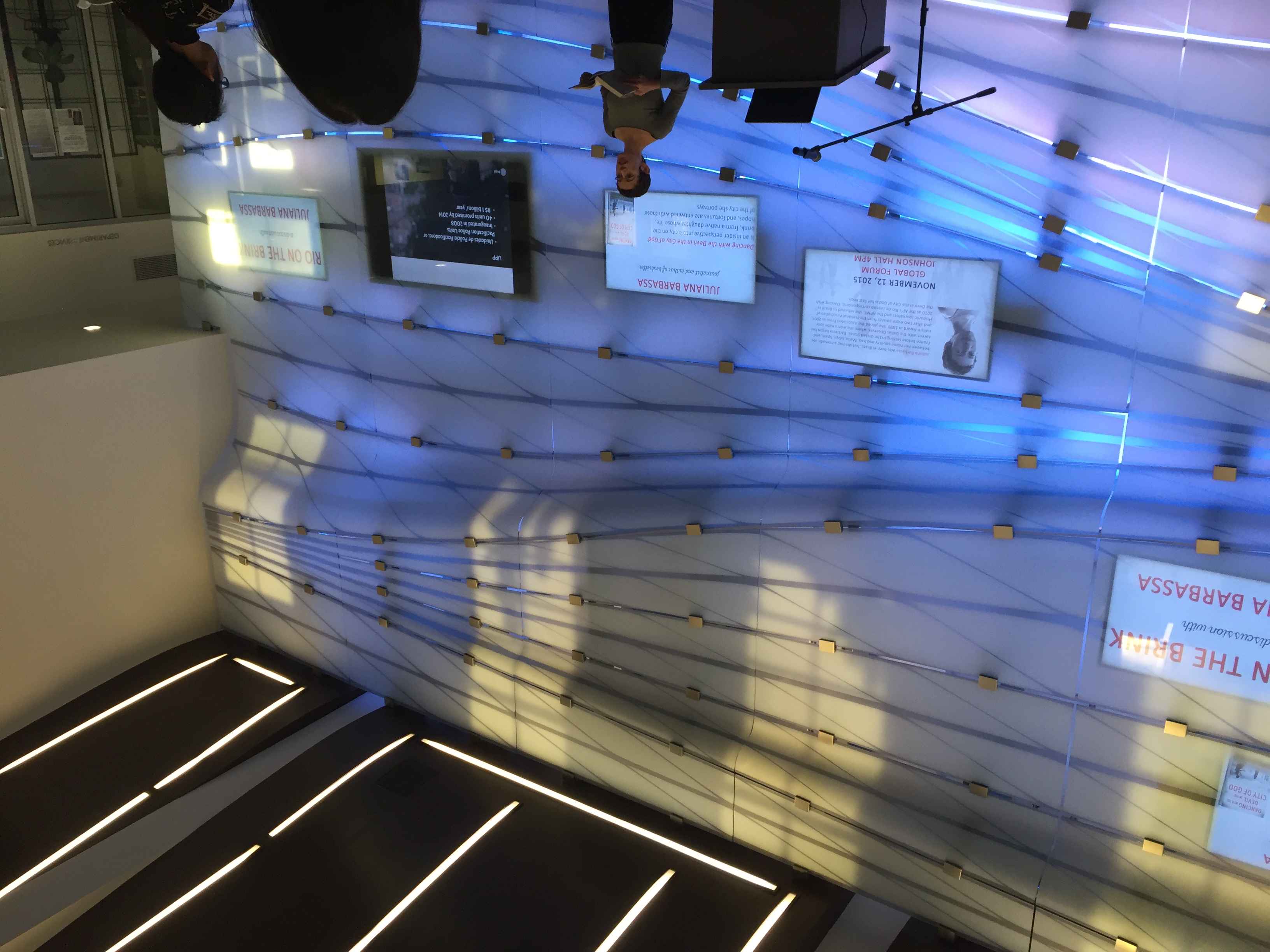 Journalist Juliana Barbassa visited Occidental College on Thursday, November 12, 2015 to speak at two events. The first talk was with Ambassador Shearer's Sports and Diplomacy lecture and the second was open the larger Oxy community in the Atrium at the McKinnon Center for Global Affairs.
Before Ms. Barbassa spoke, she engaged in side conversations with Oxy faculty and staff about the need for a Brazilianist at the institution to round out the college's Latin American Studies program. The lack of Brazilian presence at Occidental is apparently due to the lack of student demand and Ms. Barbassa quickly challenged, "Let's see if I can change that."
The author's easy, approachable nature was integral to her lecture, which turned to friendly back-and-forth dialogue with an engaged audience.
The lecture was set in the context of Rio de Janeiro's relationship with the upcoming Olympic Games and the past World Cup. Ms. Barbassa's conversation was structured about Rio's populations caught in transition. Specifically, Rio is undergoing economic growth and social and infrastructure improvements to support the anticipated crowds that will arrive for the games. Her expository book, Dancing with the Devil in the City of God, and her lecture covered topics like transportation, tourism, living conditions in favelas, security issues and the relationship between drug-dealing gangs and Pacification Police Units, and the environment, especially the Guanabara Bay where sailing competitions are to be held for the Olympics.
Ms. Barbassa's father was an executive at Brazil's foremost petroleum company, Petrobras. Her father's position in the company required her family to live a nomadic lifestyle—moving often from one city to the next. She spoke of never feeling as though she had a home. Ms. Barbassa lived in Brazil for a while but then moved abroad following her father's work. Since, she has returned several times and her unique connection with Brazil has given her a distinct perspective on the county and the dynamics between Rio's local government and people.
Closing on the topic of development, Ms. Barbassa elucidated her optimistic perspective on Brazil's "promising future." She compared the violent confrontations to current protests and unrest in the United States around issues of race and inequality. Though confrontations may be violent, the movements in Brazil are important, she says. Current demands call for improved lives and living conditions; the people of Brazil "don't want stadiums," but rather "sanitation" and necessities for living a "developed life."
Ms. Barbassa can be contacted via email at jbarbassa@gmail.com. Also, follow her on Twitter @jbarbassa.
--William Butenschoen