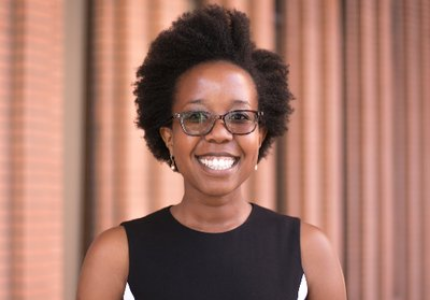 Kelebogile Zvobgo is a pre-doctoral fellow and incoming Assistant Professor of Government at William & Mary in Williamsburg, Virginia. She is also the Founder and Director of the International Justice Lab at William & Mary. Her research broadly engages questions in human rights, transitional justice, and international law.
      Often people's lack of confidence in truth commissions is contingent on the belief that they do not work. On Wednesday, October 7, Professor Kelebogile Zvobgo led her talk on Truth Commissions and Transitional Justice and addressed that concern head on: they work and they matter. Professor Zvobgo began her talk by defining what transitional justice is: the judicial and non-judicial measures taken to address human rights abuses based on four pills— truth, justice, reparations, and the guarantee of non-recurrence. She also defined truth commissions, which are more temporary and investigative bodies. In discussing the efficacy of such bodies and processes Zvobgo acknowledged that not all examples of transitional justice or truth commissions are equally successful, which led her to pose the question, "Why do some governments but not other adopt transitional justice institutions, design them to succeed, and follow up on them with particular policies?" This question is one that she has been researching and collecting data on. Getting down to the root of the different reasons why and how governments choose to adopt these practices (what powers they are granted, what are they permitted or prohibited from investigating, etc.) can help inform future endeavors towards truth and justice.
      Professor Zvobgo emphasized that truth commission and transitional justice are for everyone. They are all about developing a comprehensive understanding of the past: what happened and why. As a result, Zvobgo suggested that even established, relatively peaceful democracies can greatly benefit from confront the truth. She also argued that while on one hand truth commissions are about reducing the number of lies that can be broadcast to the public with impunity, they also do not need to be reactive or retroactive. Zvobgo asserted that truth commissions are not a tool exclusively reserved for when justice is not served but can also be used proactively. As more governments turn to truth commissions and transitional justice to address the past, Zvobgo seemed hopeful that in the future, these mechanisms can be used as preemptive measure to prevent the recurrence of past human rights abuses.
Please click here for the full video.