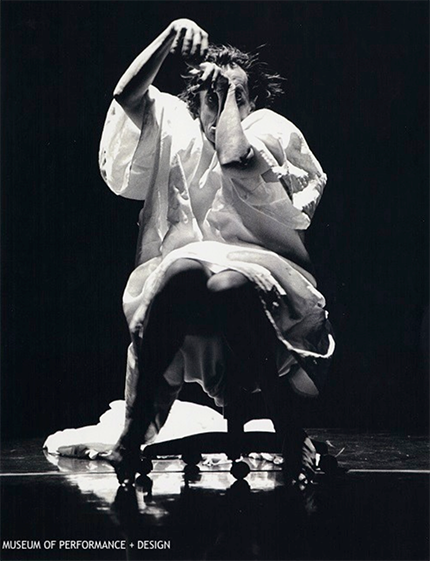 An FYS course on how performances both intervene or amplify the representations and politicization of disease.
Performing Disease
4 units
Taught by Prof. Kozinn 
Students enrolled in this Immersive Course will earn credit for the Fall first year seminar requirement
In this course students will explore the representation and politicization of disease--and of specific diseases, including HIV/AIDS, TB, and COVID-19--and we will focus on how performances both intervene or amplify such representation and politicization. We will study performances created in response to the AIDS crisis, from the street protests of ACT UP to shows that made it to Broadway to performance artists who use their body explicitly. We will study work that explores aging and illness, including choreographer Bill T. Jones' dance Still/Here and the choreography of Anna Halprin. We will also explore current performances that engage with illness such as pieces created this past year about the COVID crisis to performers who work and perform with and for people with life threatening illness.  We will analyze all of these performances with the help of theorists of disease and performance studies who will help us unpack the fantasies and romanticization of diseases, as well as the ways in which putting "sick" bodies on stage challenges the frameworks used to define illness.  By the end of the course, students will be better able to see the work, impact, and meaning of putting illness on stage.
Students in the course will participate in a social justice project.
Questions? Contact Prof. Kozinn at kozinn@oxy.edu 
Image from Anna Halprin's Intensive Care, Reflections on Death and Dying (unknown, "David Greenaway in "Intensive Care, Reflections on Death and Dying"," Anna Halprin Digital Archive, accessed March 1, 2022