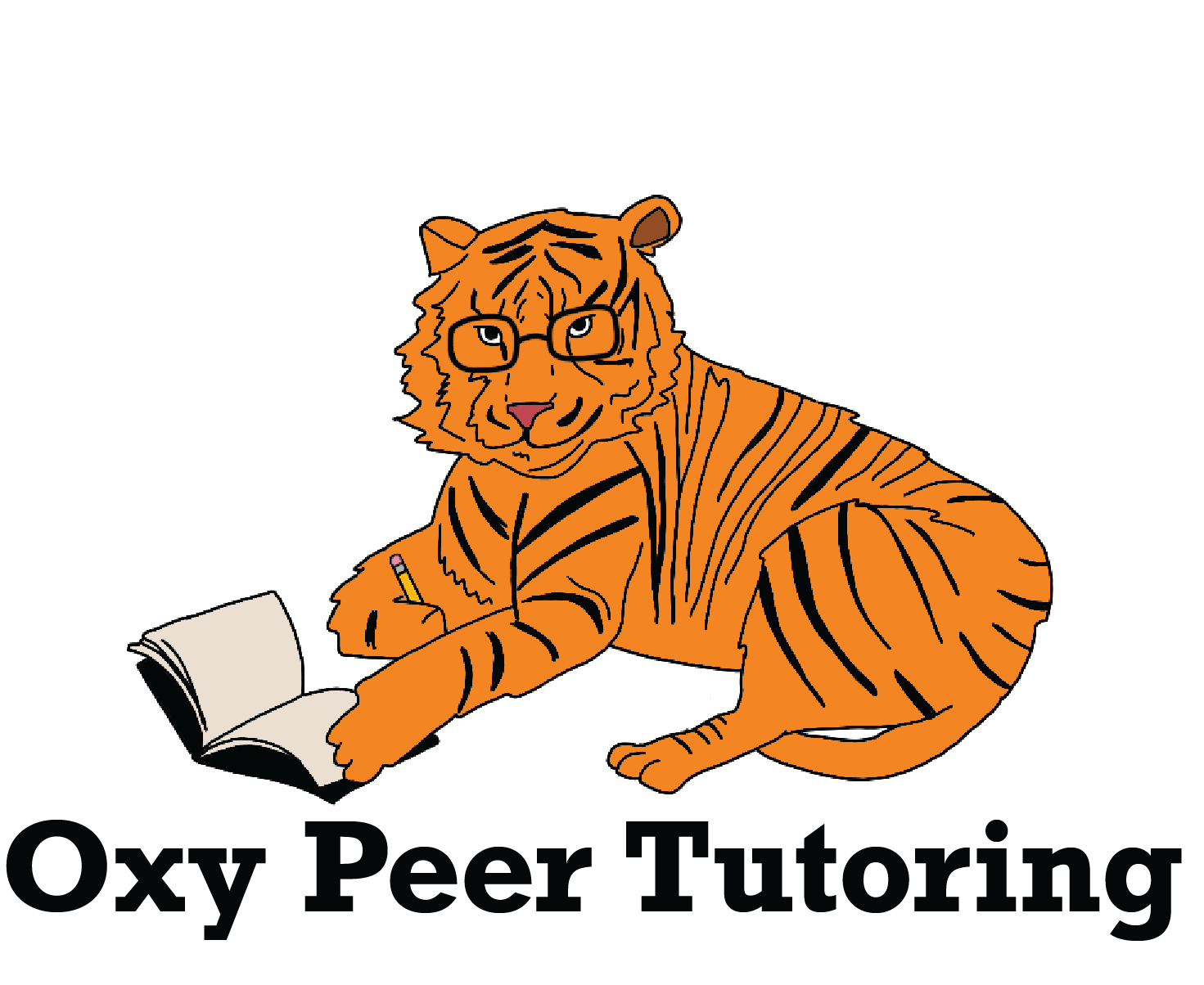 Peer tutors in a range of disciplines are available to clarify concepts, work on skills for various courses, and suggest useful study techniques. Tutors can help you grasp course concepts, talk through readings for better comprehension, or develop discipline specific study skills.
Meet with a peer tutor during their scheduled drop-in hours on the ground floor of the library at the tutoring nook! (Follow signs for "Peer Advising.") If you have any questions, please contact the program director, Doug Duquette (dduquette@oxy.edu).
For information about peer tutoring for language, please visit the Peer Language Tutoring page.
Fall 2022 Peer Tutor Schedule 
Art & Art History
Mckenzie Locke
Hi! I'm Mckenzie (she/her), and I'm a senior majoring in Art History and minoring in UEP. I'm from Los Angeles, and I enjoy cooking with friends and family, watching TV, and making good beverages. Since I started studying Art History, my interests have taken a few different directions, including large-scale public art and furniture production. Outside of class, I write news briefs for a California planning publication and help lead workshops where kids design and build their own wood-based creations. Please stop by with any questions about class material, essay writing, test prep, and beyond. Excited to chat!
Wednesday 11:00 AM–1:00 PM
Thursday 3:00 PM–5:00 PM
Biology
We are not currently running sessions in Biology; check back in the spring semester for updates!
Black Studies

Satya Sheftel-Gomes
Hello! My name is Satya Sheftel-Gomes and I am a senior majoring in Black Studies and double minoring in CTSJ and Education. I am from Brooklyn, NY and my favorite things to do include creating art, listening to music, reading and writing fiction, hanging out with friends, and managing my meme page (lol). Being black at various PWIs has led me to inescapable activism, but I also attended the Student Diversity Leadership Conference (SDLC) and have participated in other diversity programs in various places in the country. During the summer, I work at a summer camp for Jews of color and am on a team to create identity focused curriculum for schools and other institutions. I'd love to help make sense of class topics, read any writing for your courses, chat about career pathways or just be someone to bounce ideas off of. Honestly, I love to talk about any and everything so feel free to stop by during my office hours! See you soon :)
Tuesday 3:30 PM–5:30 PM
Friday 11:00 AM–1:00 PM
BLST Virtual Zoom link, if needed:
https://occidental.zoom.us/j/5803477714
Meeting ID: 580 347 77
Passcode: 2sjFPv
Chemistry
We are not currently running sessions in Chemistry; check back in the spring semester for updates!
Cognitive Science
Isabelle Rusk
Hi, everyone! My name is Isabelle and I am a senior Cognitive Science major and Linguistics minor. I am originally from Colorado; when I'm home I love to hang out with my two gorgeous cats and explore the mountainous nature surrounding me. I am passionate about music, food, building relationships with others, and learning about what shapes our behaviors as humans. I participate in research with the Cog Sci department, I'm a member of the club Comparte, and I am also the 4th best RA in Haines! If you need some help with your Cogs classes or have any questions in general, please do not hesitate to give me a visit or send an email to irusk@oxy.edu. I look forward to meeting y'all!!
Tuesday 11:00 AM–1:00 PM
Thursday 4:45 PM–6:45 PM
Computer Science

Kathy Liu
Hey, my name is Kathy and I'm a senior Computer Science major from the bay area. Some related activities I'm involved with on campus include research in AI and Oxy Open Source E-board. Outside of CS, I also really enjoy lifting weights and listening to podcasts. If you're looking for some extra tutoring in a Comp class, need help debugging, or just want someone to talk about career path, imposter syndrome, and all things CS, I'd highly encourage you to drop by and save me from a lonely morning!
Monday 6:30 PM–8:30 PM
Wednesday 1:30 PM–3:30 PM
Jadriel Delim
Hey everyone! My name is Jadriel and I am currently a 3rd-year Computer Science major. I am from Manila, Philippines but I pretty much lived in SoCal my whole life. In my free time, I play tennis, hike, and create YouTube/Twitch content. Some video games I like to play are Dead by Daylight, Valorant, and various horror games. I also enjoy learning web development in my free time and love learning anything CS related. If you have any questions regarding a CS class or just CS in general, feel free to stop by my office hours!
Tuesday 4:30 PM–6:30 PM
Thursday 4:30 PM–6:30 PM
Diplomacy & World Affairs
Mia Thiagarajan
Hi! My name is Mia and I am a junior DWA major with a Chemistry minor. I've taken all of the DWA intro level classes as well as many 200-level electives, so feel free to stop by if you have questions about international relations theory, analytical essays, or even just the major in general! Outside of the classroom, I am a member of the Asian Pacific Islander Desi American Association's Fundraising Committee and I've been dancing with Dance Production for three years. I look forward to meeting you all!
Monday 6:00 PM–8:00 PM
Wednesday 4:00 PM–6:00 PM
Economics
Bia Pinho
Hello! My name is Bia Pinho (she/her) and I am a senior Economics and CSLC double major here at Oxy. I was born and raised in Brazil, but also have lived in Miami, FL for a few years. In addition to Peer Tutoring, I also work at the Green Bean as a barista this semester! Please don't hesitate to stop by with any questions about class material or help with problem sets, I'm always more than happy to see you!
Sarah Rankin
Hi y'all! My name is Sarah and I am a senior economics and religious studies double major from the DC area. My favorite topic in economics has been econometrics and learning how to accumulate raw data into tangible and practical models. I love applying such models to understand more about how people take into consideration a variety of factors when making decisions. I look forward to meeting you all and nerding out about what interests you have in the department as well. Feel free to drop into my office hours to just come chat, ask questions, lament over problem sets, or discuss the best econ memes.

Ruth Schlosser
Hello! My name is Ruth and I am a senior Economics major from Apple Valley, CA. I'm especially interested in labor economics and models of discrimination, and I'm working on research into these topics with some Oxy Econ faculty! I find economics to be an important way to approach problems in the world, and I'm looking forward to helping you acquire the tools to do that. Outside of Peer Tutoring you can find me tucked into a corner at the MP reading a book, or walking around Eagle Rock looking at flowers. I can't wait to meet you, so come to chat about classes, problem sets, or your favorite campus plants!
Drop-in hours for all economics classes: Monday–Thursday 7:00 PM–9:00 PM
Geology
Adrian Aviles
Greetings all, I am a senior Geology major (Environmental Science concentration) from East Los Angeles. I am involved with the Sedimentology and Paleoclimate Lab (aka SPLOC), conducting research related to climate change in the western United States with my advisor, Dr. Darren J. Larsen. Outside of my department, I play drums for the school jazz band, and I participate in a number of non-Oxy affiliated ensembles. Science is all about collaboration, so please feel free to reach out if you need any help or want to talk about the Geology program. Looking forward to working with you all soon!
*Tutoring held in Hameetman Science Center (HSC) 102
Tuesday 3:30 PM–5:30 PM
Thursday 5:30 PM–7:30 PM
History
Jackson Andrews
Hello everyone! My name is Jackson, and I am a double major in History and Psychology with a minor in Latin American Studies. Throughout my time at Oxy, I have taken history classes that cover a variety of regions and time periods, but I am always interested in learning more. I am also intrigued by the connections that can be found between different academic disciplines and often try to apply what I am learning in Psychology to my history studies. Outside the classroom, I enjoy spending time outdoors, especially when I can go skiing or wakeboarding! I am also a director for Oxy's Blyth Fund and am currently in the process of applying for law school. I am happy to answer any questions about reading, writing, the history department, or life in general. I look forward to meeting you all soon!
Monday 1:00 PM–3:00 PM
Wednesday 9:00 AM–11:00 AM
Math

Miles Smith
Hi! I'm Miles, a senior Math major with a minor in Comparative Literature. I really love trail running, taco trucks, & sunsets from Norris patio. I'm really excited to be back and see everyone! Currently, I run two math research projects, one involving discrimination in US elections, the other involving fluid dynamics. I've taken a lot of math classes at Oxy and I'm looking forward to helping with any homework questions or confusing concepts you may have. Math is definitely a subject best tackled as a team, so swing by my drop-in hours or shoot me an email and I'll be there to help!
Tuesday 4:00 PM–6:00 PM
Wednesday 10:00 AM–12:00 PM
Sunday 6:00 PM–7:00 PM
Media Arts & Culture
Ada Rosen
Hi! I'm Ada, a senior MAC major here at Oxy. I was born and raised in Seattle which means I spend my time in Los Angeles exclusively in the shade or inside. In addition to my critical media studies I am an avid reality competition show watcher as well as an aspiring––albeit slow going––cinephile. As a media scholar I am especially interested in discourses of gender, 1970s Exploitation, horror and science fiction Genre films, and every movie Karen Black ever made. I am deeply honored to have this opportunity to work with my fellow MAC students and am truly looking forward to discussing all things media with you! Feel free to contact me via email anytime.
Monday 4:00 PM–6:00 PM
Wednesday 11:00 AM–1:00 PM
Music

Alana Duvall
Hey y'all! My name's Alana. I am a senior composition major. Music is one of my many passions, standing first in a list that includes (but is not limited to) books, games, anime, cooking, and attempting to ride on a skateboard without looking foolish. If you need some help with Music Theory, would like some advice concerning the major, or would like to talk about anything at all, come give me a visit!
Tuesday 7:00 PM–9:00 PM
Philosophy
Nora Manukyan
Howdy! My name is Nora. I am a junior majoring in philosophy and mathematics. In particular, my favorite philosophical field is aesthetics. This summer, I engaged in the Summer Research Program, studying Immanuel Kant's aesthetic theory and its application to food with particular attention to desserts. Aside from philosophy, I am very passionate about food and culinary arts in general (whether it be reading articles, finding new places with extravagant menus, or trying to recreate an experience via specific dishes). Please, do not hesitate to come by to ask questions, bounce off ideas, or have an "aha" moment. I am always open to discussing anything because I believe philosophy is omnirelevant.
Monday 11:45 AM–1:45 PM
Tuesday 11:45 AM–1:45 PM
Physics

Cole Lewis
Hello! My name is Cole and I am a Senior Physics major with a concentration in Mathematics. I am from Seattle so it shouldn't be much of a surprise that I love the outdoors. I have taken all of the intro sequence of PHYS courses, so feel free to stop by if you have any homework questions, want some studying tips, or have any questions about a Lab write-up or Pre-Lab. Some facts about me are that I am involved in the on campus Solar Panel Cleaning group (ARCCS) which is run by the Physics department, and I play Ultimate Frisbee and am a captain of the men's team at Oxy! I am looking forward meeting you all!
Monday 5:00 PM–7:00 PM
Wednesday 4:00 PM–6:00 PM
Psychology
Chanel Ng
Hello! My name is Chanel (she/her) and I'm a senior Psychology major, Art History and Public Health double minor from Hawai'i. On campus, I'm in Professor Geffen's research group and on the Oxy Swim & Dive team. During the year, you can find me hanging out with friends in the quad, chilling at the pool, or drinking all the cold brew at the Green Bean. If you have any questions about psych classes, or just need someone to chat with, feel free to stop by during my drop-in hours or email me :)
Wednesday 9:00 AM–11:00 AM
Thursday 1:00 PM–3:00 PM
Religious Studies
We are not currently running sessions in Religious Studies; check back in the spring semester for updates!