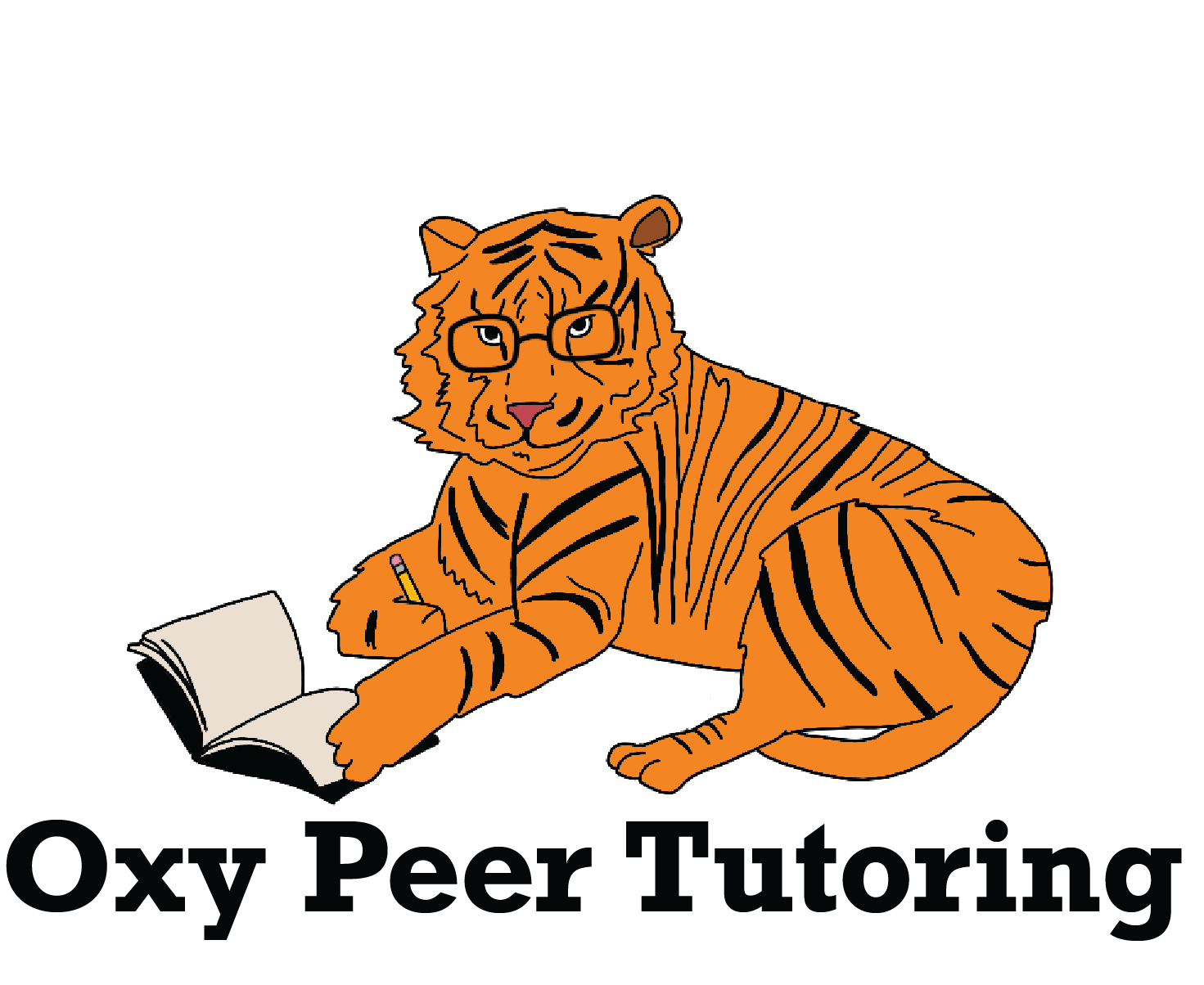 Peer tutors in a range of disciplines are available to clarify concepts, work on skills for various courses, and suggest useful study techniques. Tutors can help you grasp course concepts, talk through readings for better comprehension, or develop discipline specific study skills.
Meet with a peer tutor during their scheduled drop-in hours on the ground floor of the library at the tutoring nook!
(Follow signs for "Peer Tutoring")
In case of sniffles, your peer tutor may be offering their drop-in hours via Zoom. 
Virtual Peer Tutoring Zoom Room
Passcode: sniffles
For information about peer tutoring for language, please visit the Peer Language Tutoring page.
Fall 2021 Tutoring Schedule 
Biology
Faith Hutapea
Hello! My name is Faith Hutapea and I'm a senior double major in Biology and Philosophy. I'm from Guam, USA. I am a part of Oxy's Computational Biology Laboratory and previously worked as a Biostatistics Teaching Assistant. Outside of academics, I'm involved with Boundless Brilliance, Oxy's Womxn's Rugby, and the Huntington Hospital Bioethics Committee. I am here to help in any way I can whether that be if you simply want to discuss potential classes and scheduling, to discuss majoring/minoring/research in Biology, or to just be a listening ear if you want to talk about how you're feeling in your biology classes. If you don't have any specific questions or concerns yet, feel free to introduce yourself and we can swap Netflix reccomendations!
Monday 10:00 AM -12:00 PM
Tuesday 4:45 PM - 6:45 PM
Black Studies
Satya Sheftel-Gomes
Hello! My name is Satya Sheftel-Gomes and I am a junior majoring in Black Studies and double minoring in CTSJ and Education. I am from Brooklyn, NY and my favorite things to do include creating art, listening to music, reading and writing fiction, hanging out with friends, and managing my meme page (lol). Being black at various PWIs has led me to inescapable activism, but I also attended the Student Diversity Leadership Conference (SDLC) and have participated in other diversity programs in various places in the country. During the summer, I work at a summer camp for Jews of color and am on a team to create identity focused curriculum for schools and other institutions. I'd love to help make sense of class topics, read any writing for your courses, chat about career pathways or just be someone to bounce ideas off of. Honestly, I love to talk about any and everything so feel free to stop by during my office hours! See you soon :)
Monday 1:00 PM -3:00 PM
Thursday 10:00 AM - 12:00 PM
Chemistry
Michelle Huang
Hi! I am Michelle Huang, a junior Chemistry major, and I am originally from foggy San Francisco. On campus, I am a Chilcott RA, involved in SEAS (Students for Equity and Advocacy in Science), the Advising Center, and the Hill Lab. In fact, I spent this summer researching electromechanical cornea reshaping for the Hill Lab in conjuction with SRP. Over the school year, you will probably find me stressing over my experiments, pulling all-nighters in the library or eating toasted bagels. Feel free to come to me about anything! I am always down to spill the tea. Excited to meet all of you :)
Monday 8:45 AM - 10:45 AM
Tuesday 5:00 PM - 7:00 PM
Computer Science

Kathy Liu
Hey, my name is Kathy and I'm a junior Computer Science major from the bay area. Some related activities I'm involved with on campus include research in AI and Oxy Open Source E-board. Outside of CS, I also really enjoy lifting weights and listening to podcasts. If you're looking for some extra tutoring in a Comp class, need help debugging, or just want someone to talk about career path, imposter syndrome, and all things CS, I'd highly encourage you to drop by and save me from a lonely morning!
Tuesday 10:00 AM - 12:00 PM
Thursday 5:30 PM - 7:30 PM
Economics

Eva Ma
Hello! My name is Eva (she/her) and I'm a senior Economics major. I'm from Chino Hills, CA and I'm looking forward to being back on campus. Some fun facts about me are that I used to be an ice skater and I'm a huge fan of oat milk cold brews from the Green Bean! My econ-related involvements at Oxy include being on the eboards for the Women of Economics and the Economics Student Association. I am also a grader and Research Assistant, and I have done summer research through the URC. This summer I was an intern at the National Economic Research Associates (NERA Economic Consulting.) I have taken all of the core classes (101, 102, 250, 251, 272) and the electives I have taken are public, environmental, labor, and game theory. Please feel free to stop by if you want to chat about those classes or need help with homework/studying! I am also happy to chat about the econ major/classes, clubs, research/internships, or econ consulting!
Tuesday 7:00 PM - 9:00 PM
Thursday 7:00 PM - 9:00 PM

Sofia Ben-Zaken
Hi! My name is Sofia and I am a Senior economics major and public health minor. I am from Portland Oregon, and a fun fact about me is that I love to snowboard and this year I want to take advantage of being in LA and get better at surfing. Some of my favorite Econ classes have included sustainable economic development and economics of intergenerational mobility and I have also completed all my Econ requirements. I am passionate about applying economics to improve public health outcomes, and have experience doing both with internships and research. I worked with First5LA as an intern this past summer which focuses on providing young children with the resources they need for safe and healthy development. I have also taken part in Professor Raney's public health research class for the past two years where we investigate access to green spaces in LA neighborhoods and on LAUSD playgrounds. This year I will also be on the Eboard of Women of Economics and am excited to take part in planning Econ events. I am very excited to be back on campus and happy to help out with any questions you may have!
Monday 8:00 PM - 10:00 PM
Wednesday 3:00 PM - 5:00 PM
Geology

Amelia Muscott
Hi everyone! My name is Amelia (she/her) and I am a Geology major (Environmental Science concentration) from Redmond, Washington. I am especially passionate about geomorphology and sedimentology. Since the beginning of my sophomore year, I have been doing research with Professor Larsen, focusing on past glacial fluctuations in the Teton Mountain Range. Outside of academics, I am a member of Boundless Brilliance and Geology Club. I also love to run, hike, and surf! Please feel free to drop by for homework help, study tips, or any geology or non-geology related questions! Looking forward to meeting you soon!
*Tutoring held in Hameetman Science Center (HSC) 102
Monday 7:00 PM - 9:00 PM
Wednesday 7:00 PM - 9:00 PM
Kinesiology

Aly Olkein
Hi! My name is Aly and I'm from the Bay Area. I'm a senior Kinesiology major and Spanish minor. This fall I will be working in the Athletic Training room, interning at Glendale Adventist Health Center and working as a peer tutor, of course. After Oxy, I'm planning on going to a Masters of Nursing program to be a RN. Outside of academics, I play on the softball team and I'm super excited to be back on campus and to start playing again. If you have any questions about Kines, other pre-health classes, or just want someone to talk to, feel free to stop by during my drop-in hours. Can't wait to meet you all!
Monday 7:00 PM - 9:00PM
Wednesday 8:00 PM - 10:00 PM
Math

Miles Smith
Hi! I'm Miles, a junior Math major with a minor in Comparative Literature. I really love trail running, taco trucks, & sunsets from Norris patio. I'm really excited to be back and see everyone! Currently, I run two math research projects, one involving discrimination in US elections, the other involving fluid dynamics. I've taken a lot of math classes at Oxy and I'm looking forward to helping with any homework questions or confusing concepts you may have. Math is definitely a subject best tackled as a team, so swing by my drop-in hours or shoot me an email and I'll be there to help!
Tuesday 2:00 PM - 4:00 PM
Thursday 2:00 PM - 4:00 PM
Media Arts & Culture

Angelina Lee
My name is Angelina, a senior MAC major and Interdisciplinary Writing minor. I hail from Chicagoland, and my roster of favorite academic interests include ecocinema, transnational cinemas, science fiction, worldbuilding, and experimental screenwriting! I am often engaged with all of the above while intensively knitting. I can't wait to discuss anything film with you - please feel free to drop by at the library or reach out via email!
Monday 11:00 AM - 1:00 PM
Wednesday 11:00 AM - 1:00 PM
Music

Alana Duvall
Hey y'all! My name's Alana. I am a junior composition major. Music is one of my many passions, standing first in a list that includes (but is not limited to) books, games, anime, cooking, and attempting to ride on a skateboard without looking foolish. If you need some help with Music Theory, would like some advice concerning the major, or would like to talk about anything at all, come give me a visit!
Monday 1:00 PM - 3:00 PM
Thursday 6:30 PM - 8:30 PM
Philosophy

Patrick Walsh
Hello Oxy students! I am Patrick (or Paddy). I am a senior philosophy major, and am especially interested in ethics, moral psychology, and the philosophy of race. Two summers ago I worked on a Summer Research Project on Immanuel Kant's Theory of Talents, and last summer I worked on a research project on the philosophy of James Baldwin. Outside of philosophy -- if in fact there are things outside of philosophy! -- I love walking, long talks with friends, and reading good books with good beverages. I am from Seattle, and I hope to do some travelling overseas after college. I encourage you all to stop by my office hours, it is really a pleasure to talk philosophy and (hopefully) be helpful at the same time. Whether you want some last minute feedback on a paper, need help brainstorming, feel confused about a particular argument, want to chat about Philosophy in general, or just talk about how you're feeling in your philosophy classes, I am always happy to talk. Hope to see you in drop-in hours!
Tuesday 2:30 PM - 4:30 PM
Thursday 2:30 PM - 4:30 PM
Physics
Cole Lewis
Hello! My name is Cole and I am a Junior Physics major with a concentration in Mathematics. I am from Seattle so it shouldn't be much of a surprise that I love the outdoors. I have taken all of the intro sequence of PHYS courses, so feel free to stop by if you have any homework questions, want some studying tips, or have any questions about a Lab write-up or Pre-Lab. Some facts about me are that I am involved in the on campus Solar Panel Cleaning group (ARCCS) which is run by the Physics department, and I play Ultimate Frisbee and am a captain of the men's team at Oxy! I am looking forward meeting you all!
Monday 7:00 PM - 9:00 PM
Thursday 4:30 PM - 6:30 PM
 
Psychology
Anita Wybraniec
Hi! My name's Anita (she/her) and I'm a senior Psychology and Spanish Studies double major. I'm from the Bay Area and spent most of my high school there running education programs. I've taken most of the basic psych courses (organizational, perception, stats, etc..) and have over seven years of tutoring experience. I've been heavily involved with research in the psych department and am currently working on a seniors honor's thesis in educational psychology. I am also on the eboard of Oxy's psych club, so I am a great resource for any questions about internships, career pathways, and grad school. A fun fact about me is that I was born on leap day (come by my office hours and ask me how old I am!). If you have any questions or just want to talk, I'd love to hang out during my office hours!
Monday 2:00 PM - 4:00 PM
Wednesday 2:00 PM - 4:00 PM