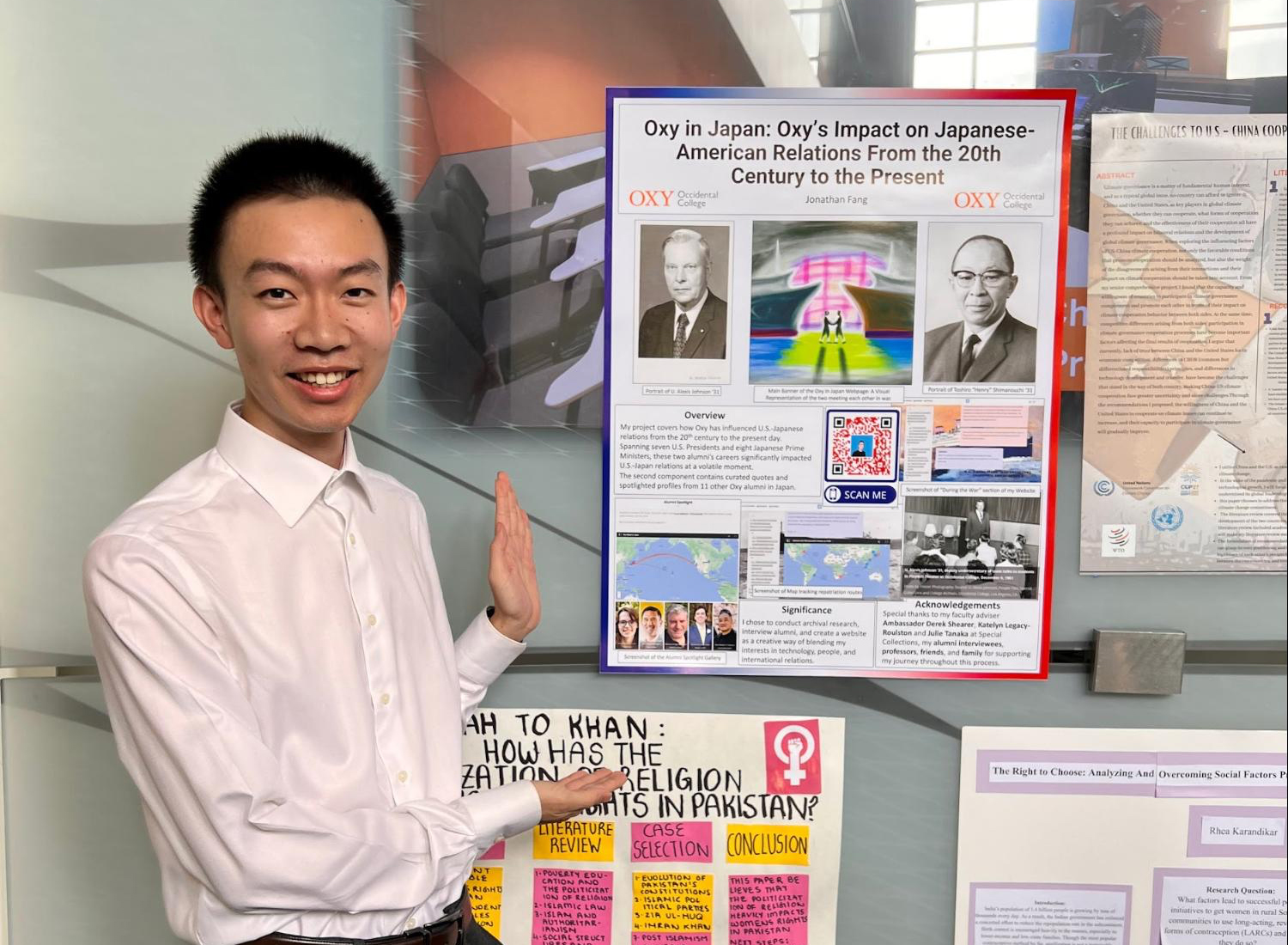 Jonathan's senior comprehensive website project showcases his interdisciplinary interests in website development and international relations, and the culmination of his studies and experiences at Occidental College.
It's a sunny afternoon and a perfect day for a stroll in the quad or a moment by the Gilman Fountain, but I'm in my room, hurriedly making last minute tweaks to my website project "Oxy in Japan" before sending the link to my advisor.
I decided to fulfill my comprehensive project requirement for my major, Diplomacy & World Affairs, by creating a website. DWA majors know that this is an unconventional way of completing the project, so how did I get here?
Let's rewind back to when I was a prospective student.
I already knew that if I ended up going to Oxy, I would major in Diplomacy & World Affairs. There's a joke among our student body that "half of the students come to Oxy just for the DWA major and the other half have no idea what DWA is." For those who don't know, the Diplomacy & World Affairs major is Oxy's multidisciplinary international relations major. I wanted to pursue this area of study because of my interest in understanding the world around me, gaining a deeper understanding of global issues and building a better understanding of the complex and dynamic global system that permeates every corner of our lives.
At Oxy, DWA 101, 102, and 103 provided me with a solid foundation of international relations theory and overview of fields within the discipline. With the assistance of Professor Ayoub, I became the DWA Peer Advisor, and Professor Chase brought me on as his teaching assistant for his DWA 102 International Organizations class.
When the COVID-19 pandemic forced me to return home in March of 2020, I started to look for remote internships. Thanks to my DWA advisor Professor Chase, I found one with the City of Los Angeles, in the Mayor's Office of International Relations. When applying for this opportunity, I furthered my website building skills by building my personal website to apply for the position. At this internship, I contributed research and feedback for the City's 2021 Voluntary Local Review for the Sustainable Development Goals (SDGs). I also redesigned webpages on Figma and modernized backend code.
Fast-forward to June 2021: I began working as a Program Assistant for the Young Initiative, the research and support arm of the DWA department. I built the truthinla.org website — a home for the research that Professor Chase's task force conducted on providing truth and reconciliation recommendations to the City of Los Angeles. During the academic year, I helped with videography, photography, and website maintenance.
At this point, I began to notice a pattern. All the internship experiences and jobs I was doing involved creating websites. Perhaps, this was an indicator of what I might like to do post-graduation.
In the summer of 2022, I interned at APIFM, a community health, environmental and social justice advocacy organization operating primarily in the West San Gabriel Valley here in Southern California. I designed the webpage for their Water is Life program. In Fall 2022, I interned at Pandium Fusion, a Los-Angeles talent agency founded by Professor Keeler in the Media Arts and Culture department. I did website design there as well, learning the basics of the Adobe Suite (Photoshop, Illustrator, After Effects).
While I was interning at Pandium Fusion, I was also taking Ambassador Shearer's "Oxy and the World Task Force" class. I was in charge of creating the webpage that would house everyone's research. Julie Tanaka from Special Collections came to speak during a class and mentioned that Collections housed personal papers of two Oxy ambassadors involved in U.S.-Japan relations. Intrigued, I followed up with her and was encouraged by Ambassador Shearer to make this the start of my senior comprehensive project. My project now encompasses their story and also spotlights 11 other Oxy living alumni in Japan. I am grateful to him for allowing me to combine my interests in website development, archival research, and interviewing alumni.
My Occidental education and work experiences draw from multiple disciplines. I took classes from Philosophy to Art History, Japanese to Latin, and Linguistics to Computer Science, among other courses. I'm graduating with honors this May, with a B.A. in Diplomacy & World Affairs, and minors in both Linguistics and East Asian Studies.
You can view my project here. If you have any comments, questions, or feedback, please let me know at jfang3@oxy.edu or use the contact form on my website!
I'm excited to see where the future will lead me after Oxy and am so grateful that Oxy has reinforced my self-confidence that I can do anything I set my mind to.