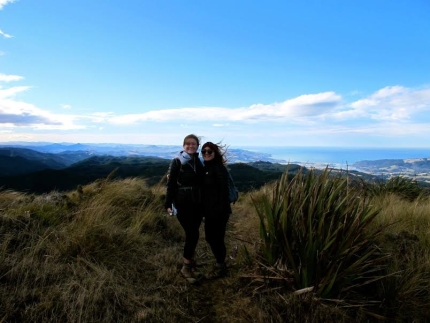 My Study Abroad Experience
Kia ora (Hello!) from New Zealand! While the students at Oxy are surviving midterms, I'm wrapping up my semester at the University of Otago in Dunedin, New Zealand. Through IPO and Arcadia University, I'm living, studying, and traveling 7,000 miles away from Oxy.
The University of Otago, also named Te Whare Wananga o Otago in Maori, is a public university with over 20,000 students. Almost 2,000 of the students here are international students, traveling from France, South Korea, Tonga, and all over the U.S. As a cognitive science major, I took classes in psychology and philosophy. In addition, I was able to take a Maori language course and an art history course to engage with the native language of New Zealand as well as the local art.
During the weekends and school breaks, students typically go camping, hiking, or tramping, which is the New Zealand word for back packing. While I've been here, I've hiked two Great Walks, the Routeburn and Abel Tasman tracks, I've kayaked in Abel Tasman, I've gone zorbing in Rotorua, and I've surfed at St. Clair Beach. I've visited a marae, a sacred meeting ground for Maori, I've watched a professional rugby game, and I've ridden on a jet ski. If you ever get the chance, you should eat a Fergburger (the best burger ever!) in Queenstown.
I have had some of the greatest experiences of my life here.
What is more, I've become close friends with Kiwis and people from all over the world including familiar faces from Oxy. There are four other Oxy students studying in New Zealand—Adam, Ani, Sofia, and Zoe. We often travel together and just talk about how studying abroad is going. The best part about study abroad is meeting people, and I'm lucky to have made connections with students from Oxy that will carry over to Eagle Rock.  
Studying abroad has also taught me how to "adult." I feed myself, budget my money, figure out transportation, and vote from abroad! I've become more independent and prepared for life after college.  
New Zealand is the home of my most challenging, rewarding, heartbreaking, and fulfilling experiences. I have 38 days left to spend time with my friends and admire the colors, sounds, and tastes of this country. I encourage everyone to study abroad because I believe only good can come of it.