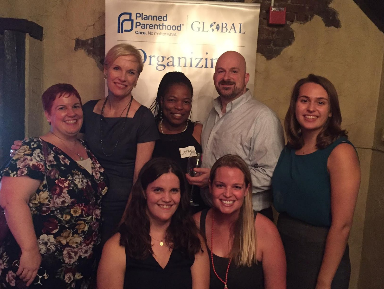 Internships can be an anxiety-provoking topic for students, particularly for those like me who are entering their senior year in college. Getting the right opportunity can mean the acquisition of significant skills, contacts and even the promise of a job after graduation. The kinds of internships towards which my social science peers and I gravitate tend to be with non-profits, NGO's, or organizations that work in the international development world. Unfortunately, those amazing internships rarely provide any funding for their interns. This summer, I was lucky enough to land an incredible internship with the United Nations Population Fund in Washington DC.  As expected, it was an unpaid opportunity, however I was extremely fortunate to receive funding from Oxy's Career Development Center. Through the donor funded internship programs, Oxy provides funding for around 60 Oxy students every year who are working in unpaid internship during the summer.
The United Nations Population Fund (UNFPA) is particularly interesting to me because of its focus on women's health and reproductive rights. Much of our attention right now is on women's maternal health in refugee camps in Jordan and Iraq. Just last month, we celebrated the 5,000th birth in the Zaatri refugee camp in Jordan, where there has not been a single death from childbirth, thanks to the help of UNFPA. We provide safe birthing kits, and train and staff people within the refugee camps to ensure that all childbirths are safe.
With a total staff of 3 (including me), we are a very small operation with a very big job. We advocate on behalf of our organization to gain and maintain funding from the United States government for our life-saving international work. In my role, I help plan and coordinate events, write for our internal UN site to keep our offices around the world informed about what is happening in the U.S., as well as attend hearings and events around the city to gain knowledge about the field and how we can better support women and girls internationally.
On June 22, we held an event on the Hill entitled Resilience: Images and Stories of Women and Young People Displaced by the Syria Crisis. We had planned to have remarks by five members of Congress, the Secretary Assistant for the Bureau of Population, Refugees, and Migration, as well as our UNFPA Syria Response Coordinator. As our small office began to prepare for the event in the morning, we watched as a sit-in began on the House Floor with many of the representatives participating. Our excitement for their bold efforts quickly changed to utter dread as we realized that all five of our members of Congress were at the sit-in. We did not know how long the sit-in was going to last or whether our incredible speakers would be able to attend the event. Lucky for us, while the historic sit-in continued, our five dedicated members were able to briefly leave the House Floor and give remarks at our event to show their support before returning to the sit-in. Congresswoman Nita Lowey, Congressman Eliot Engel, Congressman Mike Quigley, Congressman Richard Hanna, and Congressman Ami Bera were all present to speak about the importance of continuing to fund our important work for women and girls around the world. Most of the members of Congress had to promptly leave after giving remarks, but Congressman Quigley, a champion of our causes, stayed for a while to mingle and take pictures.
Working for UNFPA, I also have the opportunity to attend many events around the city. I joined 5,000 women at the first ever White House Summit's United State of Women. The summit brought together some of the country's leading women from many different industries to highlight what we have accomplished and what we still must work towards for the empowerment of all women. It featured remarks from President Obama and Vice President Biden, First Lady Michelle Obama, Oprah Winfrey, Former Speaker of the House Nancy Pelosi, Comedian Amy Poehler, actress Kerry Washington, and many more inspiring people who have worked to advance the needs of women in the U.S. and abroad.
At a small gathering put on by Planned Parenthood the President of the Organization, Cecile Richards, surprised everyone by attending and mingling with the those in attendance. In a small room above a DC steakhouse, I was one of only 50 people invited to hear her speak about the need to keep youth engaged in the conversation around women's health and reproductive rights around the world. My boss and I were star-struck and were delighted to get a picture with her.
Living and working in Washington DC during a time of such political uncertainty is both exciting and exhausting. Part of working for UNFPA is just being aware of all of the political activity related to the upcoming election, updates on the Zika virus, Brexit, and other major domestic and global political events. I have never felt so informed and knowledgeable about everything that is happening in our world. I hope that Oxy continues to support students in taking on these incredible internships. It is inspirational to not only love the work, but also to be genuinely working for the betterment of the world. Even though the United Nations is criticized by many as a bureaucratic international agency with no real authority or power, I have seen first-hand the kind of work that one of their agencies is doing. UNFPA has saved countless lives in the Syrian refugee camps by helping perform safe births. It has empowered women and girls to take control of their lives by deciding when and how many children they have through effective family planning services. It will also continue to be an integral part of the response to the Zika virus throughout the Americas. I am only halfway through my internship right now, and I can't wait to continue the adventure.