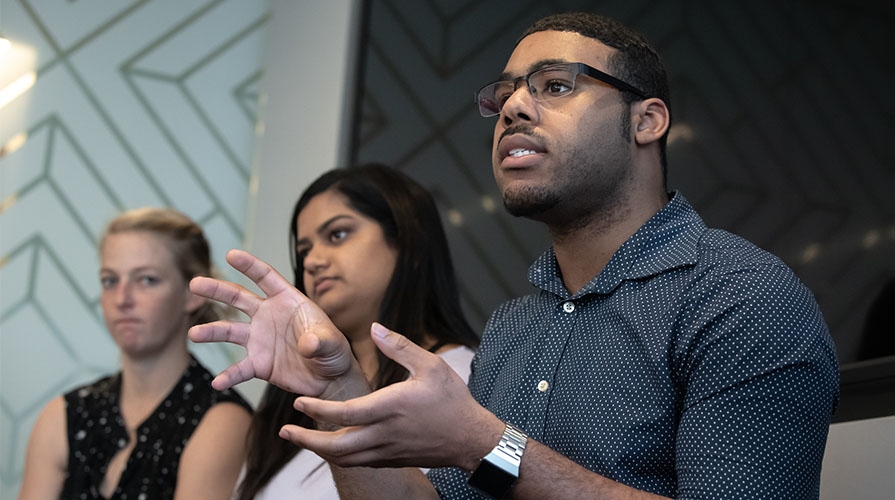 The value of your Occidental College education extends well beyond your years on campus. Whether you seek career advice or want to support the career development of students, we are here to help.
Share Your Expertise
Are you interested in helping Oxy students with their professional and career development?
Hire an Oxy Tiger - Oxy students and alumni are always seeking opportunities to gain professional work experience. Encourage your organization to post employment opportunities for internships and full-time professional jobs for seniors and alumni. Post a job through the employer portal on Handshake. 
Student & Alumni Networking Night - This popular annual event is hosted by Career Services and the Office of Alumni & Parent Engagement.  Experienced alumni have an opportunity to network with students for a casual, yet professional meet-up.  Students are eager to learn from alumni and engage in conversations about first jobs after Oxy and about your career trajectory.
Event Participation - Speak on an alumni panel, participate in a networking event, provide career advice to students or represent your organization at an on-campus recruiting event. Share your ideas with us and we will try our best to accommodate your request.
Employer Treks - Provide an opportunity for a small group of Oxy students to experience a first-hand look at your organization. Partner with Career Services to arrange a site visit to your office location.
Day in the Life - A "Day in the Life" provides a one-day job shadowing opportunity for an Oxy student to explore a career interest and to learn from an experienced Oxy alumnus. 
To personally discuss ways to share your expertise, please contact Career Services at careers @oxy.edu.
Career Assistance for Alumni
Career Services provides career support to alumni up to three years after graduation, including career advising appointments, resume critique, graduate school applications, and access to a broad range of career planning resources. To schedule an appointment with an experienced career advisor or to search for employment opportunities, log into Handshake. If you need assistance with logging in, please check out these tutorials:
How to log in to Handshake
How to upload a document
How to search for jobs
Join the Occidental College Alumni Group on LinkedIn