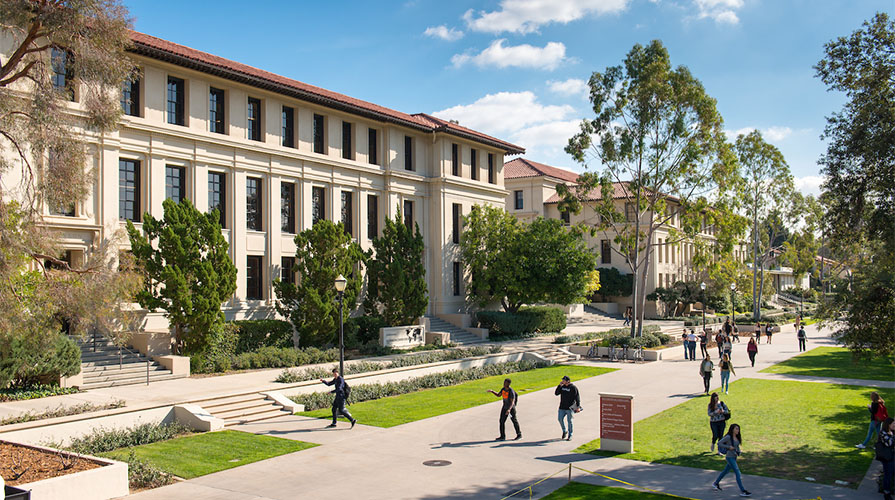 Visit our beautiful campus in the heart of Los Angeles and meet tomorrow's problem solvers, strategic thinkers, and effective communicators.
---
As a result of the COVID-19 pandemic, all employer recruiting events and interviews will be held virtually for the Fall 2021 semester.
---
Oxy graduates are thriving across a range of jobs and industries. Find out where our students go and who hires Oxy grads.
Recruiting at Oxy
The Career Services team is prepared to meet the recruiting needs of organizations interested in hiring Oxy students for internships and full-time professional jobs. There are numerous ways in which employers can recruit at Oxy, including hosting an information session, networking event, industry-focused talk, career education workshop, casual meet-up, or interview day.
Please schedule virtual events through your employer account on Handshake or contact careers@oxy.edu.
Recruiting Calendar
The Hameetman Career Center will host virtual employer recruiting events during the following dates:
Fall 2021: September 13 – November 19
Spring 2022: January 24 – April 22
Recruiting will not take place during the following dates:
October 11 –12, 2021 (Fall Break)
February 21, 2022 (President's Day)
March 7 – 11, 2022 (Spring Break)
April 19, 2022 (Founder's Day)
Post Jobs and Internships
Employers seeking undergraduate students and alumni for internships and full-time professional jobs are encouraged to post open positions on Handshake, our career management platform for students, alumni, and employers. Employers can schedule interviews, manage internships & job postings, send messages to students, and review application documents submitted by students. View instructions for posting a job/internship to Handshake.
Recent internships and job placements
AltaMed Institute for Health Equity
Amazon
Ashoka
Boeing
Cambridge Associates
CBRE
CBS
Cedars-Sinai Hospital
Center for American Progress
China Merchant Securities 
Citi Orient Securities 
City of Hope
City of Los Angeles
Columbia University
Deloitte Consulting
Downtown Women's Center 
Goldman Sachs
GumGum: Applied Computer Vision 
JusticeCorp
L.A. County Public Defender
L.A. Zoo
Los Angeles Capital Management & Equity Research, Inc. 
Los Angeles Dodgers
MAMBA Sports Academy
MassMutual
Mexican American Legal Defense & Education Fund
MRA Associates 
Microsoft Corporation
NASA Jet Propulsion Lab
NBC Universal Media
Netflix
Nielsen
Paramount Pictures
Peace Corps
PIMCO 
Piper Sandler
Princeton University
Salesforce
SOS Children's Villages 
UNICEF 
United Nations
Urban Land Institute
U.S. Department of State 
U.S. Geological Survey (USGS) 
Vital Findings
Warner Music Group
Wayfair
Westmount Asset Management
WeWork
Worldwide Facilities