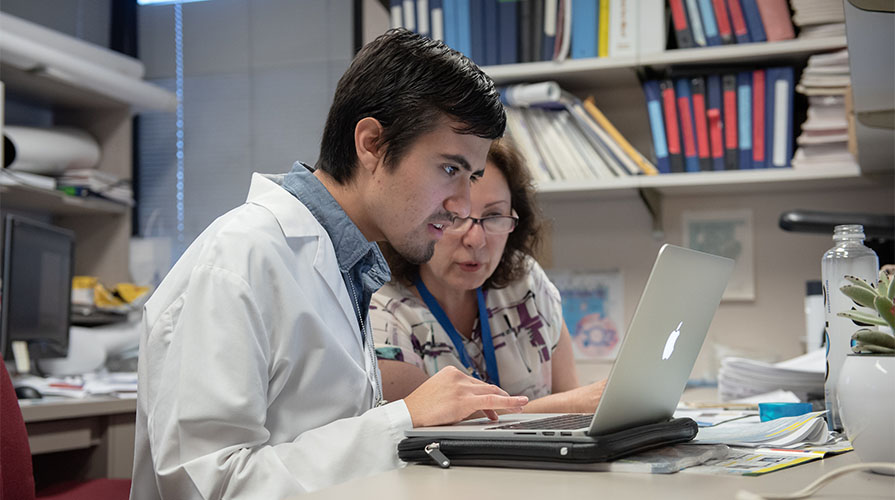 If you're considering further education after Oxy, our experienced career advisors can provide guidance and help with applications, personal statements, recommendations, and other important requirements.
Drop by for a walk-in appointment at the Hameetman Career Center to ask a career adviser a quick question. You can also schedule an appointment in advance on Handshake.
Recent graduate programs attended by Oxy graduates
Carnegie Mellon University, Biomedical Engineering
Duke University, Environmental Management
George Washington University, Nursing
Harvard University, Chemistry
Johns Hopkins University, International Affairs
NYU, Biostatistics
University of California Berkeley, Earth and Planetary Science
University of California Irvine, Law
University of California San Francisco, Global Health
USC, Pharmaceutical Sciences
University of Washington, Environmental and Forest Sciences
Graduate School Events
Throughout the academic year, representatives from a wide variety of graduate school admissions officers visit campus to conduct information sessions to inform students about their graduate and law school degree programs. This is a great way for students to meet graduate school admissions officers and for admissions officers to recruit Oxy students.
Career Services also hosts various panels of alumni who provide insight into their career path, graduate school choices, application process, and success tips.
USC Graduate School Fair
Oxy students are invited to attend the Graduate School Fair at USC held every year in the fall on the campus of University of Southern California. Meet representatives from over 130 graduate programs, including Stanford, Northwestern and Columbia Universities, the University of Chicago, NYU, MIT, UPenn, UC Berkeley, UCLA, and USC. By attending this event, Oxy students have the opportunity to discover a broad range of graduate school options.
The Graduate School Fair at USC is announced to students as soon as Career Services receives the invitation from USC. Oxy students who attend the Graduate School Fair at USC are required to RSVP and must bring their Oxy student identification to the event for free admission.
Check Handshake regularly for Graduate School events
External Resources