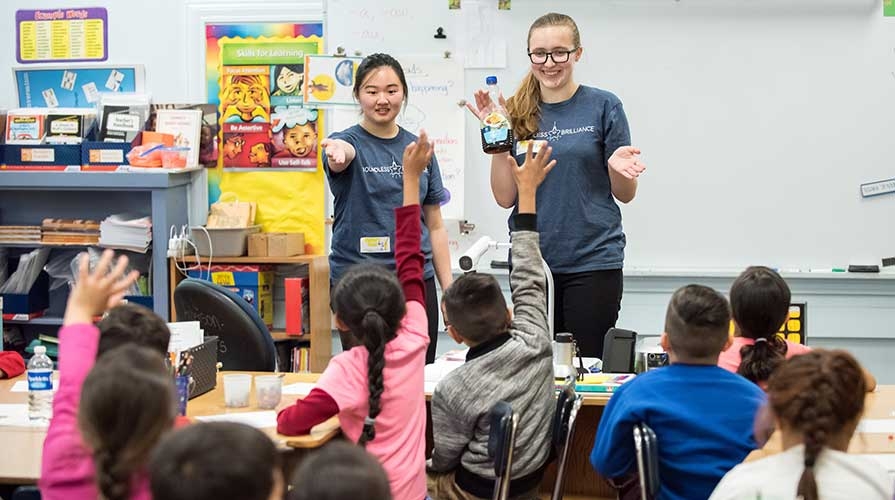 SLICE programs are designed to help you hone your leadership skills and connect meaningfully with the greater Los Angeles community through service.
SLICE Program Coordinators
PROGRAMMING WITH PURPOSE. SLICE Program Coordinators (PCs) develop and produce dynamic programs and events that cultivate leadership development, social justice and a sense of belonging.With programming partners, student service providers and the greater Oxy community, we challenge students to connect learning with meaningful and reciprocal experiences outside of the classroom. Together, PCs support student development and help create a strong commitment to equity, inclusion and a life devoted to the public good. SLICE PC"s currently work on programming in six focus areas: Leadership, Affinity, Involvement, Community Engagement, Civic Engagement, and Special Projects.  
Oxy sponsors a variety of service projects, but certain service days are Oxy traditions. These include Fall Into Service, Martin Luther King, Jr. Day of Service and Cesar Chavez & Dolores Huerta Day of Service.
The Involvement Fair is a longstanding tradition at Oxy. Each fall, more than 100 organizations and clubs set up on the Quad to talk about what their group does and how students can get involved.
OxyConnects gives students an opportunity to engage intentionally with local nonprofits. Over the course of a year, students develop deep partnerships through sustained volunteer work with an organization.
Half of incoming students participate in this optional pre-orientation program, offering a great introduction to the vibrant city of L.A. Over two days, student facilitators lead trips to experience culture, film, food, nature, social justice, the urban environment and more.
This group helps to ensure that students are registered and informed when it comes to voting. Near election cycles, they compile useful resources and plan voter education events on campus.
Occidental is a member of Project Pericles, a national organization that facilitates a commitment by colleges and universities to include social responsibility and participatory citizenship as essential elements of their educational programs.
Student Leadership Awards
Each spring, from unsung champions to emerging leaders, outstanding club advisors and program of the year, the Division of Student Affairs leadership awards recognize the accomplishments of students and colleagues who have positively impacted our campus community.
Service Recognition Banquet
Leading up to MLK Day of Service, SLICE hosts a banquet to recognize students, faculty and staff who have built lasting partnerships and long-term relationships with community partners and local nonprofits.