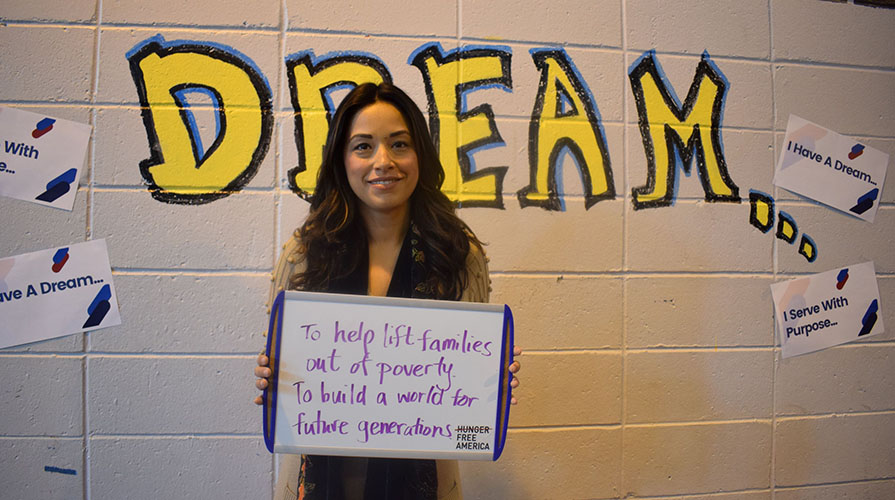 In honor of Dr. King's spirit of service and peace, the MLK Day(s) of Service are designed to engage Oxy students, staff, faculty, and alumni in community-based projects. 
Join the 2022 Initiative with Oxy and Hunger Free America
Due to the current health and economic crisis, more than 54 million people in America are struggling with hunger. But seasonal and charitable work can't end hunger alone. Higher impact work, like volunteering professional skills at an anti-hunger organization or advocating for a stronger safety net or higher wages can make a bigger difference in the fight to end hunger.

This year, SLICE is partnering with Hunger Free America for the MLK 2022 Serve-A-Thon. For 20 years, Hunger Free America has honored MLK's life work with action-oriented service and we are proud to be a supporter. The 2022 Serve-A-Thon will focus on a series of virtual workshops addressing the intersectionality of food insecurity and social issues, such as racial justice, environmental justice, or public health. Additionally, there are virtual service opportunities offered by non-profit partner organizations. The virtual MLK Serve-A-Thon will take place on January 17th. CLICK HERE to learn more and sign-up for workshops/activities that most interest you.
Remarks from Rev. Dr. Susan E. Young, Director of the Office for Religious & Spiritual Life
In honor of the Martin Luther King, Jr. Day of Service, the Rev. Dr. Susan Young, Director of the Office for Religious & Spiritual Life, offers a reflection on how Dr. King's prophetic words in "Letter from Birmingham Jail" are just as important for us today as they were when he first wrote them in 1963. As we reflect upon the events in Washington, D.C., we encourage you to read Rev. Dr. Young's address and access Dr. King's "Letter from Birmingham Jail" by clicking here.
Article: Martin Luther King Was a Radical, Not a Moderate
Martin Luther King, Jr. called himself a democratic socialist. He believed that America needed a "radical redistribution of economic and political power." He challenged America's class system and its racial caste system. He opposed US militarism. Click here to read the article by Peter Dreier, E.P. Clapp distinguished professor of politics at Occidental College.
---
The community partners we work with have well-established relationships with SLICE or other offices (such as the UEPI and the CCBL). Because these connections are so important, we strive to sustain our partnerships by creating mutually beneficial projects and community engagement opportunities.
Traditional MLK Day(s) of Service Collaborators
Greater Los Angeles Community Partners
Oxy Partners and Supporting Departments
Virtual/Remote Service Resources
LA Works Virtual Volunteering
Support Los Angeles from the comfort of your own home. From the #MillionMaskChallengeLA to joining a call party for Wellness Checks, the following opportunities are fun and flexible ways to serve LA remotely. Click here for more information.
Virtual Volunteer Match
Volunteer from anywhere with Volunteer Match. Explore hundreds of virtual volunteer opportunities in cause areas like health and medicine, education, and community building—that you can do from a computer, from home, or anywhere. Click here for more information.
AmeriCorps Volunteer Opportunities
Use this SEARCH TOOL to find a volunteer opportunity in your area. Yup, it's as easy as that!
Points of Light Virtual Volunteer Opportunities
When you think about volunteers, the typical image of a team or community group planting a garden, revitalizing a local park or painting a lively mural at a school comes to mind. Yet all around the globe, at any given time, thousands (if not millions) of engaged citizens volunteer virtually — using their computers, the Internet, even their smart phones.
Virtual volunteers can complete short-term or long-term tasks, in whole or in part, typically off-site from the organization or person being assisted. If you've got access to a computer, thousands of different volunteer projects and roles are available to you—from your home, the library, a coffee shop, anywhere with an Internet connection.
Click here for a robust resource list categorized by activity, impact area or beneficiaries.
Resources for Food Insecurity & Economic Hardship
ORSL has compiled a list of resources for individuals and families experiencing food insecurity or economic hardship due to the pandemic. CLICK HERE for more information about Food and Nutrition Assistance, Emergency Loans, and Rental Assistance Grants.
---
The MLK Day of Service In-Person Experience
Typically, the service day would see more than 200 students, staff, faculty, and alumni working with multiple community partners across the city of Los Angeles. Daylong projects would include canvassing, gardening, outdoor beautification and cleanup, food harvesting, library sorting, food distribution, and building/repairing homes.
2020 Schedule and Service Instructions
08:00 am - Check in & continental breakfast
08:45 am - Opening Ceremony
09:30 am - Buses depart to sites
10:00 am - Site orientation and work begins!
02:00 pm - Work concludes with lunch & reflection on site (this time will vary from site to site)
03:00 pm - Travel back to campus
A few things to remember:
Check in begins at 8 am at Hillside Theathre (Greek Bowl). The opening ceremony begins at 8:45 am and buses and vans will leave promptly at 9:30 am. As you can see, we have a very tight schedule so please BE ON TIME!
You will sign up for your site online through a seperate Site Selection link you'll receive after you submit your Registration Application. This email will include detailed list of site and project descriptions.
Once you arrive, find the check-in table for your site, conncet with your Site Leaders, pick up your official MLK t-shirt, grab some breakfast and lunch and find a seat in the Greek Bowl.
Many of the projects will take place outdoors. Please dress appropriately. CLOSE TOES SHOES ARE MANDATORY- NO FLIP FLOPS OR SANDALS! Wear comfortable clothes you don't mind getting dirty and bring a hat if you need to. We suggest layers and long pants.
Make sure to wear or bring sunblock.
Bring your own water bottle/container. Although breakfast and lunch will be provided, you need to make sure you are hydrated throughout the day.
We encourage the use of social media! Follow us on Instagram or twitter at @oxyslice. Tag us in your photos and use the hashtag provided.
Above all, bring your positive attitude! On Saturday you'll be honoring the legacy of Dr. Martin Luther King, Jr. and representing the College. We know you'll have fun doing both.
Life's most persistent and urgent question is 'What are you doing for others?'

- Dr. Martin Luther King, Jr., social activist and minister