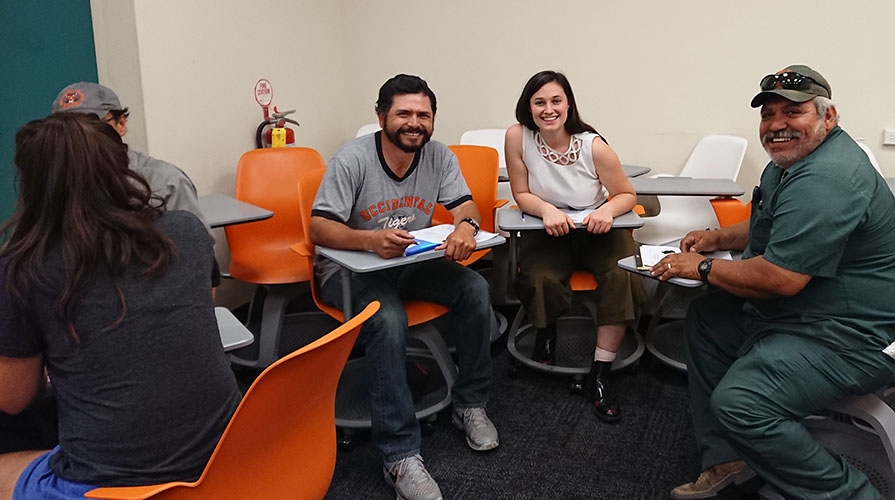 Comparte, or the Community Partnership for Education and Empowerment, is a student-led service program that provides free English language workshops for day laborers at community job centers across Los Angeles as well as Occidental staff members.
As part of the OxyConnects program housed in the office of Student Leadership, Involvement and Community Engagement (SLICE), Comparte works with day labor communities that utilize the Cypress Park and Pasadena Community Job Centers. Comparte student tutors also offer weekly workshops on campus for Oxy staff members who would like to improve their English language skills.
Initially established as a student club in 2015, Comparte now has relationships with the Instituto de Educación Popular del Sur de California (IDEPSCA) and the National Day Laborer Organizing Network (NDLON). Drawing on the principles of "popular education," Comparte develops and facilitates functional, personalized and empowering English language workshops. An emphasis is placed on conversational skills that support the interests and needs expressed by community partners to negotiate wages, improve occupational health and safety, build long-term worker skills and build confidence.
Workshops are about what kind of English can you use and leverage to your advantage, so that in places like the workplace or your housing you can feel more empowered, and you can advocate for your rights."      
       –Comparte co-founder Claire Krelitz '19
Interested in getting invovled or want more information about Comparte? Please contact Lina Calderon-Morin, Assistant Director of Student and Community Engagement.
You can also read more about Comparte in The Occidental student newspaper.