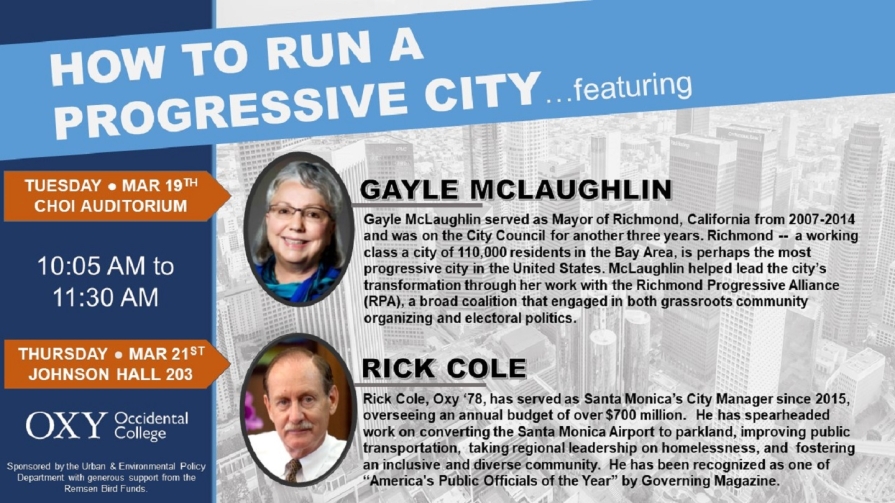 Open to the Oxy Community
HOW TO RUN A PROGRESSIVE CITY
GAYLE MCLAUGHLIN
Tuesday, March 19, 2019
10:05 - 11:30 am
Choi Auditorium
Gayle McLaughlin served as Mayor of Richmond, California from 2007-2014 and was on the City Council for another three years. Richmond --  a working class a city of 110,000 residents in the Bay Area, is perhaps the most progressive city in the United States. McLaughlin helped lead the city's transformation through her work with the Richmond Progressive Alliance (RPA), a broad coalition that engaged in both grassroots community organizing and electoral politics.    Under her leadership, Richmond increased the minimum wage to $15 an hour, reduced homicides 75% in 8 years, forced Chevron (the giant oil company that has a plant in Richmond) to pay over $100 million in additional city taxes, limited its pollution and sued the oil giant for damage to the population.  Richmond dramatically reduced the rate of violent crime, improved its public schools, and became a Sanctuary City to protect immigrant rights. In 2016, Richmond passed the first new rent control law in California in 30 years.
RICK COLE
Thursday, March 21, 2019
10:05-11:30am
Johnson Hall 203
Rick Cole, Oxy '78, has served as Santa Monica's City Manager since 2015, overseeing an annual budget of over $700 million.  He has spearheaded work on converting the Santa Monica Airport to parkland, improving public transportation,  taking regional leadership on homelessness, and  fostering an inclusive and diverse community.  He has been recognized as one of "America's Public Officials of the Year" by Governing Magazine. Prior to coming to Santa Monica, Cole served as Deputy Mayor for Budget and Innovation for the City of Los Angeles where he oversaw five city departments. Rick also spent 15 years as city manager of Ventura and Azusa. Rick served 12 years on the Pasadena City Council and was Mayor when Pasadena adopted its landmark General Plan, an early model for smart growth. The Los Angeles Times called him "one of Southern California's most visionary planning thinkers."  He has won awards for municipal management excellence from the American Society of Public Administrators and the Congress for the New Urbanism.
Event is sponsored by the Urban & Environmental Policy Department with generous support from the Remsen Bird Funds.