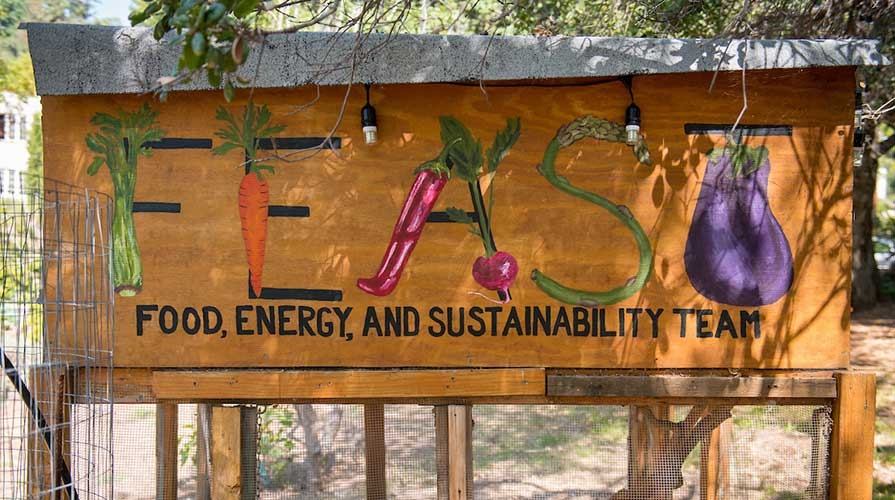 FEAST (Food, Energy, and Sustainability Team) Garden, located below the UEP house, is a student-run organic garden that grows produce, raises a brood of hens, mitigates waste through composting, restores native plants on campus, hosts educational workshops, engages with the surrounding community, and acts as a teaching and learning space for issues of sustainability, environment, and food.
FEAST's doors are open at all times to any member of the Oxy and surrounding neighborhood communities as a space to volunteer, learn, and enjoy nature.
History
In the spring of 2009, a group of students petitioned the administration for a site on Occidental's campus to start a student-run organic garden. With an incredible amount of hard work and the unending guidance of Bruce Steele and Mark Vallianatos and many others, we built our first compost pile using pre-consumer food scraps from the Marketplace, clippings from facilities and straw on March 15th, 2009. Compost operations continued for the remainder of the semester and that summer, a group of students put in raised beds, broke ground and began planting. The first harvest came in August as patty-pan squash, peas, chard and kale ripened.
Core Values
Sustainability          Diversity          Equity          Community          Education          Respect
Bruce Steele Garden Team
We works primarily in the organic garden on Oxy's campus. We are committed to learning about and executing sustainable growing practices in order to explore our relationship with the human community and our other-than-human community. We currently have 18 permanent raised beds and a greenhouse in which we propagate and grow the majority of our vegetables and herbs. We engage the student and local communities through hosting farmers markets, FEAST feasts, and enriching volunteer opportunities.
Compost Team
We value the tail end of the life cycle and give back to the land and community through the recycling process of nutrients and food waste. We seek to close the end of the food system, rather than "wasting" food scraps. Not only does this take pressure off municipal waste systems, but it improves soil microbial diversity, feeds the chickens, and creates nutrient dense products for our garden and the community alike. We value resourcefulness, creativity, and ecological resilience. One man's trash (or food scraps) is FEAST's treasure! 
Native Restoration Team
The Native Restoration Team is working to create and tend to native plant ecosystems on Oxy's campus capable of outcompeting invasive species and thriving without water. These spaces attract birds, bees, and other pollinators, increase our water and maintenance efficiency, and provide striking natural beauty that can be appreciated by all Oxy students. Most of our efforts are concentrated on the hillside of Fiji, where we have already cultivated a diverse system of native plants that we look forward to developing further. We are also tending to native plant gardens adjacent to Norris and Pauley Halls
Fall 2023 Drop-In Hours Schedule 
Stop by our drop-in hours with the FEAST teams if you have questions, want to volunteer, or even just want to hang out!
Bruce Steele Garden: Mondays 12:30pm-2pm and Fridays 11am-1pm
Compost Team: Tuesdays and Thursdays 3pm-5pm
Native Restoration: Thursdays 3-5pm and Fridays 4pm-6pm (email feast@oxy.edy for location)
Calendar Events
Most recent updates are posted on here on our social media.
Our LinkTree can navigate you to our...

Please contact Rosa Romero for any questions re: FEAST or Bruce Steele Garden:

Email: rromero@oxy.edu
Phone: (323) 341-4806