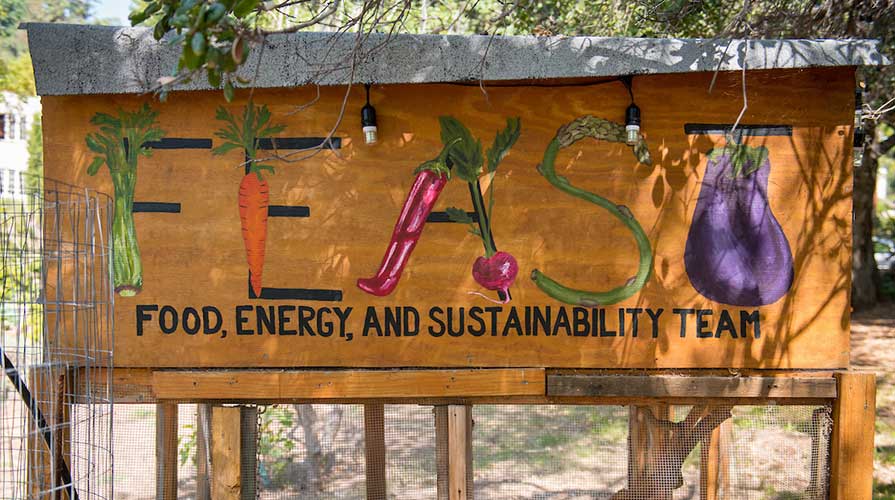 FEAST (Food, Energy, and Sustainability Team) Garden, located below the UEP house, is a student-run organic garden that grows produce, raises a brood of hens, hosts educational workshops, engages with the surrounding community, and acts as a teaching and learning space for issues of sustainability, environment, and food.
FEAST's doors are open at all times to any member of the Oxy and surrounding neighborhood communities as a space to volunteer, learn, and just enjoy the space.
History
In the spring of 2009, a group of students petitioned the administration for a site on Occidental's campus to start a student-run organic garden. With an incredible amount of hard work and the unending guidance of Bruce Steele and Mark Vallianatos and many others, we built our first compost pile using pre-consumer food scraps from the Marketplace, clippings from facilities and straw on March 15th, 2009. Compost operations continued for the remainder of the semester and that summer, a group of students put in raised beds, broke ground and began planting. The first harvest came in August as patty-pan squash, peas, chard and kale ripened.
Calendar Events
For all the most recent updates, follow FEAST on Instagram!
Contact feast@oxy.edu to find out more information about volunteering and to join our mailing list. You'll be the first to hear about the garden's workshops and events, held multiple times each month!