This award is given each year to Occidental College graduating seniors (all majors) who, by action and leadership, have contributed to advancing community-driven programs and policies to build healthy, thriving communities and achieve social, economic, and environmental justice. 
Nominations for the 2023 Community Action Award will be accepted in Feb/Mar 2023. 
---
Congratulations to the award recipients who demonstrated their strong commitment to public affairs and worked tirelessly at social justice issues.
2022 | 2021 | 2020 | 2019 | 2018 | 2017 | 2016 | 2015 | 2014 | 2013 | 2012 | 2011 | 2010 | 2009 | 2008 | 2007 | 2006 | 2005 | 2004 | 2003 | 2002 | 2001 | 2000
2022
Student Community Action Award (bios)

L to R:
Miya Woo, UEP
Ina Morton, UEP, Politics & AHIS minors
Mia Villegas, English, Spanish minor
Justin Martinez, Politics
Julia Hansen, UEP, Music minor
Lauren Uy, American Studies
2021
Student Community Action Award (bios)
Enjoy this celebration and tribute video of these amazing individuals! 
http://bit.ly/2021CommunityActionAwardTributeVideo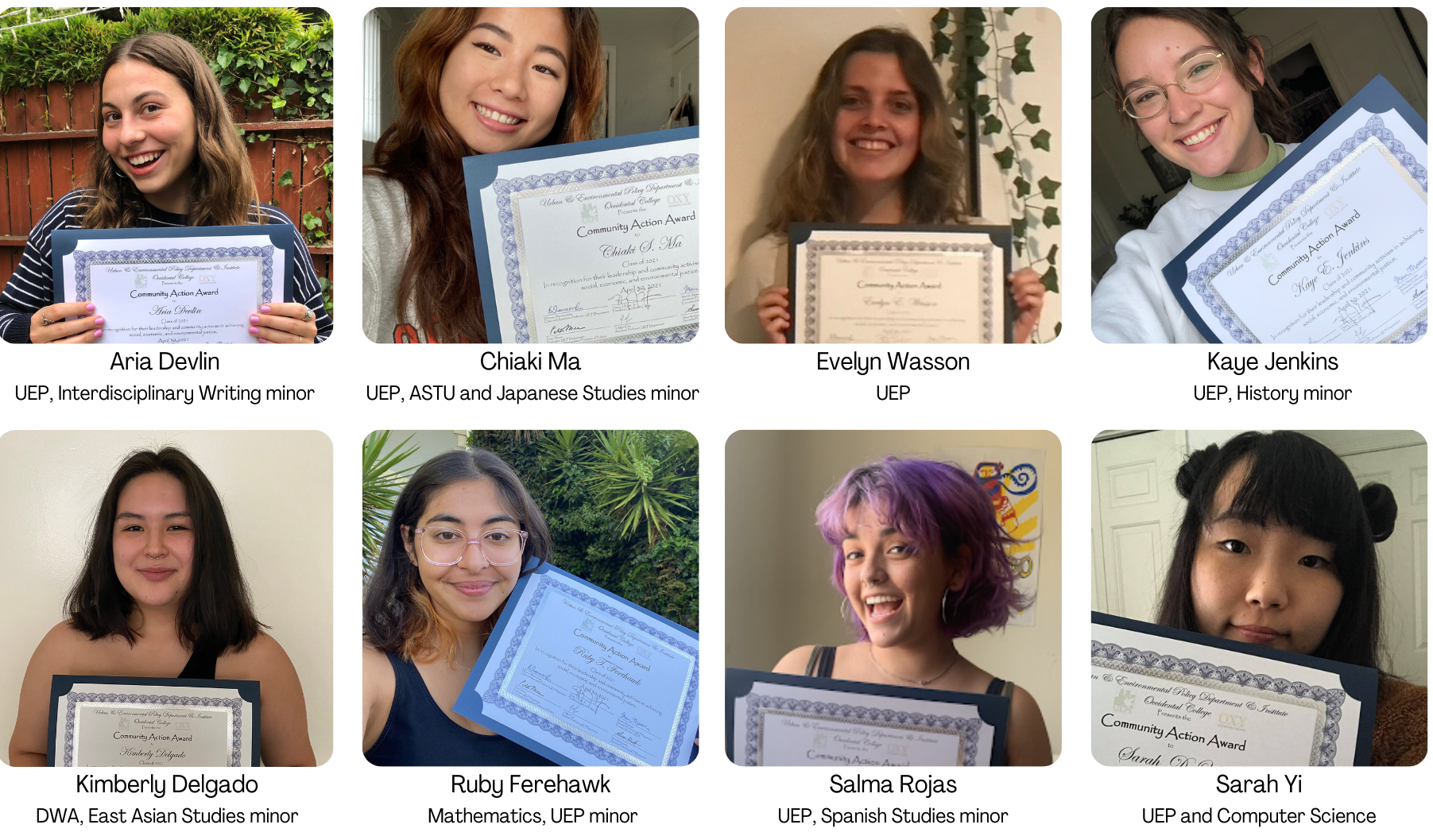 2020
Student Community Action Award (bios)
Enjoy this virtual celebration and tribute video of these amazing individuals! 
https://bit.ly/2020CommunityActionAwardTributeVideo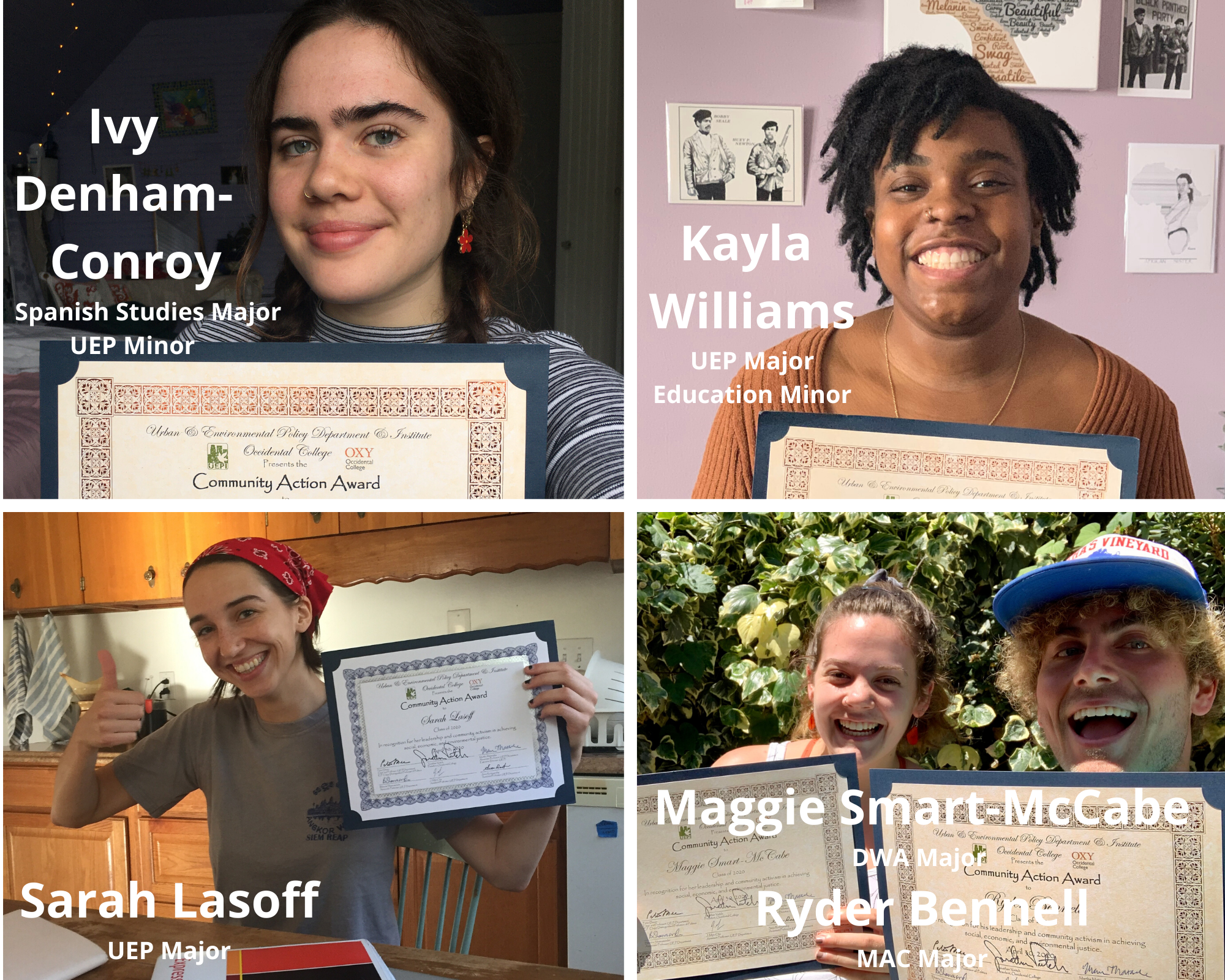 2019
Student Community Action Award (bios):

L to R:
Kelsey Martin, Sociology
Diego Zapata, Biology
Samantha Herdman, Biology
Grace Sponaugle, UEP
Amber Roman, UEP
2018
Student Community Action Award (bios):
2017
Student Community Action Award (bios):

L to R: 
Isabella Ojeda, Spanish Studies and Sociology
Marissa Chan, UEP and Public Health minor
Chloe Welmond, Art and Art History
Danielle Raskin, UEP
2016
Student Community Action Award (bios):

Seniors Leadership in AGC Occupation:
Abhilasha Bhola, Diplomacy & World Affairs
Dalin Celamy, Sociology
Mika Cribbs, Community Development and Media Communications
Obiageli Okpalanma, Biology
Lindsay Opoku-acheampong, Biology
Marielle Pena, Economics
Nina Monet Reynoso, Psychology
Antoniqua Roberson-Dancy, Urban & Environmental Policy
Karen Romero Estrada, Urban & Environmental Policy
Dana Rust, Diplomacy & World Affairs 
Diamond Webb, Sociology
Benjamin Weiss, Sociology
2015 
Student Community Action Award (bios):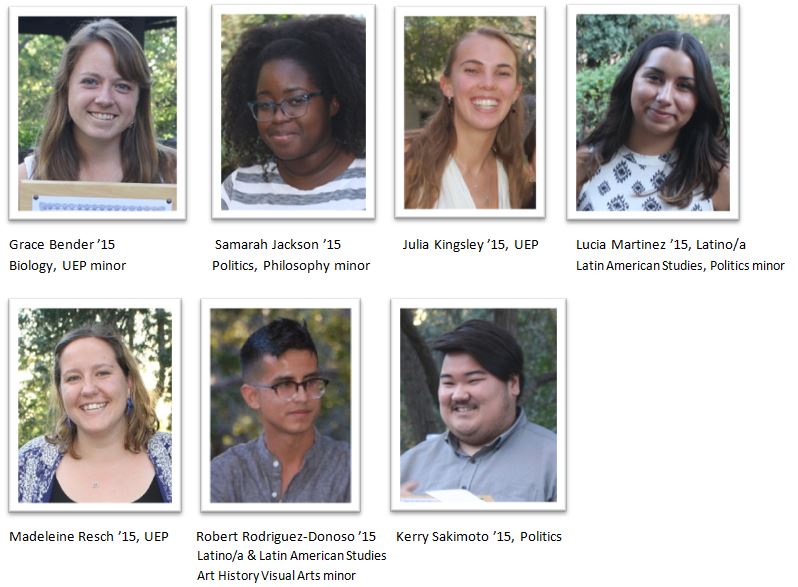 Coalition @ Oxy for Diversity and Equity (C.O.D.E.) Leadership:


Faculty mentors (L to R):
Alexandra Puerto (history), Donna Maeda (ctsj), Regina Freer (politics),
Paul Nam (history), Movindri Reddy (dwa), and Martha Matsuoka (uep)
2014
Student Community Action Award (bios):
Coalition @ Oxy for Diversity and Equity (C.O.D.E.) Leadership: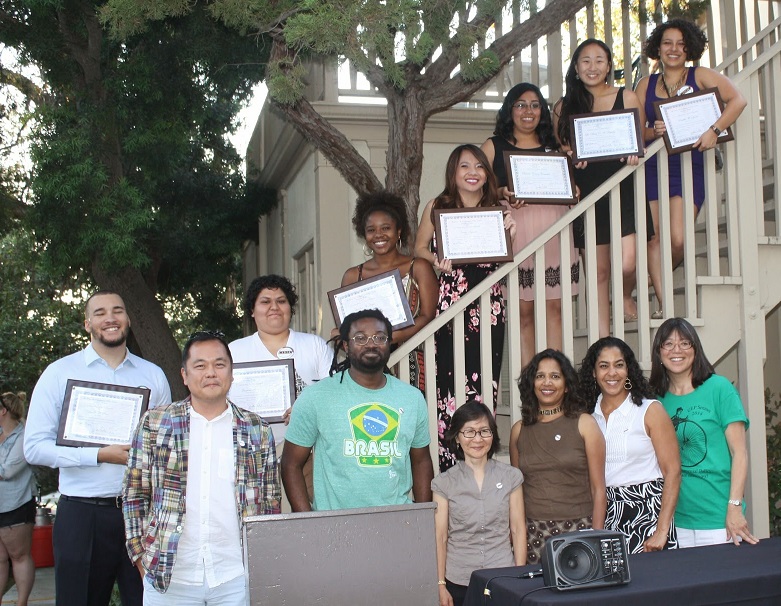 (Left to right)
David Pino '14, Sociology, History minor
Jasmine Tovar '14, Latino/a & Latin American Studies, Education minor, Politics minor
Myaisha Hayes '14, Black Studies
Nancy Nguyen '14, Politics, East Asian Studies minor
Bianca Fonseca Cervantes '14, UEP, Latino/a & Latin American Studies
Qiu Meng Fogarty '14, Social Justice & Change
Estrella Lucero '14, Politics, History minor
2013
Student Community Action Award (bios):

(Left to right)
Miranda Chien-Hale, Geology, UEP minor
Elizabeth Little, Psychology
Margeau Valteau, UEP, Biology minor
Jessica Welty, UEP
Emma Sorrell, UEP
Caitlin Ruppel, UEP
2012
Student Community Action Award (bios):

Alumni Social Justice Award (bios):

2011
Student Community Action Award (bios):

2010
Student Community Action Award (bios):

2009
Student Community Action Award (bios):
Ana Bonilla '09, Urban & Environmental Policy
Andrea Chicas '09, Urban & Environmental Policy
Margot Seigle '09, Urban & Environmental Policy
Karina Vanderbilt '09, History
2008
Student Community Action Award (bios):
Karen Calderon '08, Diplomacy & World Affairs  
Marika Tsolakis '08, Urban & Environmental Policy 
2007
Student Community Action Award (bios):      

Alumni Community Action Actions (bio): 

2006
Student Community Action Award (bios):
Leticia Dominguez '06, Kinesiology
Genevieve Hansen, Kinesiology/Spanish
Jenna Lippe-Klein '06, Anthropology
Leslie Mahley '06, Urban & Environmental Policy
Penny Saephan '05, Kinesiology
Christina Wong '06, Biology
Alumni Community Action Award (bio):

2005
Student Community Action Award (bios):      

Alumni Community Action Award (bios):

2004
Student Community Action Award (bios): 

Alumni Community Action Award (bio):

2003
Student Community Action Award:

Alumni Community Action Award:

2002
Student Community Action Award
Justine Lewis '04, Urban & Environmental Policy
Alumni Community Action Award
Angelica Salas '93, Sociology and History
Executive Director, Coalition for Human Immigrants Rights of Los Angeles
2001
Student and Alumni Community Action Awards:

2000
Student and Alumni Community Action Awards: