This award is given each year to Occidental College graduating seniors (all majors) who, by action and leadership, have contributed to advancing community-driven programs and policies to build healthy, thriving communities and achieve social, economic, and environmental justice. 
The Urban & Environmental Policy Department and UEPI are accepting nominations for 2019 Community Action Award through April 1, 2019. Please submit your nomination (2019 UEPI Awards Nomination) by the April 1 deadline.
Recipients will be awarded at the UEP-UEPI Year-End Celebration and Student Awards Ceremony on Thursday May 2, 2019.
---
We are proud to present the award recipients who demonstrated their strong commitment to public affairs and worked tirelessly at social justice issues.
2018
Student Community Action Award (bios):
2017
Student Community Action Award (bios):

L to R: 
Isabella Ojeda, Spanish Studies and Sociology
Marissa Chan, UEP and Public Health minor
Chloe Welmond, Art and Art History
Danielle Raskin, UEP
2016
Student Community Action Award (bios):

Seniors Leadership in AGC Occupation:
Abhilasha Bhola, Diplomacy & World Affairs
Dalin Celamy, Sociology
Mika Cribbs, Community Development and Media Communications
Obiageli Okpalanma, Biology
Lindsay Opoku-acheampong, Biology
Marielle Pena, Economics
Nina Monet Reynoso, Psychology
Antoniqua Roberson-Dancy, Urban & Environmental Policy
Karen Romero Estrada, Urban & Environmental Policy
Dana Rust, Diplomacy & World Affairs 
Diamond Webb, Sociology
Benjamin Weiss, Sociology
2015 
Student Community Action Award (bios):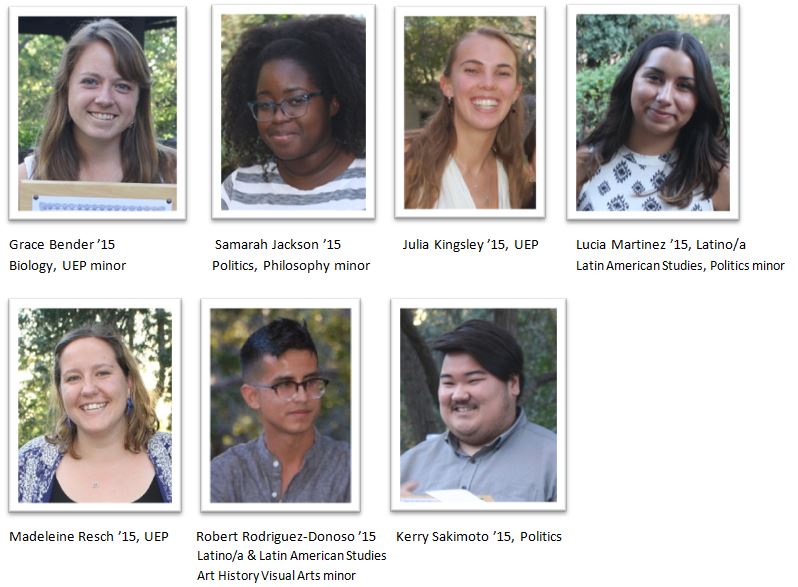 Coalition @ Oxy for Diversity and Equity (C.O.D.E.) Leadership:


Faculty mentors (L to R):
Alexandra Puerto (history), Donna Maeda (ctsj), Regina Freer (politics),
Paul Nam (history), Movindri Reddy (dwa), and Martha Matsuoka (uep)
2014
Student Community Action Award (bios):
Coalition @ Oxy for Diversity and Equity (C.O.D.E.) Leadership: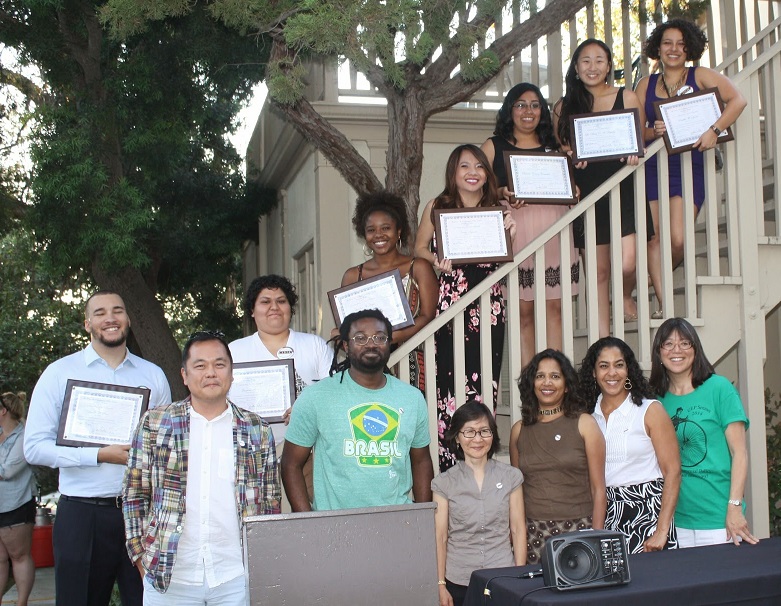 (Left to right)
David Pino '14, Sociology, History minor
Jasmine Tovar '14, Latino/a & Latin American Studies, Education minor, Politics minor
Myaisha Hayes '14, Black Studies
Nancy Nguyen '14, Politics, East Asian Studies minor
Bianca Fonseca Cervantes '14, UEP, Latino/a & Latin American Studies
Qiu Meng Fogarty '14, Social Justice & Change
Estrella Lucero '14, Politics, History minor
2013
Student Community Action Award (bios):

(Left to right)
Miranda Chien-Hale, Geology, UEP minor
Elizabeth Little, Psychology
Margeau Valteau, UEP, Biology minor
Jessica Welty, UEP
Emma Sorrell, UEP
Caitlin Ruppel, UEP
2012
Student Community Action Award (bios):

Alumni Social Justice Award (bios):

2011
Student Community Action Award (bios):

2010
Student Community Action Award (bios):

2009
Student Community Action Award (bios):
Ana Bonilla '09, Urban & Environmental Policy
Andrea Chicas '09, Urban & Environmental Policy
Margot Seigle '09, Urban & Environmental Policy
Karina Vanderbilt '09, History
2008
Student Community Action Award (bios):
Karen Calderon '08, Diplomacy & World Affairs  
Marika Tsolakis '08, Urban & Environmental Policy 
2007
Student Community Action Award (bios):      

Alumni Community Action Actions (bio): 

2006
Student Community Action Award (bios):
Leticia Dominguez '06, Kinesiology
Genevieve Hansen, Kinesiology/Spanish
Jenna Lippe-Klein '06, Anthropology
Leslie Mahley '06, Urban & Environmental Policy
Penny Saephan '05, Kinesiology
Christina Wong '06, Biology
Alumni Community Action Award (bio):

2005
Student Community Action Award (bios):      

Alumni Community Action Award (bios):

2004
Student Community Action Award (bios): 

Alumni Community Action Award (bio):

2003
Student Community Action Award:

Alumni Community Action Award:

2002
Student Community Action Award
Justine Lewis '04, Urban & Environmental Policy
Alumni Community Action Award
Angelica Salas '93, Sociology and History
Executive Director, Coalition for Human Immigrants Rights of Los Angeles
2001
Student and Alumni Community Action Awards:

2000
Student and Alumni Community Action Awards: