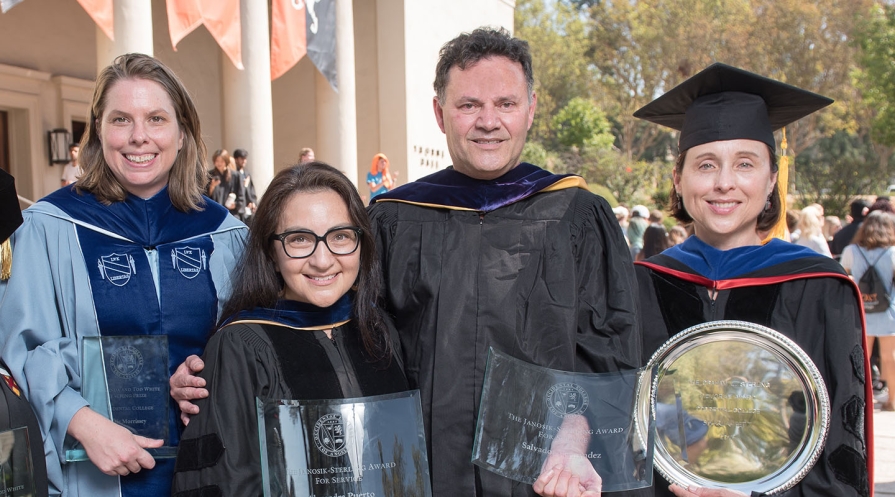 Oxy faculty share some of their best advice for incoming students.
Read widely and thoughtfully. Do it in conversation with others you can build worlds of language with.
Learning is inherently enriching and empowering, but it takes time, energy and continuous effort. Be patient with yourself and others around you. Rather than focusing on the quality of the end product, try to enjoy the process of transforming and empowering yourself.
Be organized! You should enter all commitments that you have during the course of the semester in your personal planner: exam dates, papers due and all other major activities.
Expect to be challenged, be humble, and embrace difficult topics and areas of study. You never know what might inspire your imagination and how a class or event on campus could change your future!
Take advantage of the small, supportive community we have here at Oxy, especially the access you have to your professors. Go to their office hours, get involved in a research project. You have a unique opportunity to be a part of the incredible research being done here as an undergraduate.
Wait to declare your major. I myself was a victim of declaring too early. I wanted to be a triple major, and I missed out on studying abroad because I had so many hoops to jump through. I tested out of my French requirement my freshman year because I had taken five years of it, and then I didn't speak a word of French for four years and lost all of it. So take a language, even if you placed out of it. Go further.

Then go outside your major. Ask an upperclassman who is the best professor you had at Oxy and then take a course with them. Find out who that amazing professor is and just take a course, no matter what the subject. Through a liberal arts education you can get to know subjects that you didn't think were ever going to be your major. Take a chance, and be brave.