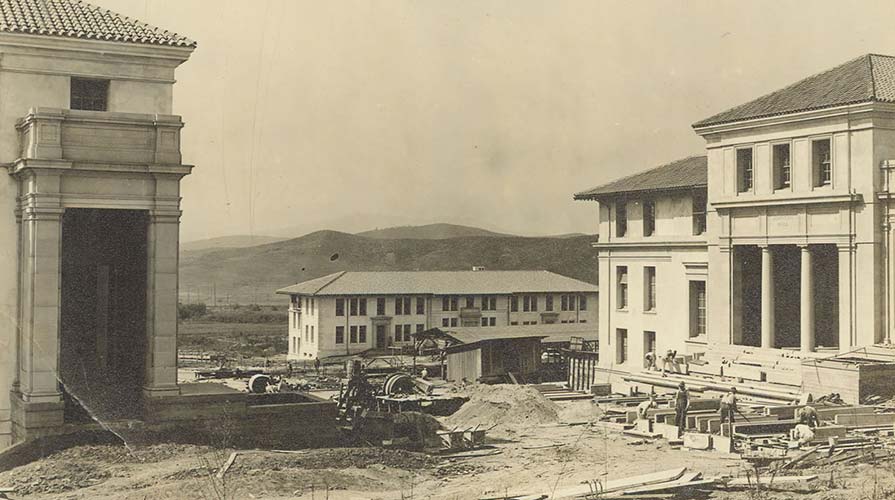 The Special Collections and College Archives department houses Oxy's collection of rare books, visual media, sound recordings and other primary source and rare materials that support the College's teaching mission.
Special Collections & College Archives Reading Room is closed and services are limited.
.Researchers please visit our Research Services page for more information.
See also the Covid 19 Services Update for Library services during the pandemic.
Located on the third floor (new wing) of the Library, it is also home to the historical records of the College which consist of faculty and alumni files, student publications, campus photos, and administrative files. Many of our collections are showcased in various exhibits throughout the library as well as online.
We support research for the Oxy community as well as the public and welcome all inquiries. To make appointments for research or make research inquiries, visit Research Services. Faculty members are encouraged to work with us to explore incorporating primary sources into learning experiences in class or on assignments. Faculty members are invited to bring students to our reading room for viewings and demonstrations. 
History is happening now. Please join Special Collections & College Archives in Documenting Life in the Pandemic. We invite you, the Oxy community—faculty, students, administration and staff, and alumni—to contribute your personal experiences with the pandemic, racial justice movement and national events.
Learn more about our holdings and services in College History, Collections, Northeast Los Angeles History, Visual/Book Arts and Online Resources. Explore  Online research projects and digital repositories or consult our LibGuide.  For news on Oxy history, rare books and artifacts in Special Collections just like us on Facebook or follow us on Instagram and Twitter!
Contact Us
Special Collections and College Archives 
Staff
Dale Ann Stieber, Special Collections Librarian and College Archivist
dstieber@oxy.edu
Helena de Lemos, Special Collections Instruction & Research Librarian
hdelemos@oxy.edu
Eli Chartkoff, Digitization Specialist
echartkoff@oxy.edu