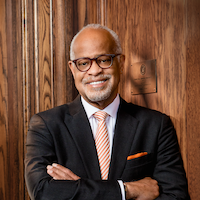 I am excited to share with you my first message in "On Campus," which will be one of the tools we use for promoting better communication across the campus. As we confront the uncertainties and challenges of COVID-19, continued communication remains a heightened priority. We want to make sure you are hearing from me and other senior leaders on a regular basis. And so, when items of importance arise in their units, members of senior staff (and other departments) will also contribute to this newsletter. Given the current limitations of what we can do with in-person communication, it is more important than ever for us to use multiple platforms for keeping in touch, from newsletters such as this to webinars and virtual town halls. Accordingly, "On Campus" will be a place to keep you apprised of matters big and small that impact our community.
 
I should point out in this first "On Campus" message that Michele and I will literally soon be on campus. Along with our two cats, Oswald and Leland, we will be moving into the Annenberg President's House during the week of September 1. While I will continue to work remotely, living on campus will be beneficial in a variety of ways: it will allow me to get a better feel for the Oxy community; it will enable me to meet—following the required health and safety guidelines including face masks and social distancing—with some of the students, faculty, staff and alumni who may be on campus. I am also working on finding time in my fall semester schedule when I can get out and "virtually" talk with staff and faculty across departments. This could include dropping in on a department meeting or utilizing new formats that allow me to greet more of you and hear your thoughts about Oxy. My doors are also open for office hours and appointments; please contact my executive assistant, Rocio Ramos. I also look forward to our next webinar, Monday, August 17 at noon, which will include faculty and staff together for the first time in a long time, as I have been told.
BULLETIN BOARD
Faculty and staff are invited to a town hall webinar this Monday, August 17 from 12 p.m. to 1 p.m. Check your email for a link and password.
Planning to come to campus? Make sure to take the Daily Health Check assessment here.
Join fellow employees, students and alumni in reading Jacqueline Woodson's Red at the Bone: A Novel in anticipation of the August 18 Community Book Program Conversation with the author.
Hear from renowned infectious disease specialist Dr. Kimberly A. Shriner '80 in this August 10 Covid-19 webinar hosted for new Oxy families.
IN THE NEWS
New Scholarship Program Aimed at Middle-Income California Students Launched
A new $3.2 million challenge fund will kickstart a drive to create the Edgerton-Occidental Merit Scholarship Program, a $9.6 million endowed fund that will make it possible for talented middle-income California students to attend Oxy for the same cost as attending the University of California.
Oxy Partners with national arts collective to present "In Plain Sight"
In partnership with Oxy Arts, a nationwide collective of 80 artists and activists launched In Plain Sight on July 3-4—an ambitious site- and time-specific effort to make visible the injustices of the world's largest immigration detention system.
Occidental Students, Alumnus Win Six Fulbrights
Five graduating Occidental seniors and one recent alumnus have been named winners of prestigious Fulbright scholarships to teach and conduct research overseas. A sixth senior was named an alternate.
Bill Anderson Named to Coaches Association Hall of Fame
Oxy's legendary baseball coach, who coached 10 SCIAC championship teams, will receive the association's highest honor.
Urban & Environmental Policy Assistant Professor Mijin Cha and co-authors have written a series of blogs on COVID-environmental injustice, including pieces on the Bronx as an epicenter of coronavirus and environmental injustice; how environmental injustice and racism combine in Georgia; and how coronavirus and climate hit communities of color the hardest. Cha was also the lead author on a report focused on how racial justice is essential to a just transition to a low-carbon future.
Stanford University's black box theater, housed in the historic Roble Gym, has been named the Harry J. Elam, Jr. Theater in honor of President Elam, an internationally renowned theater scholar and former vice provost at the university.
In May, History Professor Sharla Fett presented the 2020 Stephanie M.H. Camp Lecture at the University of Washington. Fett's talk, "Recaptive African Women and the Body Politics of Survival in the Era of the 'Last Slave Ships,'" merges the history of the body, to which Stephanie M.H. Camp contributed so crucially, with more recent work on Black intellectual history in the Atlantic World.
This past spring, Associate Professor of History Jane Hong appeared in the PBS docuseries Asian Americans, and shared her own family's story of immigrating to the United States.
Congratulations to Assistant Professor of Theater Will Power whose most recent work, Detroit Red, a multi-media exploration of a transformational moment in the early life of Malcolm X, was awarded Outstanding New Script by the Boston Theater Critics Association at the 38th Annual Elliot Norton Awards.
In a newly published paper, "Classical 1/3 scaling of convection holds up to Ra = 1015," Physics Professor Janet Scheel and co-authors report on their work to advance direct numerical simulations of turbulent convection to a region of turbulence that has never been accessed before numerically.
One of the biggest open problems in number theory is the Birch and Swinnerton-Dyer conjecture; the Bloch-Kato conjecture is a generalization of this conjecture. Mathematics Professor Jim Brown's new paper, "Congruence primes for automorphic forms on unitary groups and applications to the arithmetic of Ikeda lifts," provides one direction of the proof in certain cases.
Assistant Professor of Urban & Environmental Policy Mijin Cha contributed a chapter to We Own the Future: Democratic Socialism, American Style, a new volume edited by UEP Professor Peter Dreier, Michael Kazin, and Kate Aronoff. Cha's chapter, "We the People: Voting Rights, Campaign Finance, and Election Reform," argues that democratic reforms are needed in order to adopt policy measures advocated by democratic socialists. She discusses the distorting influence money has in our political system and details the wide-scale voter suppression efforts under way, specifically targeted towards voters of color and low-income voters.
Cha is also a co-recipient along with USC Professor Manuel Pastor of a $125,000 grant from the Nathan Cummings Foundation to continue state-level just transition work. Cha and Pastor will explore what policies are needed to help equitably transition fossil fuel workers and communities into a low-carbon future, known as 'just transition' and what political conditions must be necessary to advance those policies.
Even though COVID-19 is new, there are many lessons learned from previous responses to health crises and outbreaks. A special virtual issue of Politics and the Life Sciences (PLS) on Coronavirus: Politics, Economics, and Pandemics, co-edited by Professor of Diplomacy & World Affairs Sophal Ear includes articles that provide insight on what we might learn going forward by looking at past research appearing in the pages of PLS.
A new book co-edited by Critical Theory & Social Justice Professor Caroline Heldman and Lori Han, Madam President? Gender and Politics on the Road to the White House, critically analyzes the barriers facing women on the road to the White House―from gender stereotyping to biased media coverage, the conflation of masculinity and the presidency, gendered conceptions of leadership, and more.
Computer Science Professor Kathryn Leonard's project titled "Geometric and Semantic Structures for Two- and Three-dimensional Shape Understanding" has been funded by the National Science Foundation's Division of Mathematical Sciences for $160,000 over three years. The project will contribute foundational mathematical theory and robust computational implementation of 2D and 3D shape understanding, which is a crucial gap in the existing image analysis pipeline.
Art & Art History Professor Amy Lyford was awarded the competitive NEH Summer Stipend Fellowship to pursue her research for a book project on the photography of the Paris-based surrealist artist Dora Maar (1907-1997). Lyford will travel to Paris in Summer 2021 to complete her research, whose work is planned to be exhibited at the Getty Museum in Los Angeles summer 2020 (pending coronavirus restrictions).  
Associate Professor of Biology John McCormack's National Science Foundation funded project to resurvey Mexico's birdlife was the subject of a video short published by Biographic. "Records of Change" follows McCormack and the Moore Lab as they travel to remote locations in Mexico and work with locals to assess how birds are coping with environmental stressors. The Moore Lab's bird specimens play a key role in providing a link to past bird communities recorded before industrialization changed Mexico's habitats forever.
In April, Associate Professor of Politics Jennifer Piscopo wrote an article in Ms. Magazine about how the 2018 Blue Wave elected unprecedented numbers of Democratic women to the state legislatures. These women are passing feminist reforms at the state level, and outperform men when it comes to introducing and enacting their legislation, showing that state and local politics matter.
Professor Arthur Saint-Aubin of the Spanish and French Department has published an essay that suggests that Chuck Berry is not only the Father of Rock & Roll, he may also be the Father of the Rock & Roll Memoir who has inspired Bob Dylan and Bruce Springsteen, among others.
Urban & Environmental Policy Associate Professor Bhavna Shamasunder's project titled "Race, Immigration, and the Public Understanding of Science: The Case of Skin Bleaching" has been funded $479,480 by the National Science Foundation's Division of Science, Technology, and Society. This project is a multi-sited study of women in immigrant communities in Los Angeles, Minneapolis, and New York City who use potentially toxic beauty products to lighten their skin. Its goal is to examine women's understanding of the risks involved in using the products and their rationales for doing so.
People who hold scientific explanations for natural phenomena also hold folk explanations, and the two types of explanations compete under some circumstances. In a new paper, "Competing Explanations of Competing Explanations: Accounting for Conflict Between Scientific and Folk Explanations," Psychology and Cognitive Science Professor Andrew Shtulman and co-author explore the question of why folk explanations persist in the face of a well‐understood scientific alternative, a phenomenon known as explanatory coexistence. 
History Professor Marla Stone has been awarded a Gladys Krieble Delmas Foundation Research Grant for research in Venetian archives during the spring of 2021. She will conduct research for her book project, The Enemy: The Politics and Propaganda of Italian Anti-communism, which will look at the changing politics of anti-communism in Italy between 1919 and 1953 and the ways in which a politics of enemies shape political culture. Stone was also appointed President of the Board of the American Civil Liberties Foundation of Southern California in March 2020. She has served on the Board of the American Civil Liberties Union and Foundation for thirteen years.
Citizen scientists can help professional scientists amass much larger datasets than would be possible without their input, but the quality of these data may impact their utility. In a new article by Assistant Professor of Biology Amanda Zellmer and co-authors, "Just-in-Time Training (JITT) Improves Accuracy of Citizen Scientist Wildlife Identifications from Camera Trap Photos," they examine whether JITT improves citizen scientist ­accuracy ­of ­subject ­identification,­ specifically­ wildlife ­identification ­from­ camera­ trap ­photos. This paper was the result of a summer research project conducted by Roshni Katrak-Adefowora '19 and was supported by the NSF COSMOS grant.                                                          
For more information on faculty scholarship and accomplishments, visit the Center for Research & Scholarship.
AT WORK WITH...
Marc Campos, College Photographer
I hail from: Rancho Cucamonga, CA
My current neighborhood is: Pasadena, the area called "Catalina Villas" (although it should be called "Auto Repair Haven" where we are)
I've been involved with Oxy for: It will be 12 years on Aug. 18th(!)
My workplace currently looks like: My wife and I use our living room as our office and a spare bedroom as a meeting room/break room.
My new favorite office snack is: Oh good question. Unsalted mini pretzels. I know, doesn't sound great, but then I don't eat too many!
A recent accomplishment I'm proud of is: Working with faculty and the OMC team to produce 6 videos in one week. The videos described what students should look forward to as far as Fall classes.
A TV show you should watch to is: Crude at times, Friday Night Dinner (on Amazon Prime) keeps us laughing.