Regular Faculty
Non-Tenure Track Faculty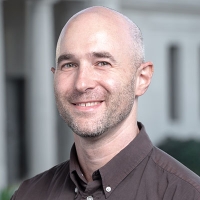 Visiting Assistant Professor, Physics and Computer Science
M.S. in Engineering, Institut National des Sciences Appliquées (France); M.S.in Applied Physics, University of Paris 6 (France); Ph.D., Ecole Polytechnique (France)
Gabriel Freiman's research deals with physico-chemistry of surfaces/interfaces. His research work focus towards fluids interaction with solid 2D materials (metals, oxides, carbon nanostructures) at the nanometer scale. He is also interested by its applications (microfluidic sensors, MEMS sensors, photovoltaic conversion, batteries).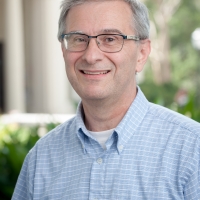 Resident Associate Professor, Physics
B.S. Universite Laval, Ste-Foy, Quebec, Canada; PhD. University of Maryland College Park
Laboratory Coordinator
M.S., Saratov State University, Russia; Ph.D., Saratov State University, Russia
George Schmiedeshoff, longtime professor of physics at Oxy and an experimental condensed matter physicist, passed away July 16, 2019 from pancreatic cancer. He was 63 years old.
George joined the Occidental faculty in 1992 after earning his Ph.D. at the University of Massachusetts at Amherst...