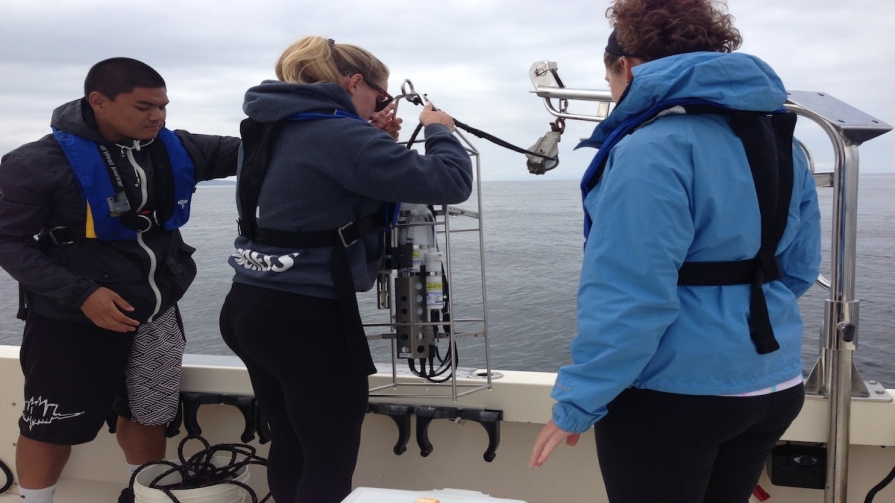 We have experience performing NPDES and environmental monitoring and reporting for several agencies since 1994.
Environmental Monitoring Services
Water
Collection of samples for chemistry, heavy metal or bacteria analysis
Water quality profiling (dissolved oxygen, temperature, pH, transmissivity, and conductivity using a Sea-Bird SEACAT SBE 19plusV2)
Construction and deployment of moorings and oceanographic equipment
Sediment
Collection of samples using Van Veen grab or diver cores
Infaunal and benthic invertebrate sorting and taxonomy
Sediment grain size analyses (phi size)
Sediment toxicity testing (bioassay)
Geophysical
High-resolution side scan sonar
Swath bathymetry to depths < 150ft
Deployment and retrieval of ocean bottom seismometers
GIS mapping and spatial analysis
Diver and Biological Surveys
Invasive species surveys (Caulerpa spp., Sargassum spp.)
Visual SCUBA including fish, algae, and invertebrate identification
Sensitive species surveys and monitoring (eelgrass, abalone)
Underwater videography and photography (standard and 360°)  
Marine Mammal Monitoring
Shorebird surveys
Fisheries Studies
Beam Trawls
Otter Trawls
Beach Seines
Purse Seines
Lamparas
Otolith Analyses
Plankton
Zooplankton & Phytoplankton Collection (bongo nets, 1m ring nets, benthic sled)
Zooplankton & Phytoplankton sorting, staging, and taxonomy
Clients
Chevron Products Company
Los Angeles Department of Water and Power
Unified Port Districts of San Diego
Bureau of Ocean Energy Management
The Port of Long Beach
The Port of Los Angeles
National Oceanic and Atmospheric Administration
Southern California Edison
Poseidon Water
SCCWRP
US Army Corps of Engineers
US Navy
Ocean Rainforest, Inc.