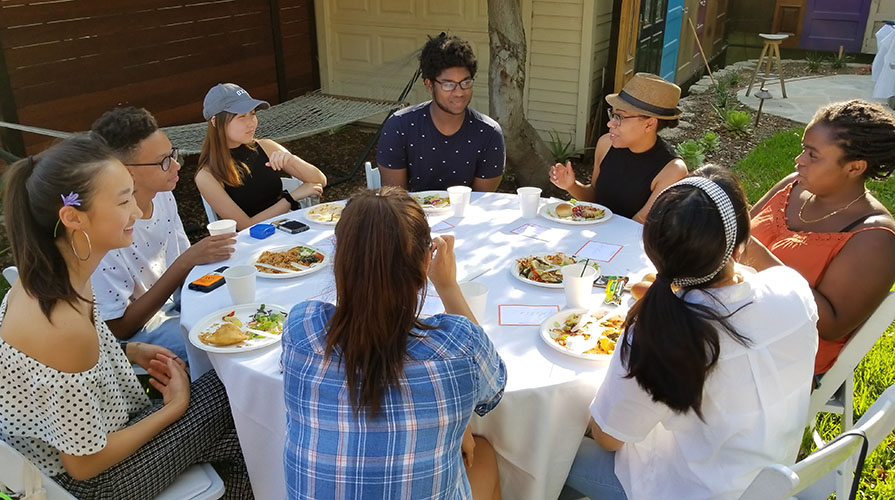 For more than 20 years, Occidental has hosted fall and spring multicultural fly-in programs for seniors.
The Tiger Access Program (TAP), formerly known as the Multicultural Visit Program (MVP), introduces traditionally underrepresented, first-generation and/or low-income students to Oxy's academic and residential community. Historically, the College pays travel expenses for high school seniors interested in Oxy to visit campus and witness firsthand what makes us unique. COVID-19 restrictions have changed our ability to offer transportation to campus, but we are committed to creating a personalized and informative experience for underrepresented students considering Occidental College. 
Spring TAP
Students who attend our fall TAP program, or haven't already visited Oxy, may be invited to attend one of our spring Tiger Access Programs should conditions allow for travel in Spring 2021. In addition to covering 100% of round-trip transportation costs, Oxy will also provide meals and house students in a residence hall with a current Oxy student. More information about the spring TAP program will be provided to historically underrepresented and/or first generation college-attending admitted students. 
Program Highlights:
Campus tour

Attend a class

Faculty and staff meet and greet

Overnight stay with current students

Admitted Student Day 

Los Angeles excursion
---
The Fall 2020 TAP application is now closed. Thank you to all who applied and participated!
This year's programs was held virtually. Interested students chose to participate in one of the following three weeks: September 20, September 27 or October 11, 2020. Students were encouraged to attend the three-part program consecutively, in one week, to develop ties within each cohort. Below is a sample of the TAP virtual programming: 
Sunday morning, 10:00 AM PDT: Introduction to academics at Oxy. Engage with faculty from various departments. 
Wednesday evening, 5:00/ 6:00 PM PDT (depending upon week selection) : Introduction to student support services. Learn about the programs and offices at Oxy designed to support students academically and emotionally throughout their four years at the College.
Saturday morning, 10:00 AM PDT :  Student panel with Oxy students. Hear from current Oxy students about their experiences and reason(s) for choosing Oxy. 
If you would like to be notified when the Fall 2021 Tiger Access Program application is available, register for updates here! If you have any questions about either of our Tiger Access Programs, please contact the Office of Admission by email at admdiversity@oxy.edu or by phone at (323) 259-2700.