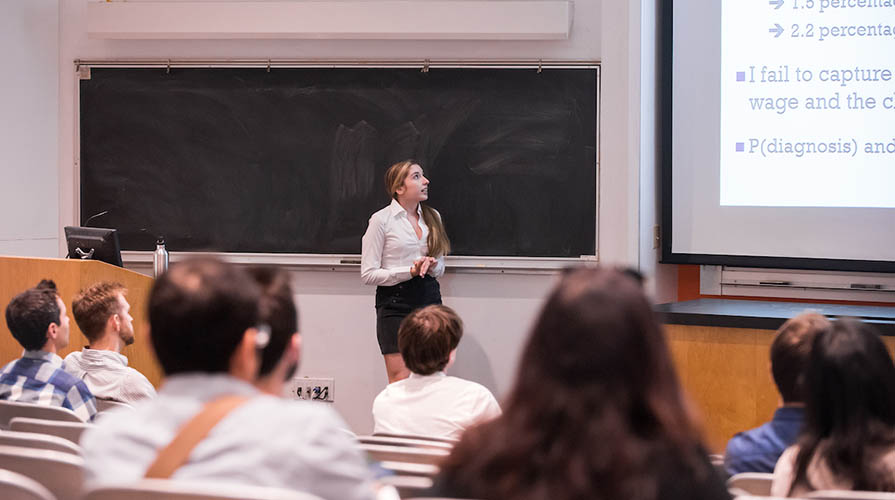 Complete your Oxy experience with an original research project that demonstrates your economics expertise.
Majors can earn honors by taking ECON 498 in the spring semester of their senior year and by writing and defending, in that class, a thesis that is judged by the department faculty to be of honors quality. Enrollment in ECON 498 is limited to students with GPAs of 3.5 or higher (both overall and within the department). Interested students should consult with their academic advisor and then apply to the department chair in the fall semester of their senior year.
Recent Honors Theses:
2021
Catlin Hedeman: "The Effects of Increased Access to Mail-In and Absentee Voting due to Covid-19 on Voter Turnout in the 2020 Presidential Election"
Kayla Hreczuck: "The Effects of Local Immigration Enforcement on the Mental Health of Hispanic Children and Adolescents"
Alexis Martinez: "The Effects of Recreational Marijuana Laws on High School Graduation Rates: One Dimension of Social Costs"
Emma Pond: "The Impacts of Paid Family Leave Programs on Mothers' Labor Market Outcomes in New Jersey and Rhode Island"
*Mary Zhang: "Costs and Benefits of Statewide Stay-at-Home Orders During the Early Stage of the Covid-19 Pandemic"
2020
Hannah Case: "Small Classes and Academic Behavior in Math"
Jane Crosby-Schmidt: "Information and Immunizations: An Analysis of Utah's Educational Requirement for Vaccine Exemptions"
Annika Moen: "The Impacts of Two-Way Immersion Dual Language Education: Socioeconomic Composition and English Proficiency"
Ellen Prince: "Rolling Back Three Strikes: The Impact of Proposition 36 on Incarceration in California"
*Nelson Rayl: "Cost of Austerity: Effect of Fiscal Consolidation in Europe Post 2010"
Harrison Wakefield: "Unemployment and Suicide: Differing Effects Across United States Counties"
2019
Cameron Coe: "Exit Discrimination in a Competitive Labor Market: The Case of NBA Head Coaches"
*Andrew McCall: "Hurricane Mitch's Effect on Nicaraguan Farmers' Agricultural Practices"
Claire Organick: "Moms, Money and Mortality: The Impact of Free Primary Education on Child and Maternal Health in Ethiopia"
David Wang: "Does Fiscal Space Matter? Its Impact on the Aftermath of Financial Crises"
2018
Josh Cohen: "Wind Energy and Emissions Avoided"
Jiahe Hou: "The Impact of Microfinance on Poverty Reduction in Rural China"
Ieva Marcinkeviciute: "The Trade-Migration Nexus"
Andrea Tuemmler: "Modernization Theory: Does Economic Growth Cause Democracy?"
*Yiyun (Eva) Wang: "More Guns, Less Crime? The Impact of Gun Restrictions on Violent Crime"
2017
Michael Cao: "Education Spending and Student Achievement: A Difference-in-Difference Analysis for the Race to the Top Program"
Preston Harry: "The Impact of More Extreme than Expected Temperatures on Environmental Attitudes"
*Harrison Luft: "The Industrial Effects of Banking Crises"
Charles Pollnow: "Failure in the Long-Term Care Insurance Market: Is There a Substitution Effect for Informal Care?"
Eva Schifini: "Health Effects of the California Minimum Wage"
2016
Emily Fallick: "The Effect of Cigarette Taxes on Smoking Rates"
Brady Fuller: "Revenue Sharing and the Luxury Tax in Major League Baseball"
Evan Lubin: "The Effect of Title IX Investigations on Applications at Selective American Universities from 2008 to 2016"
*Jessica May: "The Effects of Medicaid Expansion: Mortality of Non-Elderly Adults"
Daniel Perez: "Do Tomatoes Lead to Revenue? An Analysis of the Rotten Tomatoes Ratings System"
Kyle Yee: "Moneyball 2: Winnings and Its Effect on College Football Revenue"
2015
*Cynthia Brzezinski: "Measuring the Impact of School Quality on Residential Home Prices"
Cullen Cohane: "Sensitivity of Commodity Prices to Industrial Production Since 1980"
Felix Fels: "Investor Sentiment and Sports Events: Do Stock Markets React to Soccer Outcomes During the FIFA World Cup?"
AJ Libunao: "Effects of Postgraduate Degrees Across Race and Gender"
Julia Ogier: "The Effect of Generic Substitution on Brand-Name Drug Prices"
Evan Thompson: "Employment Dynamics and Minimum Wage Legislation: A Recessionary Analysis"
*Awarded Best Honors Thesis